Federal Reserve Chair Jerome Powell gifted the market with dovish comments yesterday, highlighted by saying we're beginning to see signs that inflation is flattening.
Importantly, he shot down any suggestions of a 75-basis-point rate hike next meeting ... something the market was pricing in as a 95% percent possibility before Wednesday's meeting.
He also said that "ongoing increases will be appropriate," rather than more hawkish language.
On Tuesday, I told you the market had Fed expectations that were too hawkish. Those hawkish expectations have fueled a bearish sell-off for weeks. This dovish news on Wednesday caused stocks to shoot higher, routing the bears. That was seen in late-day trading as the bulls flexed their muscles mightily.
So, what should investors do now? I have an idea.
First, though, bears or not, we're not out of the woods yet. Powell did allow that the Fed would weigh two additional 50-basis-point hikes at its next two meetings.
This is a big change for the markets, and especially for all those young traders who have grown up with rock-bottom interest rates.
The shock and awe approach isn't favorable for corporations and Wall Street, who have grown to rely on nearly free money since the beginning of 2009. In my view, tech stocks without any earnings should still be avoided.
After all, there is still plenty of fiscal tightening going on. Higher interest rates weren't the only item on the Federal Reserve's meeting agenda.
The Fed's balance sheet currently sits at a whopping $8.9 trillion, and the committee agreed to chop it down beginning in June. It will start by trimming $47.5 billion per month before accelerating the cut to $95 billion per month after three months.
The Fed rapidly expanded its balance sheet during the period of COVID-19 stimulus, and now it must take steps to trim it back from its unprecedented level.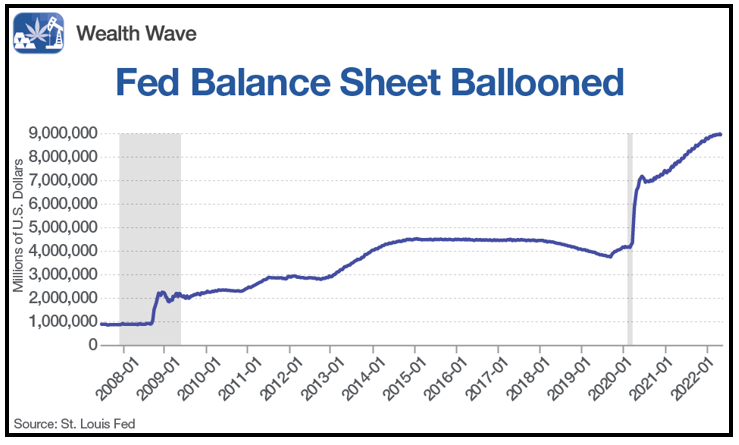 The Fed maintained a balance sheet below $1 trillion up until the 2008 Financial Crisis, but then it kept up the quantitative easing until it plateaued in 2015. Its only meaningful taper happened from 2017-2019 at a rate of $50 billion per month.
That's about HALF of the speed of the tapering coming in three months. And draining liquidity from the markets — which is essentially what the Fed is doing — will probably weigh on the performance of those high-flying, no-earnings tech stocks the market loves.
On the bright side,it seems liketraders are STILL too bearish on broad market performance, because they're too hawkish on rate hikes. There may be a ceiling to the Fed rate hikes that traders are not considering.
Here's what I'm talking about: The Fed will raise rates in the short term to help quell inflation, but it's mired in a trap of the government's own making. The U.S. government simply cannot afford to pay the interest on its $30 trillion national debt if interest rates stay higher for too long.
Last year, the U.S. government spent $562 billion in interest payments on its debt pile even with historically low rates.
Any meaningful increase in interest rates would add hundreds of billions of dollars in interest expense. Hundreds of billions that the U.S. can't afford to add to the deficit … and it raises concerns of one dreaded word.
Fear of the "R" Word
What if these rate hikes cause the economy to tip into recession, as many on Wall Street fear? That's not my bet ... but the possibility is out there.
In the following chart, we can see how the Federal Reserve responded to the last three recessions, which are shaded in grey.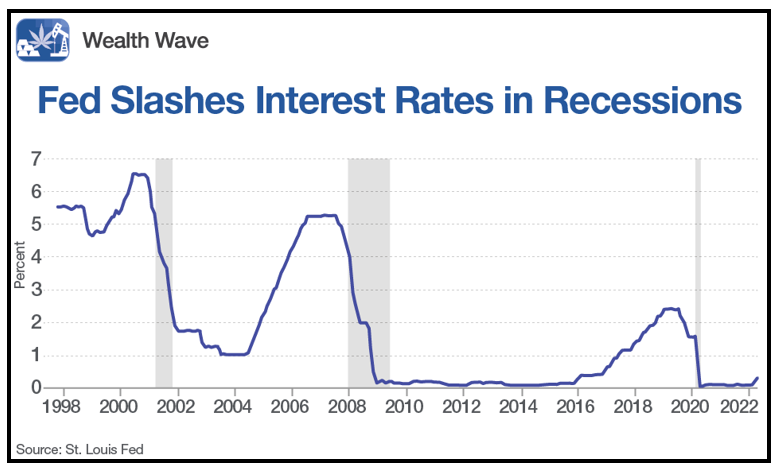 In other words, the Fed ALWAYS cuts interest rates when America enters recessions.
So, one way or another, I think the market is still too hawkish. I'll take the other side of that bet.
In the short term, I expect more volatility, doubly so because of interest rate hikes. The "roller coaster ride in hell" that I talk about.
On the bright side, the fundamentals driving the economy are strong, even though they're starting to slow.
What will do well in this environment? Well, one idea is energy, a sector that has absolutely thrived so far in 2022. Did you see how energy stocks blasted off after the Fed's announcement on Wednesday?
There will be many opportunities to cash in on the next rally, but one of my favorites is with the Energy Select SPDR Fund (XLE).
You may recall that I recommended this ETF of April 21, and if you got in, you'd track a slight gain. Although you should always do your own due diligence, it looks like it's still not too late to enter.
And it's certainly still not too late to get my newest energy picks in my Wealth Megatrends service. Members are enjoying this energy boom with open gains of 88%, 46% and 40% as of writing. If you'd like to learn more, click here.
Let's take a look at its weekly chart: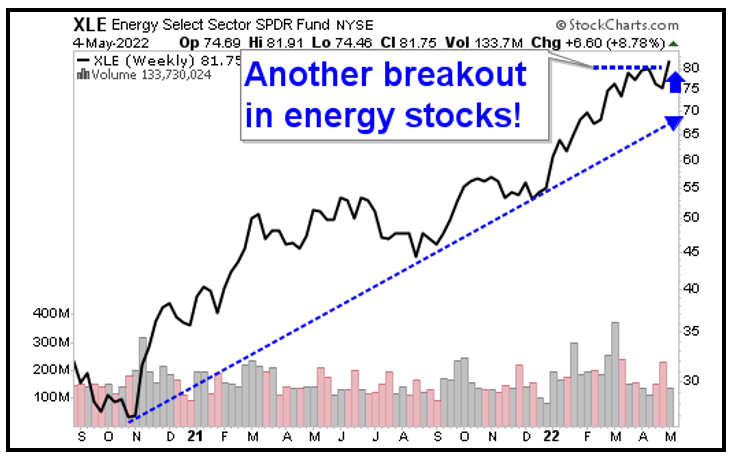 The leading energy exchange-traded fund (ETF) pushed above its recent high on Wednesday. Where I'm from, we call that a breakout. This gives us a short-term target of $90 a share. Could it go higher? Looks very possible!
While the S&P 500 is up 3.9% since the start of the year, XLE is up 69% over the same period! It's primed to take advantage of higher energy costs and the commodity bull run.
Again, always conduct your own due diligence to be safe. While the short-term looks choppy, the stocks with the strongest tailwinds should rise to the top.
Position your sails accordingly.
All the best,
Sean