Is the Energy Rally Over? No Way!
The energy sector has rallied more than 45% this year — so far. Now, Wall Street is taking energy gains, with the attitude of "all good things must end."
Let me show you why that's not the case ...
Let's start with a simple performance chart showing the energy sector, as tracked by the Energy Select Sector SPDR Fund (XLE) and the S&P 500 (SPY), so far this year.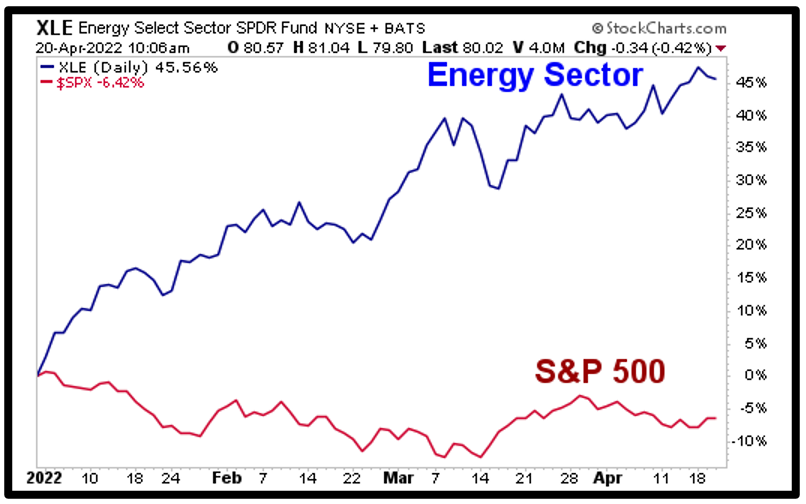 Wow! Talk about outperformance.
If I didn't know better, I wouldn't blame Wall Street for selling energy. And to be sure, there's never anything wrong with taking profits.
But if you're in it for the longer term, let me explain why energy is one sector you want to own ...
Let's start with the fact that energy is going to go much higher at the expense of Wall Street's favorite sector — tech. And you can make money every step of the way.
Let me show you a couple of charts. First, you can see how money in the market is flowing out of tech and into energy: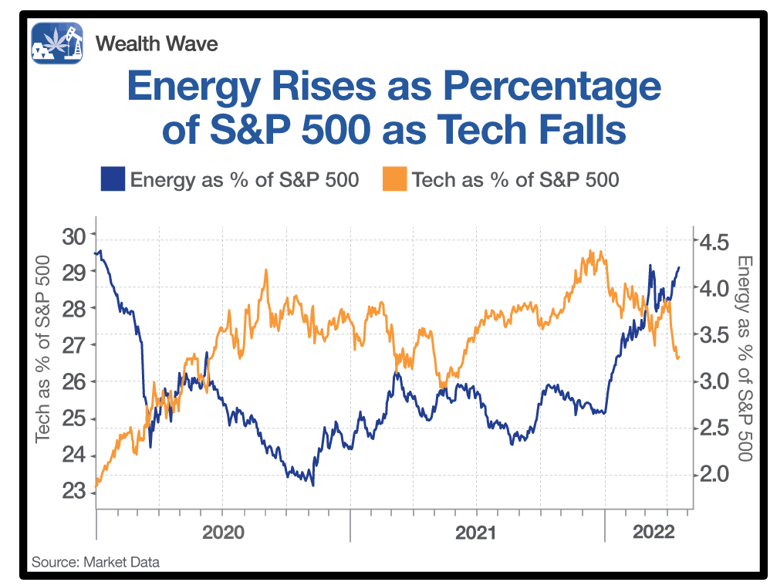 Starting late last year, money began rotating out of tech in a big way. And the big beneficiary is energy.
This is no surprise to my regular readers:
Combined with the commodity bull market that started two years ago — which I've been pounding the table about (here's an example) — this makes energy a sector you MUST invest in.
If you acted on the recommendations I made in those columns, you'd be up significantly.
The good news? It's not too late. Not by a long shot!
Energy May Actually Just Be Heating Up
Well, for starters, interest rates are going to keep climbing, money is going to continue to rotate out of tech and into energy and the commodity bull will keep charging down Wall Street.
Here's a chart showing how much money in the S&P 500 is weighted toward each sector: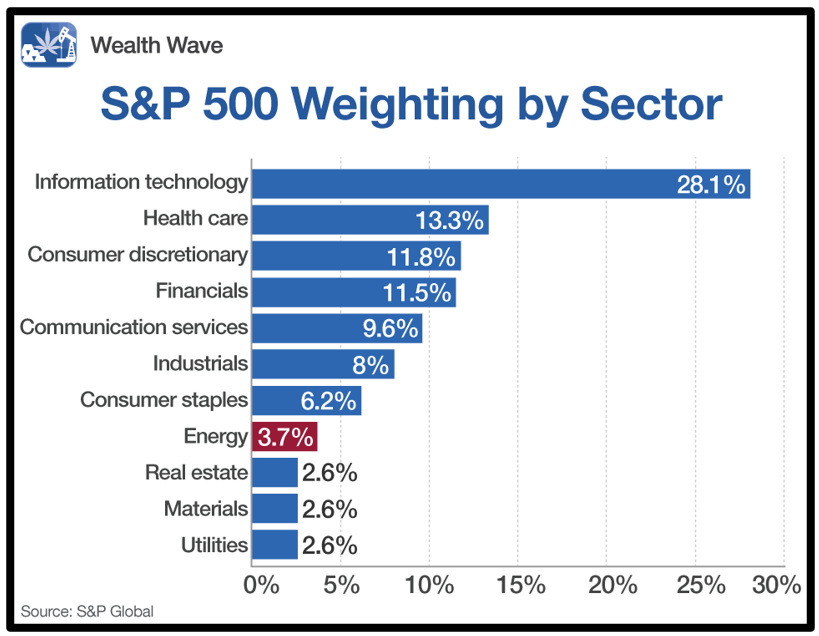 Even AFTER all the selling in tech and buying of energy that we've already seen, the S&P 500 is still massively overweight in tech and massively underweight in energy.
I'm not looking for energy and tech to reach parity. They don't have to! All we need to see is a sliver of the money currently invested in tech plow into energy — and those stocks will go much higher.
Energy on the Cheap
And it's not just momentum ...
Despite the big run so far this year, energy stocks are still DIRT CHEAP.
Here's a table from the financial website FinViz, showing the price-to-earnings (P/E) ratios of different S&P 500 sectors:

Basic materials are the cheapest — iron, steel, aluminum, copper, chemicals, gold and silver producers, sure.
That sector sports a forward P/E ratio of 13.52. I'll talk about them in another column. Financials are still cheap, too.
But at 9.48, energy is cheap, considering that the forward P/E ratio for the S&P 500 is 19.5. And energy is TWICE as cheap as tech when it comes to earnings growth.
Breaking it down further, the forward P/E of oil and gas production stocks, according to Yardeni Research, is a dirt-cheap 9.1! Do you think oil prices are going higher or lower from here? What do you think that will do to energy sector earnings?
I can tell you that MY targets for oil and natural gas are much higher. My figures tell me that the price of the U.S. crude oil benchmark is going to $138 and nat-gas is on its way to $12. Those are 34% and 70%, respectively, from recent prices.
Dang right I want to be invested in energy stocks.
If you want to ride this profit train, consider buying the Energy Select Sector SPDR Fund (XLE).
It's no secret: Energy is a sector that has catapulted in large part to the inflation insanity we've seen so far this year.
Or you can drill down to select energy winners that could outperform their benchmark … or if you'd like more specific recommendations, I encourage you to check out my Wealth Megatrends service.
I've been covering inflationary cycles for decades and the market we're in is glistening with profit opportunity. My subscribers are currently sitting on gains of 87%, 79% and 47%, just to name a few. Click here for more information.
The choice is yours … but opportunities like this don't come along often.
Remember to always conduct your own due diligence. But …
I'll see you at possibly higher prices — and possibly bigger profits — in energy.
All the best,
Sean