Those Eggs Cost How Much?!
Editor's Note: Since this column originally ran on July 5, food inflation has continued to dramatically increase. We've updated it and wanted to show you the figures once again.
Yesterday was Labor Day, and I hope you had a chance to the unofficial end of summer.
But with temperatures remaining high and grilling season ongoing, I'm sure plenty of you have noticed your summer cookouts were a lot more expensive this year than they were last year.
In fact, the latest Consumer Price Index reading came in at 8.5% … but food inflation is a staggering 10.9%! Worse yet, food at home has increased to 13.1% year over year: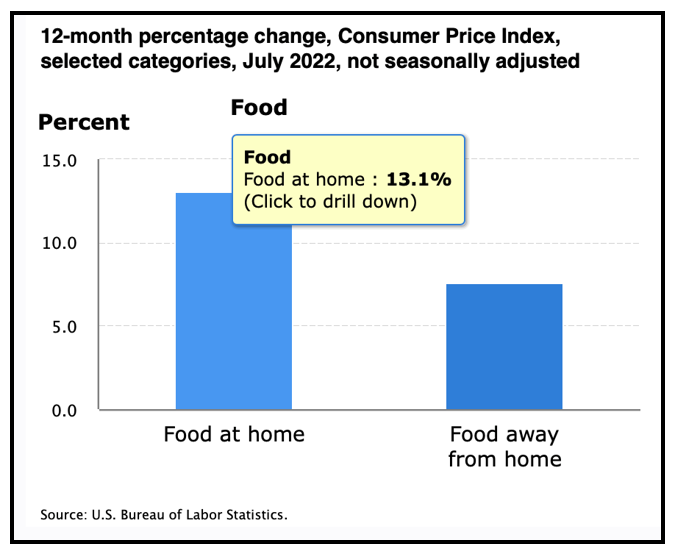 According to Bloomberg, when accounting for grilling favorites, inflation of those foodstuffs is 17% higher than the year prior!
But it's not just the meat you slap on your grill that's causing grocery bills to skyrocket.
Last month, Business Wire released some eye-popping figures:

Eggs are up 46.8%!
That 13.1% inflation for food at home? It hasn't been that high since March of 1979. For context, 1979 was the year ESPN was launched. The year Saddam Hussein took power in Iraq. And the year Voyager I revealed photographs of Jupiter's rings.
Let that sink in for a moment…
A homecooked meal hasn't been this expensive since we first saw rings around Jupiter!
I'm sure you've noticed. According to the Business Wire report, "consumers have been fighting inflation by trading down to value brands … [and by] shopping deals, with IRI saying 55% of ice cream was purchased with coupons in July."
So today, in an effort to help consumers and investors combat those escalated grocery costs, I'm recapping some of my columns dealing with runaway, food inflation:
The price of wheat is up enormously over the past year … and it could get a lot more expensive. The war in Ukraine doesn't look like it has an end in sight, and India, the world's second-biggest grower of wheat, had its wheat crop decimated by a heat wave.
Going to Hell in a Shopping Cart
There's a food crisis brewing in China and that's going to squeeze global grain prices higher. However, these issues are part of historic cycles that can help you protect and grow your wealth … if you understand them.
6 Reasons Inflation's Next Move Will Shock You
The next thing we'll see is that inflation could be cooling off. In this issue, I discuss six indicators that are pointing toward a possible top in soaring consumer prices.
If you'd like my tailored picks to help your portfolio combat inflation, consider joining my service, Resource Trader.
Members have positions allocated to booming commodities that are benefiting from higher prices.
No matter what you decide, always do your own due diligence before entering a trade. And remember, your grocery bill is increasing but your portfolio can do the same in tandem.
Best wishes,
Sean