Altcoin Revival Brings Double-Digit Gains Across the Board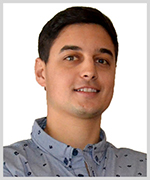 By Alex Benfield
As we all know, altcoins tend to get hit hardest in the bear markets, with many suffering 90%+ losses from all-time highs to bear market lows.
Not only that, but the blue-chip market leaders also tend to bottom out first and begin their rallies from the lows before altcoins really start to pick up any traction at all.
Sure enough, when Bitcoin (BTC, "A-") took off last month, most alts lagged.
But now that our market leaders have finally started to climb above key resistance levels, they have opened up the door for altcoins to rally from their lows.
And altcoins are sprinting through.
Over the past three weeks, we've seen a number of double-digit gains days all across the altcoin market. You could throw a dart and hit an altcoin that has multiple 5%+ days, and the entire market sector performed tremendously well over the past six weeks or so.
But there are a few projects that are standing above the crowd.
I've written about Solana (SOL, "C+") recently. It hit a low of $17.31 on Sept. 11. That's almost a 50% loss from its cycle high of $32 posted in July.
In the past 67 days, however, SOL woke up big time. It's gained over 256% since it's low and is now trading near $62.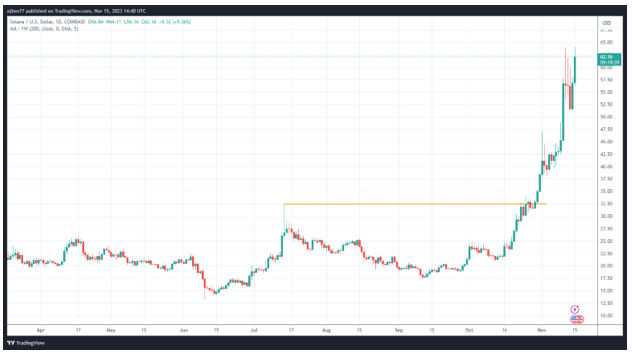 SOL price action. Source: Coinbase.
Click here
to see full-sized image.
Where else can you see returns like that in such a short period of time outside of the crypto market?
The return of volatility after a quiet summer is most welcome. There will be ample opportunities to enter some juicy trades in the months moving forward.
A big reason for Solana's current run is renewed institutional interest. That interest has been evident in the current premiums people are paying for the Grayscale Solana Trust (GSOL), which is currently trading at a 900% premium to the spot price of Solana.
That is indicative of rampant demand for SOL by regulated funds.
But, as I said, Solana is not the only altcoin that is currently rallying hard.
Render Token (RNDR, Not Yet Rated) is also up big, having gained 95% since the start of September when it was trading at $1.30.
In fact, it's up a sweet 24% just today, highlighting just how hot this altcoin has been lately.
Render is a project that uses the blockchain to gather decentralized and distributed GPUs for rendering and AI processing power. The Render network aims to use that distributed GPU power to fuel the next generation of 3D content creation.
Render checks a lot of keyword boxes with its processing, AI and GPU cloud buzzwords on its website and is set to benefit from the attention given to those sectors in this next cycle.
RNDR hit a yearly high back in late May when it traded at $2.95. We'll see if RNDR can push past $3 in this current rally, but this is another project we are tracking excitedly as we head into this next big bull market.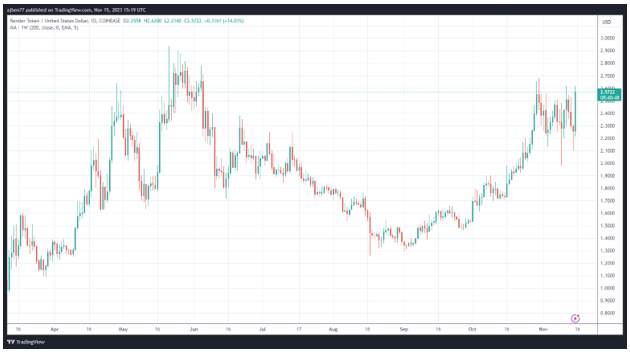 RNDR price action. Source: Coinbase.
Click here
to see full-sized image.
Polygon (MATIC, "B") is another altcoin that has had one hell of an autumn.
One of, if not the, biggest and most popular Layer-2 solutions, Polygon has stayed on the cutting edge of cryptocurrency technology and continues to develop new solutions. The Polygon team continues to sign major partnership deals and onboard more people, brands and companies to the Polygon ecosystem.
MATIC has been reaping the rewards recently, as the token is up more than 70% since the start of October, climbing from 53 cents all the way to the current price of just over 90 cents.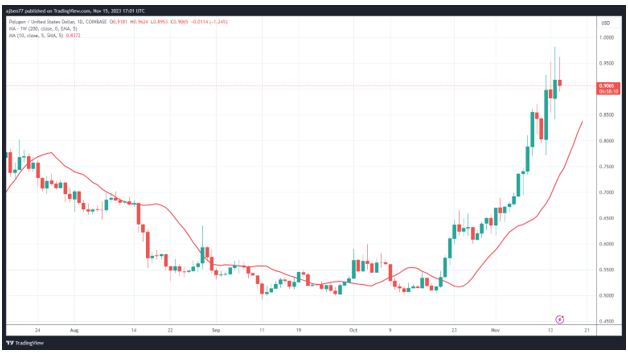 MATIC price action. Source: Coinbase.
Click here
to see full-sized image.
That's all just in a 45-day period of time, talk about some quick returns!
There is one more smart contract platform that we should mention today: Avalanche (AVAX, Not Yet Rated) is booming lately.
AVAX has gained more than 120% in that same 45-day stretch from the start of October, climbing from just over $9 to the current price of $20.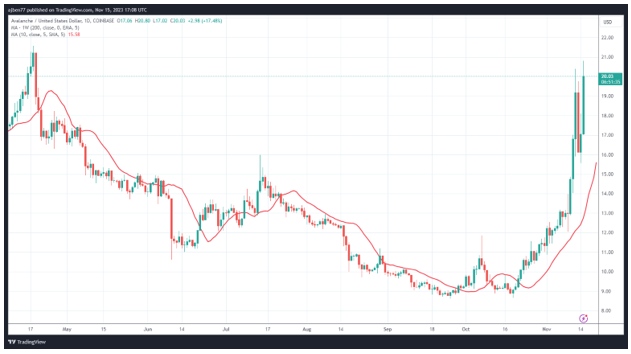 AVAX price action. Source: Coinbase.
Click here
to see full-sized image.
Avalanche should run into a little resistance around the $21 level, but should it break above that, it may make a run for the August 2022 high of $30.
AVAX hit a high of just under $150 in the last bull market. Even if it sees no new all-time highs and just hits its previous marker, it would be more than a sevenfold gain from current prices.
However, we should remind you that while there are a select reserve of altcoins that we think have the potential to not only match but even exceed their previous highs, many altcoins will never even come within sniffing distance of their previous high-water marks.
Such is the volatile nature of altcoins. There are two keys to distinguishing between projects that have the ability to go the distance and the ones that'll tire out well before the finish line.
First is fundamentals. If a crypto is pumping on hype alone, it doesn't have the strength to withstand the wild corrections the crypto market is notorious for.
Second is narrative. Projects leveraged to sectors that are driving interesting narratives, such as AI and web3 applications, are going to get more attention and thus more investors.
What's Next
This current rally has been going on now for weeks, which is usually a sign to us that it may cool off soon. After all, nothing goes up in a straight line.
And sure enough, yesterday's trading made it seem like many coins were running out of momentum. But today the market is back up and booming.
Still, that doesn't change our near-term outlook: In all likelihood, we are nearing the end of the current rally.
But zooming out a bit, we believe this rally is almost certainly the start of the bull market. Call it early stages, the last gasp of the transition year, whatever you'd like, but all signs are pointing toward a tremendous 2024 that lies ahead.
It's key to remember that the cryptocurrency market operates in internal cycles: Bitcoinand Ethereum (ETH, "B") kick off the show, then blue chips make a run, then lesser-known altcoins fly. That cycle tends to end with a rotation of money back into BTC and ETH as alts slow down … which kicks off the cycle once again.
The lesson to learn here is that if you want to trade the internal cycles, don't forget to shuffle some of your profits back into the core crypto positions. Otherwise, if you're just looking to buy top-performing projects and hold through the bull market, you may want to take advantage of pullbacks to load up as things are only going to get crazier as we enter the new year.
Stay alert and stay tuned to Weiss Crypto Daily as we will notify you when that next cycle shift begins.
Best,
Alex