Another Pending ETF Application Steals the Spotlight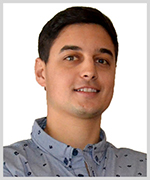 By Alex Benfield
Over the past week, the crypto landscape seems to be bursting into a new spring, teeming with life and activity. This is incredibly welcome after a season of stagnation that saw Bitcoin (BTC, "B+") and other cryptocurrencies go nowhere fast.
One catalyst for this refreshing change could be broader macroeconomic pressures weighing other markets down.
For instance, China — a crucial component in the global economic matrix — is grappling with its real estate crisis. Meanwhile, the U.S. is still battling inflation.
Amid these shaky times, many investors are searching for more stable ground. And digital currencies are emerging as the sanctuary.
What's interesting is that this enthusiasm for digital currencies isn't being driven by major headlines or significant business revelations about Bitcoin.
Instead, the current growth feels organic, rooted in genuine interest and trust in the potential of these digital assets.
As seasons change, so do market dynamics. After a prolonged stillness this summer, there's a renewed buzz as we enter fall. And this vibrant setting could present investors with new trails to explore and capitalize on.
Driving the current price surge and renewed activity is the notable uptick in open interest.
Indeed, in just the past 24 hours, a significant number of investors have taken leveraged long stances on Bitcoin. This could mean more market volatility is coming in the near future.
Going forward, these positions could either retract — causing a market downturn — or signal a flourishing phase for BTC. If the latter happens, this will undeniably indicate an optimistic crypto outlook.
Perhaps the investors spearheading these leveraged moves could be anticipating sunnier days ahead for BTC, which could come in the form of a direct Bitcoin ETF approval. Only time will tell.
Turning to price action, Bitcoin's journey from a low of $25,000 on Sept. 11 to its present price of $27,000 has set a robust foundation at the $25,000 mark.
Looking ahead, BTC will likely aim for its Aug. 29 high of $28,200 next. Should it cross this threshold, the pivotal $30,000 marker could be in its sights.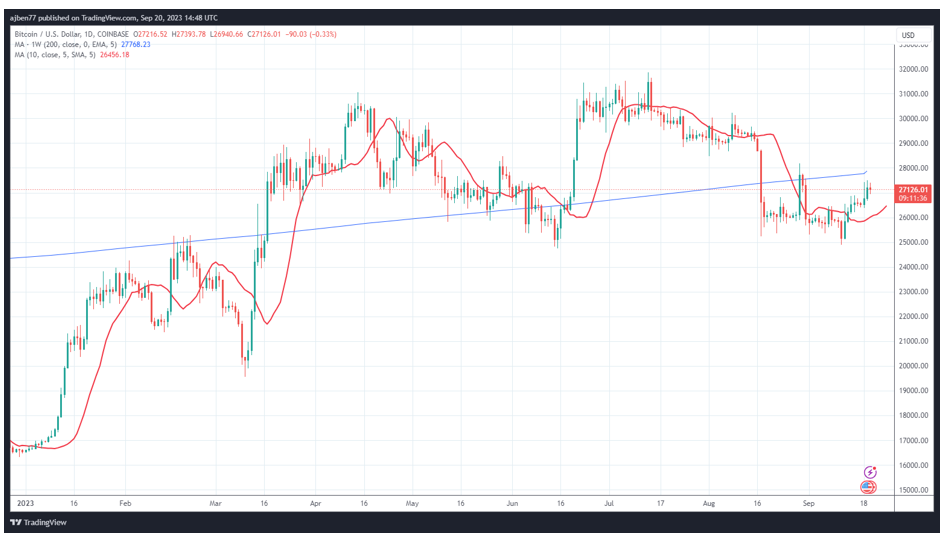 Meanwhile, Ethereum (ETH, "B") is back to trading above $1,600 after a brief dip last week. This is just under its 200-week moving average, which is bound to offer up some resistance as we move forward.
The next major resistance level overhead is $1,740, which is ETH's Aug. 29 high. So, if ETH can flip $1,650 from resistance to support, it should attempt to climb back into its previous trading range of $1,800–$2,000.
For now, we will just have to wait and see if ETH can continue this rally toward higher levels before the end of the year.
However, keep in mind that another price correction before the end of the year is still likely. So, if you don't currently own any Ethereum, you may have some good buying opportunities in the months ahead.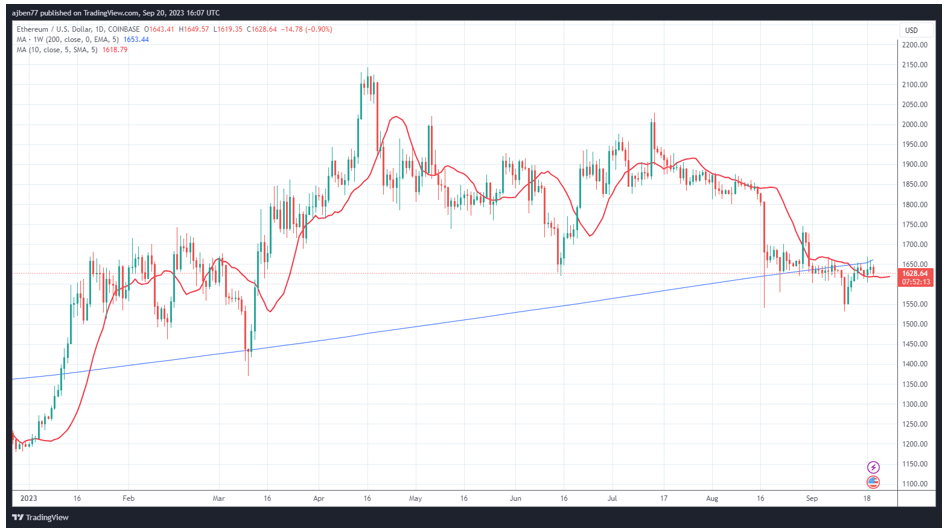 Source: Coinbase.
Click here
to see full-sized image.
What's Next
Recently, there's been a significant buzz surrounding Bitcoin ETF applications from financial giants like BlackRock (BLK) and Fidelity … and the potential positive impact they could have on BTC's price.
For a quick refresher, check out my colleague Marija Matić's article on why BLK is such a pivotal player in the crypto ETF race.
However, the spotlight is also shifting toward Ethereum.
Notably, Grayscale has just entered the fray with an application for an ETH futures ETF. Additionally, Cathie Wood's ARK Invest has filed for a spot Ethereum ETF.
Although immediate approval for ARK's application seems unlikely, it underscores the infancy stage of Ethereum-related ETF applications.
Although Bitcoin is currently leading in gaining regulatory acceptance, it's evident that Ethereum is gearing up to create its own path in the ETF realm.
Furthermore, the September Federal Open Market Committee meeting concludes today.
So, prepare for potential price swings in the crypto world this afternoon, as the current volatility is unlikely to die down anytime soon.
As the digital currency ecosystem morphs and adapts, it's evident that both BTC and ETH are positioning themselves to become bigger players in the broader financial landscape.
Indeed, Bitcoin's resilient growth and potential ETF approvals signal a maturing market, while Ethereum's budding ETF endeavors exhibit its readiness to expand and harness newer horizons.
To successfully navigate this market, new and seasoned investors alike must remain vigilant, informed and adaptable.
And if you're new to crypto and the world of DeFi, I strongly suggest checking out my colleague Chris Coney's 2023 DeFi MasterClass.
Chris is among the world's most experienced educators in the field of DeFi. In this masterclass of 50 easy-to-follow modules, he breaks down everything you need to know to get started in crypto from setting up your wallet and funding it to finding yield opportunities that can earn 39x what the average money market account offers.
Even better, Chris will be hosting a LIVE event next Thursday, Sept. 28 at 2 p.m. EST where he'll break down the current market climate and trends as well as answer all your pressing DeFi questions.
This event is only for those enrolled in his course, however. So if you're interested, I urge you to learn more here.
As we close out 2023, one can only anticipate where this market will go, but one thing is certain: The journey is bound to be exhilarating.
Best,

Alex