Bitcoin's Bearish Blues Won't Last for Long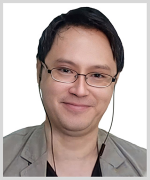 By Bruce Ng
To start, let's go through a quick recap of last week's issue, where I said that we are leaning bearish.
I also said that we need to watch open interest — which measures the number of outstanding derivatives contracts for an asset — carefully.
If it increases in value and the long/short ratio continues to be high, we might get a long squeeze that could spark off a drop in Bitcoin's (BTC, "B+") price to $25,000.
Now, any drop to $25,000 will likely cascade down to $23,000. This is because there is poor support at $25,000.
As a result, altcoins and Ethereum (ETH, "B") should drop more than Bitcoin if its price does end up dropping.
Overall, I still believe September will be a bearish month. And if any recovery were to occur, it would come around October. This expectation is based on Bitcoin's historical performance over the past 10 years.
So, let's unpack a few things here. Looking at Bitcoin's recent price action, we got the nuke to below $25,000 as predicted — $24,800 to be exact.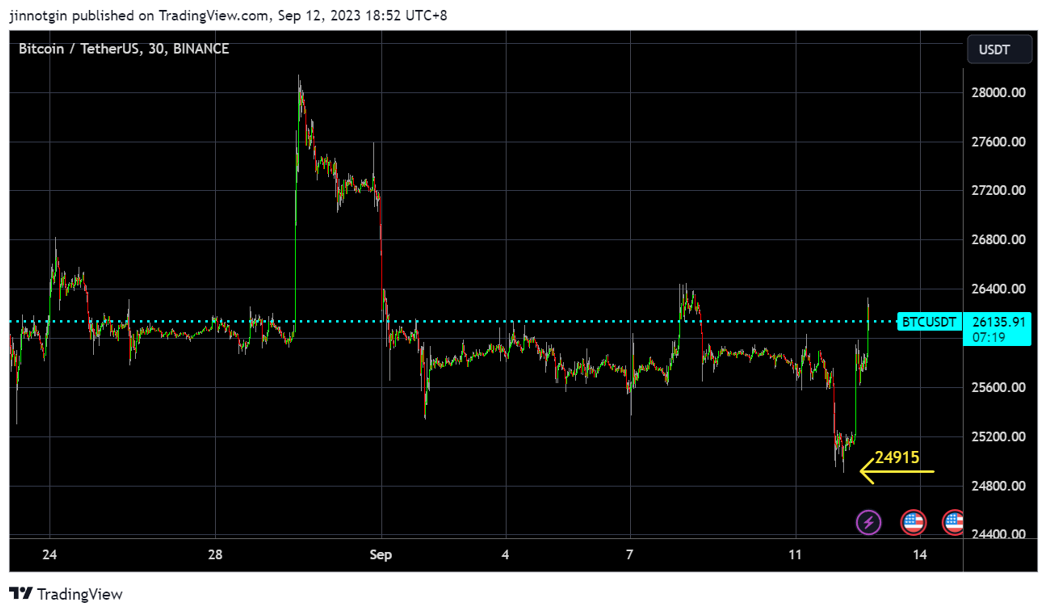 Figure 1:
BTC/USD chart.
Click here
to see full-sized image.
However, we didn't see Bitcoin slide to $23,000 from this dip.
This is probably because the long/short ratio flipped from being long heavy to short heavy quite quickly:

As you can see from the chart above, on Sept. 5, there were tremendously more longs than shorts. This signalled that BTC was more likely to dip.
But these positions switched dramatically from Sept. 5–8, to became short heavy. As a result, we got the short squeeze as a relief rally to $26,000 on Sept. 12.
Next, let's consider the three main news items that could affect crypto from the macroeconomic perspective:
The Consumer Price Index print on Sept. 13.
The Federal Open Market Committee meeting on Sept. 19–20.
The spot Bitcoin ETF application decision deadlines, as shown below.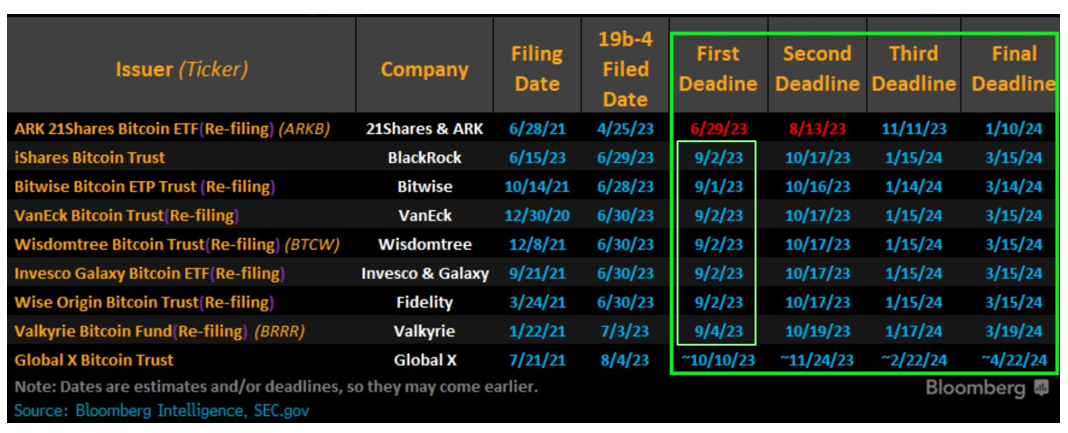 Although all these events have yet to happen, they're still significant.
In particular, the next batch of ETF applications is set to arrive Oct. 16–19. And my expert opinion about the SEC's likely actions remains unchanged from previous weeks: I still believe the ETF approval decision will be delayed.
After all, financial behemoths like BlackRock (BLK) still need additional time to accumulate more BTC before an impending bull run … which I believe will most likely occur in 2024.
In fact, I believe that the third deadline will also result in a delayed decision. However, I think that the final deadline in March 2024 will end up being approved.
With all that said, here are four takeaways for you today:
Bitcoin bounces back briefly. It sunk below $25,000 and is now bouncing up to $26,000 for a quick short squeeze.
Bitcoin remains bearish. I still think the overall outlook for BTC is bearish, so this quick bounce should be short-lived. Going forward, $25,000 and $23,000 are still support levels.
A choppy September. September is historically a bearish month. Additionally, given macro uncertainty from the upcoming CPI print, FOMC meeting minutes and the SEC's delay tactics with respect to a BTC ETF, I'm expecting more turbulence until the end of September.
A speedy recovery. Looking ahead, I still believe any spark of recovery will occur around the start of the fourth quarter. After all, the last three months of the year are usually bullish for crypto.
In other words, this is a "no trade zone" for us. And the same applies to ETH and alts as well.
For what you can do in the meantime, I suggest checking out my colleague Juan Villaverde's Weiss Crypto Portfolio service. In it, he utilizes his proprietary Crypto Timing Model to help his members identify the best times to buy and sell BTC, ETH and other blue-chip cryptos that attract a great deal of investor interest and capital.
Want to take this service for a test drive? Start your journey here.
Best,
Bruce