Bitcoin Searches for a Bottom Amid Heightened Recession Risk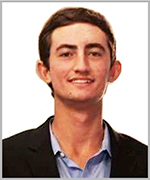 By Sam Blumenfeld
Bitcoin (BTC, Tech/Adoption Grade "A-") and the broader crypto market are sliding lower today after briefly attempting to rebound. BTC is down 3% in today's trading, dipping below the important psychological level of $20,000.
The $20,000 level is especially significant for Bitcoin because it's very close to its 2017 bull market peak. A drop below this level is a negative development for crypto, but given the series of negative incidents, including liquidations from major players in the space, it could face additional weakness.
Crypto continues to face a series of obstacles as the Federal Reserve tightens its policy to fight inflation. The threat of liquidations should weigh on investors if prices continue declining, but the Federal Reserve's approach will probably be the most important.
Bitcoin currently trades below its 21-day moving average near $21,400 but is moving closer as time passes. Yesterday, Bitcoin approached $21,000, which was within shouting distance of the indicator sitting at $21,400 before slipping once again.
Bitcoin last closed above its 21-day moving average on June 9, but it should jump past it when the market sees its next relief bounce.
Here's Bitcoin's price in U.S. dollars via Coinbase Global (COIN):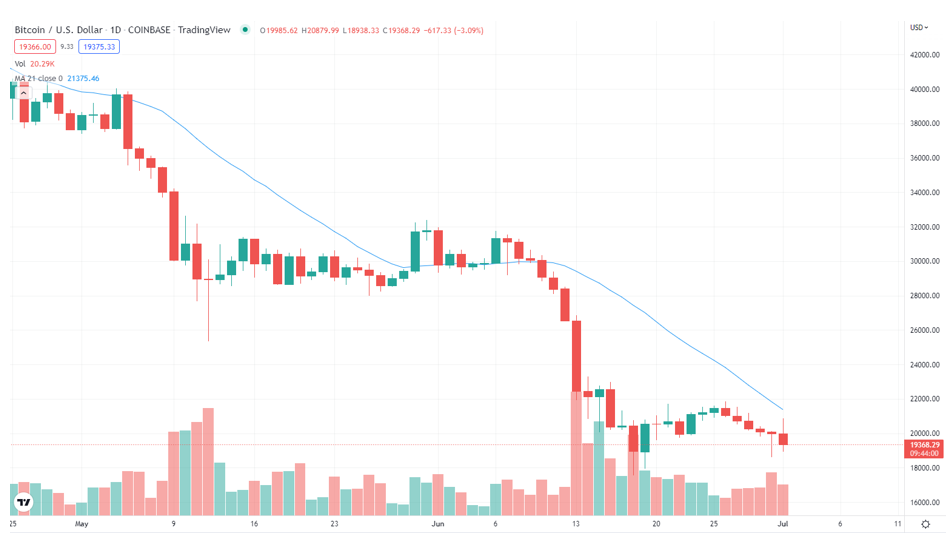 Meanwhile, Ethereum (ETH, Tech/Adoption Grade "A") is struggling to hold steady after its one-week push. ETH tried to stabilize following the sharp sell-off, but it's down 2% today and has logged five consecutive red candles. The asset is down 46% over the past month. More importantly, it's trading 25% below its previous 2017 bull market high.
ETH needs to establish a bottom to avoid extending its trend of lower highs and lower lows. On the bright side, it hasn't broken below $1,000 since finding support.
This will be a critical psychological level to watch for gauging the short-term direction of other altcoins. If Ethereum builds momentum, other altcoins would likely follow.
Ethereum trades below its 21-day moving average, but it's not too far away. ETH would have to eclipse $1,175 to break through, but negative news developments could send it lower once it does. The asset has closed above the short-term momentum indicator just once since the beginning of its slide in May.
Here's Ethereum's price in U.S. dollars via Coinbase: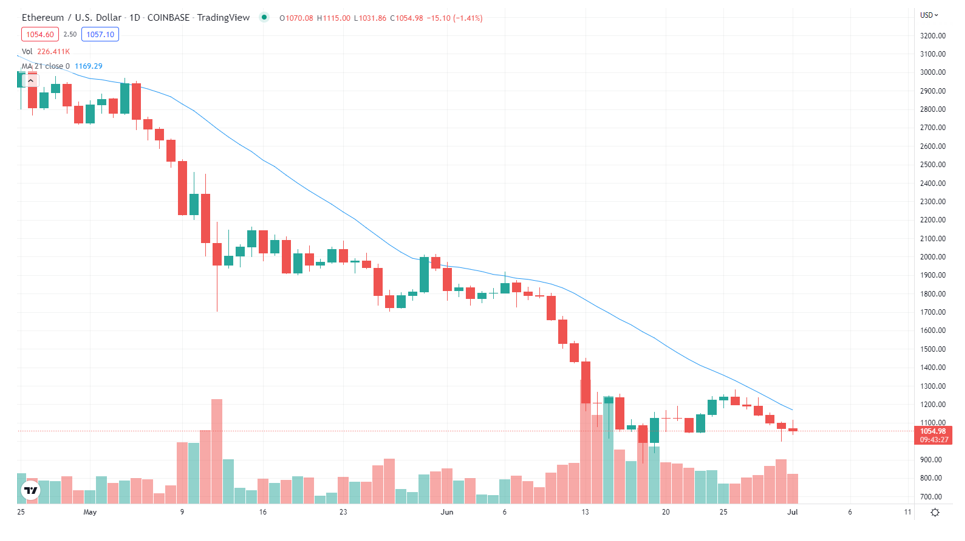 Index Roundup
The crypto market tried to bounce back at the beginning of the week, but it gave most of the gains back by the close, with none of our Weiss Crypto Indexes making a major move
The Weiss 50 Crypto Index (W50) gained 0.09%, which is negligible considering the volatility of the space.
The Weiss 50 Crypto Ex-BTC Index (W50X) increased 0.80%, with Bitcoin mostly mirroring the broader market's performance.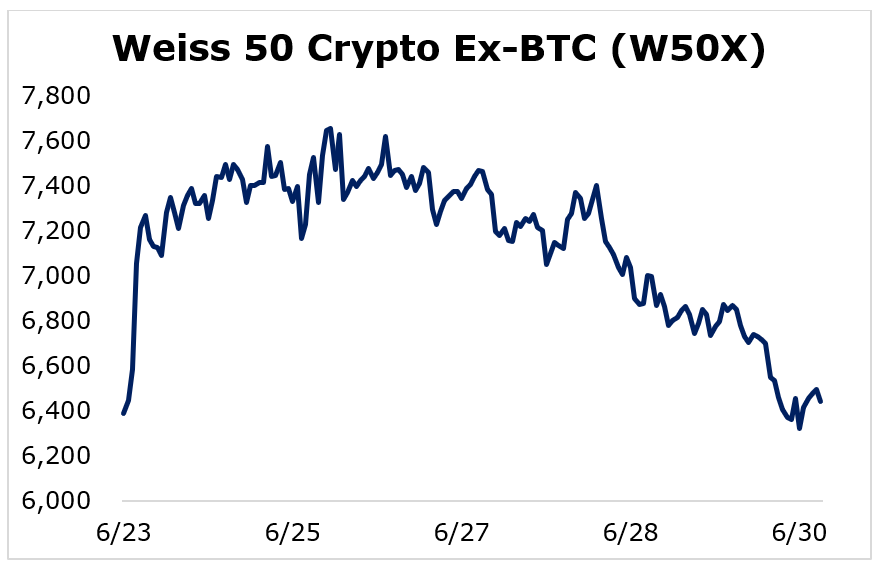 Breaking down performance this week by market capitalization, we see that the large-caps were the only cohort that finished in the green, though only just.
The largest cryptocurrencies managed to log a positive week, but the gains were minimal. The Weiss Large-Cap Crypto Index (WLC) rose 0.17%.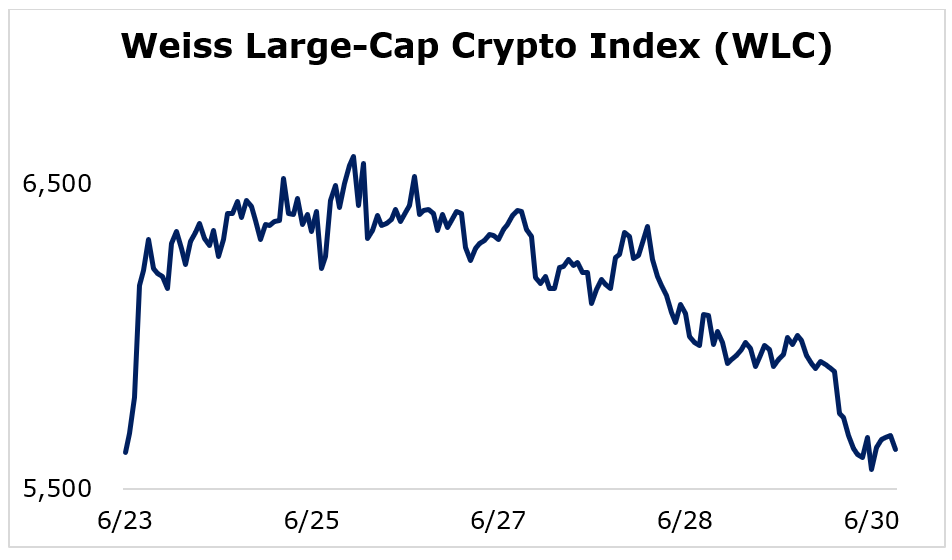 The mid-caps lost the most, but they didn't take much damage. The Weiss Mid-Cap Crypto Index (WMC) slipped 3.02%.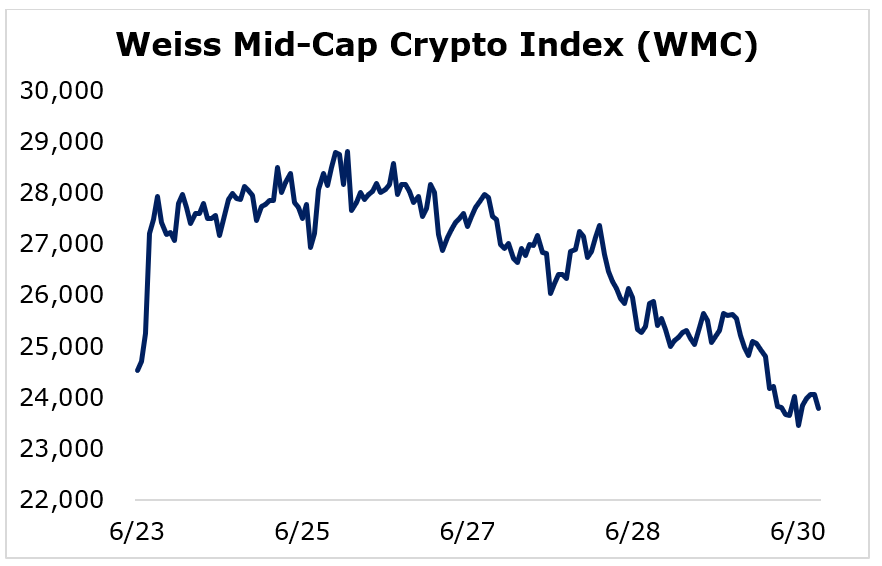 The smallest cryptocurrencies narrowly finished the week lower, as the Weiss Small-Cap Crypto Index (WSC) dipped 1.51%.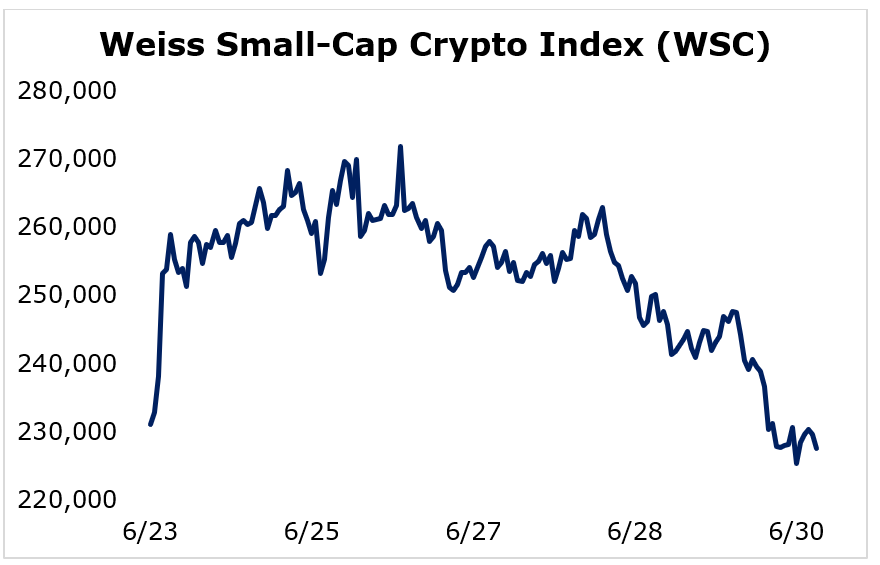 After a positive start to the week, the broader crypto market mostly tapered off. It's unlikely that crypto assets will make a significant move until economic conditions improve.
Notable News, Notes and Tweets
What's Next
The crypto market is likely due for a relief bounce after the sharp sell-offs in May and June, but the current stage of the market cycle and macroeconomic challenges could prevent sustainable growth in the short term.
Still, adoption is consistently improving, and the purging of excess leverage should result in a healthier market.
Investors will likely have to remain patient during crypto winter, but this period is allowing the market to consolidate. Crypto assets have significant long-term potential, but the massive gains are not possible without periods of elevated volatility.
Best,
Sam