Crypto Stabilizes After Its Recent Struggle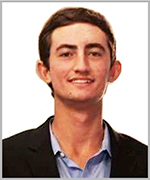 By Sam Blumenfeld
Bitcoin (BTC, Tech/Adoption Grade "A-") and other cryptocurrencies have stabilized over the past several days, with the broad market trading sideways in a tighter range since the sell-off earlier this month.
Cryptocurrencies are still trading with an elevated correlation to traditional equities, but they fared better on Wednesday, when the S&P 500 fell over 4%.
Due to the notable lack of support between its current level and the previous bull-market peak near $20,000, Bitcoin needs to maintain $30,000 as support to prevent further weakness.
On the other side, $31,000 has acted as a resistance level for Bitcoin over the past week, and it's struggled to gain any momentum to attempt a rebound.
Bitcoin continues to trade below its 21-day moving average after its recent slide. It would need to eclipse $33,000 to regain its short-term momentum. In the meantime, it's likely that Bitcoin will continue to hold its value better than less-established cryptocurrencies.
Bitcoin's crypto market dominance increased another 80 basis points to 45.1%. The market leader generally gains share during periods of turbulence and consolidation.
Here's Bitcoin's price in U.S. dollars via Coinbase Global (COIN):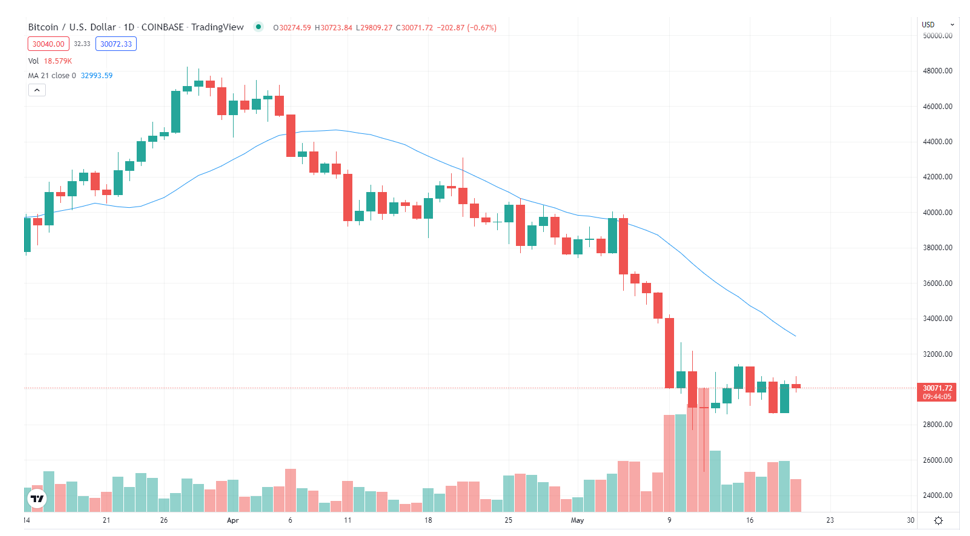 Ethereum (ETH, Tech/Adoption Grade "A") has underperformed Bitcoin since the market began selling off, with ETH logging a smaller 2% gain compared to Bitcoin's 4% move over the past week.
Over the past 30 days, it's fared the same, trading 34% lower compared to Bitcoin's 27% monthly loss. The asset sits significantly below its 21-day moving average of about $2,350.
Like Bitcoin, Ethereum has minimal support between $2,000 and its 2017-2018 bull market peak of $1,400. It's especially important for altcoins that ETH hold its ground because they rely on its leadership for direction. Ethereum must avoid establishing an extended pattern of recording lower highs and lower lows.
Here's Ethereum's price in U.S. dollars via Coinbase: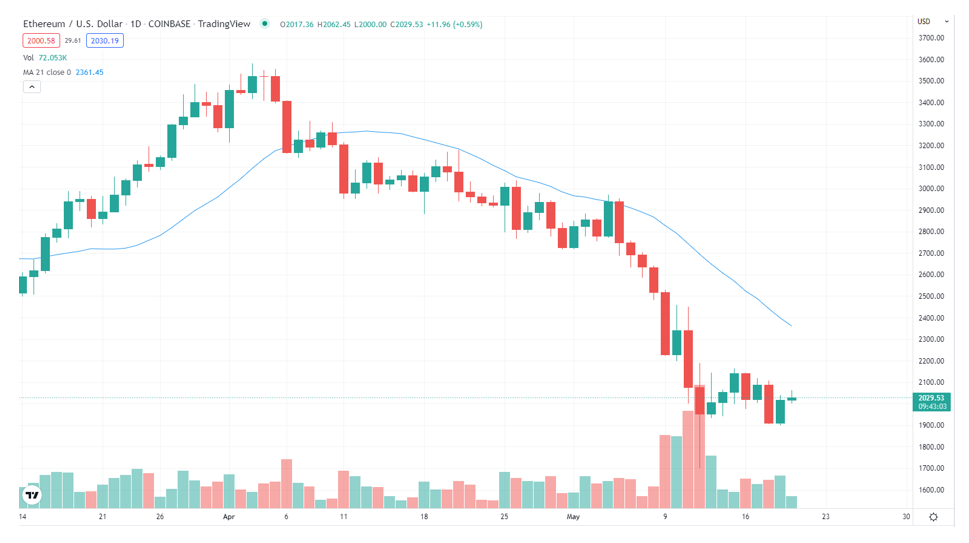 Index Roundup
The crypto market had some success as it attempted to rebound after last week's disaster, as each of the Weiss Crypto indexes finished higher. The bounces corresponded with last week's price action, with the most beaten-down cryptocurrencies experiencing greater relief.
The Weiss 50 Crypto Index (W50) gained 11.53%, as the broader market looks to get back on track.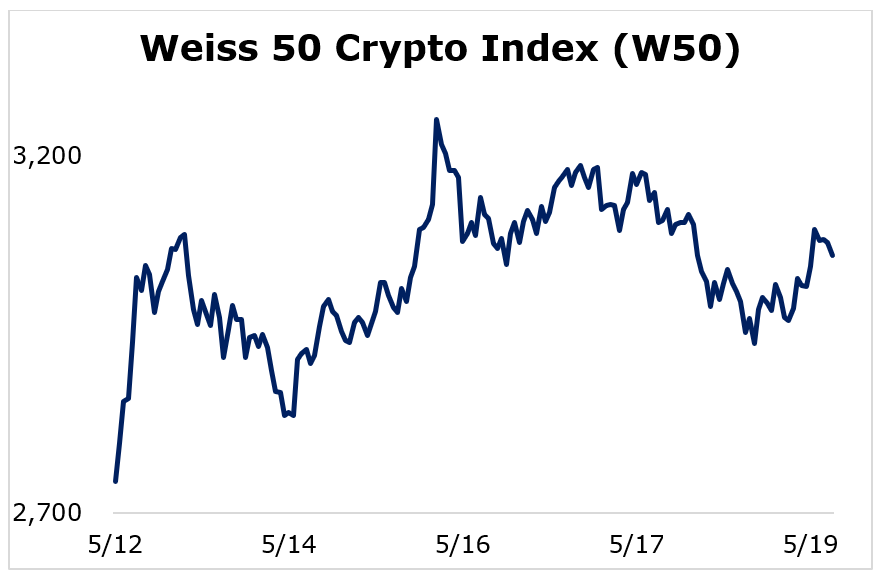 The Weiss 50 Ex-BTC Index (W50X) rose 13.75%, as altcoins looked to recover their lost value.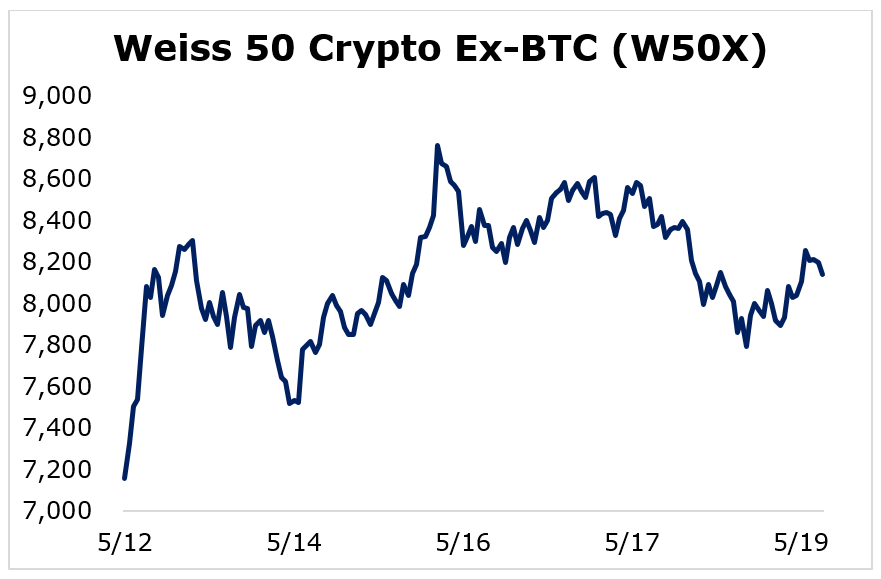 Breaking down this week's performance by market capitalization, we see that the more speculative projects experienced bigger bounces because they were so beaten down. Still, it was important to see broader relief after such a steep weekly sell-off.
Large-cap cryptocurrencies gained the least, but they held their value the best during the slide. The Weiss Large-Cap Crypto Index (WLC) increased 11.12%.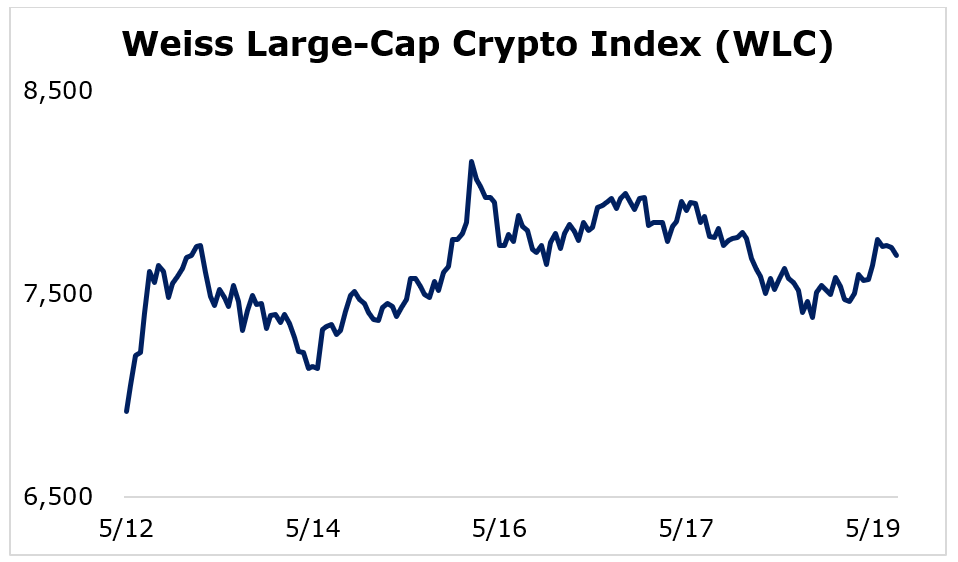 Mid-cap cryptocurrencies got back on the right track this week, with the Weiss Mid-Cap Crypto Index (WMC) growing 13.70%.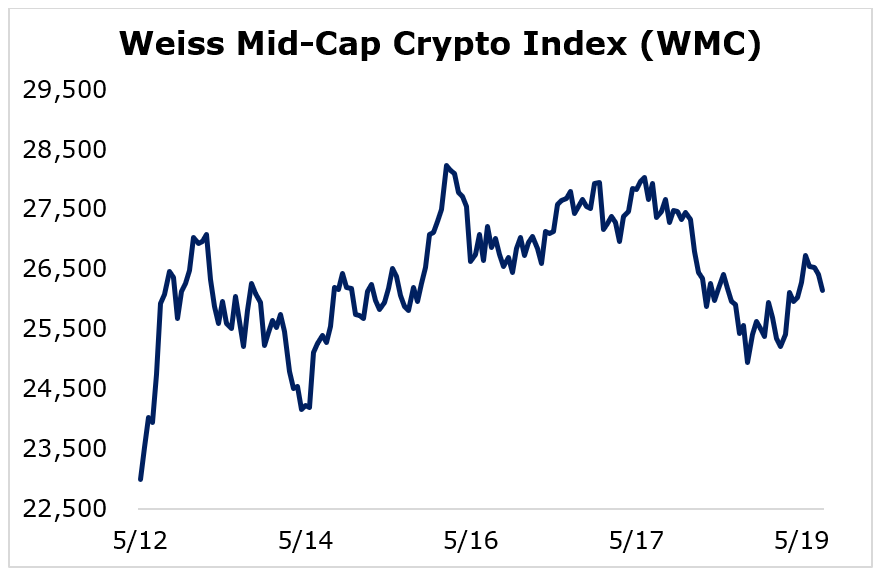 The small-caps outperformed after getting crushed last week. The Weiss Small-Cap Crypto Index (WSC) soared 33.91%.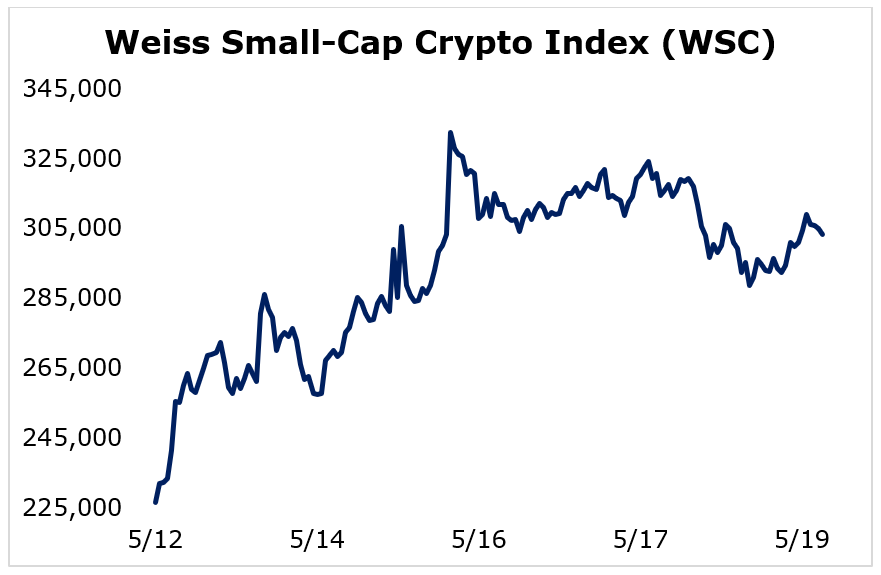 This week's price action saw the more speculative cryptocurrencies bounce back after a nightmare multiweek period. Still, in order to establish a sustainable upward trend, the large-caps will have to lead the way higher.
Notable News, Notes and Tweets
What's Next
While the crypto market experienced a relief bounce this week, it'll likely face continued pressure from strong headwinds caused by rising interest rates, geopolitical uncertainty and regulatory fears.
These factors could cause significant short-term turmoil, but none of them threaten the long-term prospects of crypto.
Regulations are an important part of crypto's future landscape. For crypto to become fully mainstream, the Securities and Exchange Commission (SEC) will need to establish guidelines that both protect investors and foster innovation.
The crypto market is cyclical, so it's entirely normal to see extended periods of pricing weakness. Where some investors sell amid market panic, others take the opportunity to accumulate for the long term.
Best,
Sam