Economic Recession Marks Crypto Uncertainty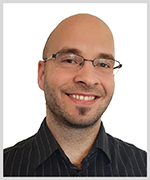 By Jurica Dujmovic
We can no longer deny the truth: We're in a recession.
Earlier today, my colleague Grant Wasylik wrote a hard-hitting article outlining six reasons why this is true.
Despite mainstream denial and with the Federal Reserve promising to continuously push up rates with no pivot in sight, investors are becoming keenly aware of this dire situation.
Recession is here, and it will be felt more and more acutely as its effects saturate the markets.
In the past few weeks, we've discussed the other ingredients in this global economic crisis, and how crypto can survive the incoming onslaught.
Now, we'll take a closer look at the crypto market itself and how it's being affected by these worldwide events. For this occasion, I've had the wonderful opportunity to talk to Mark Fidelman, host of the Cryptonized podcast which focuses on cryptocurrencies and the blockchain.
Jurica Dujmovic: Mark, good to have you.

Mark Fidelman: Good to be here.
Jurica: My colleague Grant wrote what could be considered a wake-up call for some regarding the incoming recession. In your opinion, how bad is it, and why is it so hard to believe that hard times are coming?
Mark: Look, governments around the world overspent and we're in a huge financial crisis. We just haven't felt its full force yet.
The dollar is still strong. That's due to an aggressive monetary policy in response to escalating inflation. The Fed has raised the federal funds rate from near zero nine months ago to 3.25% at the September Federal Open Market Committee meeting.
Jurica: I see. It's bad. But it's not just the U.S., correct? A strong dollar must also be wreaking havoc in the EU?
Mark: Absolutely. Anyone whose traveled overseas as I have understands Europe is having a 20% off sale to U.S. buyers. So if you want to go, now is the time. For comparison, one euro buys 97 cents today compared to $1.17 a year ago.
Jurica: It's not just the European or the U.S. economy that's taking the hit, though. Are crypto markets following suit?
Mark: Yes. Unfortunately, crypto markets appear to be following the stock markets as investors have bailed out due to economic concerns and some notable crypto failures.
If you have been closely watching the crypto markets, chances are you're wondering how to deal with the recent bear cycle. The truth is, the market remains unpredictable especially in the long term.
Jurica: It's not all bad, though, right? Is the famous crypto bellwether still hanging on?
Mark: No, it's not all bad. Despite the heavy outflows, Bitcoin (BTC, Tech/Adoption Grade "A-") is still trying to recover from its all-time low of $17,000 this year. But this recovery is demonstrating Bitcoin's strength despite being stress-tested against highly volatile and unfavorable market conditions.
Jurica: Bitcoin's recovery notwithstanding, crypto markets have taken a big hit, and we can still see a lot of players leaving the markets. Can you comment on that?
Mark: For crypto, most investors don't have the stomach for these types of erratic price movements. Not having reliable analysts with time-proven analysis tools to value crypto tokens is a huge roadblock.
I'd expect the crypto markets to bounce up and down within a narrow range until things shake out domestically in the United States.
Given the uncertainty, I believe most crypto investors are waiting for a huge upswing before they jump in again. This time, however, they'll be much more cautious in their approach. Crypto bear markets weed out the altcoins that aren't providing real value to the community.
For the crypto bulls that are still in the market, they're relying on the persistent long-term investors and crypto market's resilience in the face of turmoil around the world.
For the bears, they're reminded of the September – October 2018 monstrous cryptocurrency cliff dive, when the market held steady, but suddenly dropped nearly 50%.
Jurica: Thank you for your insights, Mark.
Mark: My pleasure.
So, there you have it.
The current market conditions are putting a lot of pressure on the crypto markets, but they're still hanging on. The question is, for how long?
What will it take for markets to recover, and will you be there when they do? It's the million-dollar question on everyone's mind, and it's one our analysts have spent a great deal of time figuring out.
The result of this research is the creation of the Crypto Ratings Model and the Crypto Timing Model. Both models answer two crucial questions on everyone's mind: What crypto should I buy and when?
Currently, they point to the fact that the coming big bottom in Bitcoin will be one of the greatest profit opportunities of all time. But to learn more about that — and what to do when the bottom does come — you'll need to check out this special video session recorded by our analysts.
Best,
Jurica