Incoming Price Correction Is NO Reason to Panic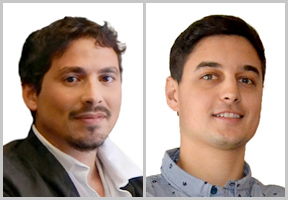 By Juan Villaverde & Alex Benfield
The crypto market exploded this fall, waking up like a bear after a long hibernation, hungry and furiously on the hunt.
Coming after a rather calm year by crypto standards, this upside volatility has felt like an explosion of energy.
But volatility doesn't always go to the upside. The trick is learning how to navigate it. Think of volatility as the wind to the crypto markets' sails: It can blow the market in any direction, but a good captain can navigate the ship no matter which way the wind blows.
Here at Weiss, we've been busy captaining a few different ships and portfolios across our crypto services.
Even Weiss Ratings founder Dr. Martin Weiss is impressed by everything that's happening in the crypto space. That's why he and Juan are hosting an urgent conference this coming Tuesday, Nov. 21 at 2 p.m. Eastern.
In it, they'll discuss the new crypto wonders they believe can outperform Bitcoin in this bull market.
We've already touched on a few altcoins within your Weiss Crypto Daily issues that are catching investor attention with their performance, made possible by that good old crypto volatility.
But we did warn in then that nothing goes up in a straight line. Just like a seasoned sailor recognizes the potential in shifting winds, astute investors understand that market volatility, though unpredictable, can be harnessed for significant gains.
In these initial stages of the next bull market, every fluctuation in the market — including to the downside — presents a chance to capitalize. As the market transitions from the lull of the past year into a more dynamic phase, the increased movement in prices across various cryptocurrencies opens up avenues for both short-term trades and long-term strategic investments.
That brings us to the current state of affairs.
After the impressive recent surge that began in October, it's important to anticipate a natural market correction. And remember, crypto corrections can make TradFi market pullbacks look tame. It is incredibly common for prices to fall by as much as 30% multiple times throughout a crypto bull market.
This is just part and parcel with the cyclical nature of expansion and contraction found in the crypto market. After the prolonged rally we've witnessed, a period of adjustment is not just expected but healthy for the market's long-term stability.
This correction phase, which seemingly has already begun this week, offers a crucial moment for investors to reassess and strategize. It's a time to be cautious yet opportunistic — to balance the excitement of the bull market with the realism of market dynamics.
As we navigate through this correction, remember that it's a precursor to what we believe will be a vigorous and potentially extremely lucrative bull market. Savvy investors should look to this correction as a solid opportunity to adjust their portfolios into bull-market mode and load up on their favorite assets ahead of further upside price action.
Let's start with our market leader, Bitcoin (BTC, "A-"). It is up 34% since the start of October. Starting then below $30,000, it's blown past several resistance levels until finally being rejected at $38,000.
BTC is down almost $2,000 since Wednesday and appears to be on the verge of losing its momentum, though $36,000 is holding as support.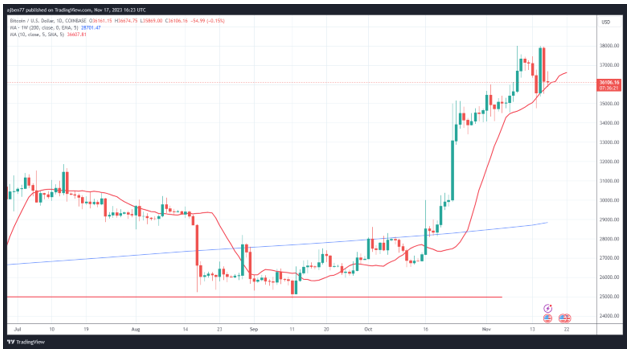 BTC price action. Source: Coinbase.
Click here
to see full-sized image.
Weekends are always interesting trading periods and bring strange price moves with them. While it's possible that BTC could rally again over the weekend, the most likely scenario is that Bitcoin has already started its natural correction and prices are likely to trend down for a few weeks.
Only time will tell. But if Bitcoin breaks above $38,000, we'll likely not see lower levels for a while. And that's why we say bull market corrections are buying opportunities.
Ethereum (ETH, "B") has been a slower mover than Bitcoin over the past few weeks, but it too appears like it may already be in the beginning stages of a price correction.
ETH lost its $2,000 support over the past few days and it may fall below its daily moving average if it doesn't start climbing soon. The 200-week moving average shown by the blue line in the chart below should act as strong support should ETH fall that far.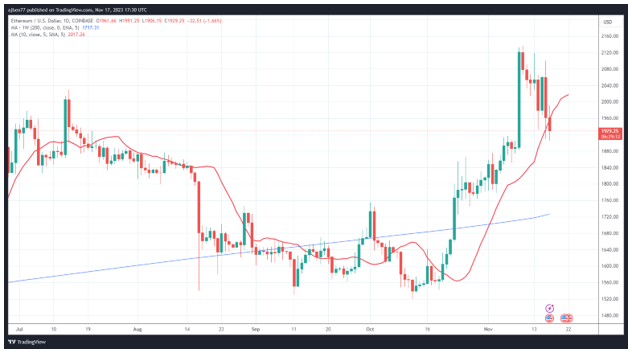 ETH price action. Source: Coinbase.
Click here
to see full-sized image.
This next correction could act as an excellent buying opportunity for those who failed to enter or load up on ETH before now. Now that the bull market has been confirmed one can be much more confident in their ETH investment.
Where Bitcoin is the bellwether for the broad market, Ethereum is usually seen as the leader of the altcoin market. But, for further proof that the altcoin market is likely heading for a bit of a correction, let's take a look at Polygon (MATIC, "B"), another popular alt that rallied by 85% from the start of October to its Nov. 14 high of 98 cents.
From Tuesday to now, however, MATIC is down by about 17% and looks like it may be at risk of falling a bit further.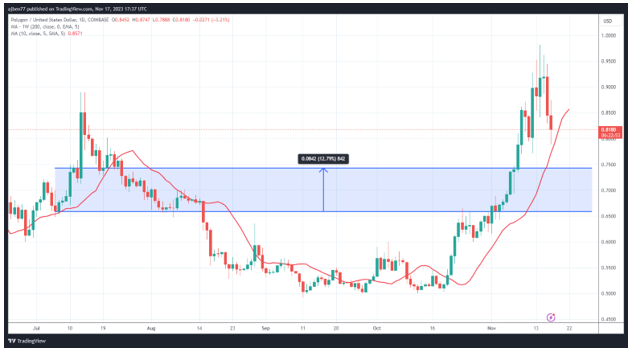 MATIC price action. Source: Coinbase.
Click here
to see full-sized image.
Polygon looks like it might have some support between the 65–75-cent range, so we'll have our eyes peeled on that channel.
Should MATIC fall as low as 65 cents, that may be an excellent entry opportunity into this exciting Layer-2 solution that should draw a lot of attention in this upcoming bull market.
What's Next
As we observe the crypto market's recent surge, it's crucial to recognize that such a rally often precedes a period of correction. This ebb and flow is characteristic of the crypto world, where dramatic surges are frequently followed by adjustments.
Currently, Bitcoin, after an impressive 34% rise since the start of October, is showing signs of a slowdown. Ethereum and Polygon are also showing signs of a forthcoming correction, signaling a shift for the broad altcoin market, as well.
This is typical market behavior, suggesting that a correction phase — a healthy and necessary adjustment for long-term market growth — might be underway.
Again, smart investors know these moves should not be cause for alarm, but rather seen as opportunities. For investors who missed the initial rally, these corrections could offer valuable entry points into the market.
As we brace ourselves for this natural market cycle, it's important to remember that these corrections pave the way for the next bull market, which, as indicated by our analyses and current market trends, is already in its early stages.
Keep an eye on key support levels and be prepared to seize opportunities as they arise. As always, stay tuned for more information and analysis.
Best,
Juan Villaverde
with
Alex Benfield