Musk's Twitter Takeover Won't Move the Markets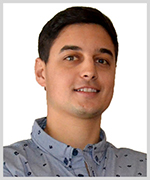 By Alex Benfield
Last week, Elon Musk made a bid to buy Twitter.
It honestly sounds like the start of a joke … and was certainly treated as such by Twitter's board of directors last week. But on Monday morning, rumors began circulating that the Twitter board of directors had reconsidered Musk's offer to buy all outstanding shares and take the company private.
The reconsideration came as a surprise development, but lo and behold, later that day, Musk's offer was officially accepted.
The Tesla (TSLA) CEO is now the official owner of one of the most popular social media platforms on Earth. As to what Musk intends to do with the platform, he said the following in a press release after the purchase was announced:
"Free speech is the bedrock of a functioning democracy, and Twitter is the digital town square where matters vital to the future of humanity are debated … I also want to make Twitter better than ever by enhancing the product with new features, making the algorithms open source to increase trust, defeating the spam bots and authenticating all humans.
"Twitter has tremendous potential — I look forward to working with the company and the community of users to unlock it."
So, there you have it. Musk, who has proclaimed his love of the social media platform and is an avid user, bought the company to bolster free speech and combat out-of-control censorship.
But that's all news that'll be covered across all major media outlets. We're here to discuss how this will affect crypto. After all, Twitter has become the primary platform for discourse between developers, projects and users in the crypto community.
And Musk himself has firsthand knowledge of the power a Tweet can have on the markets.
Remember when he tweeted a picture of his dog, a Shiba Inu named Floki? Over the next few days, shares of "dog coins" like Shiba Inu (SHIB, Unrated) and Dogecoin (DOGE, Tech/Adoption Grade "C+") soared!
Or when he lamented the ecological costs of mining Bitcoin (BTC, Tech/Adoption Grade "A-"), sending prices down?

But that's just the power of a big-foot investor with a platform. He could've used any platform and had the same impact.
In reality, very little about the change in Twitter ownership will affect crypto markets or price action directly.
But wait! What about DOGE? The crypto is already up 20% on the news.
That's just headline trading in anticipation of some of the new features Musk may implement on Twitter. But there's no solid evidence those features will definitely come about. And if they do, there's even less evidence suggesting DOGE will be the big winner. With nothing truly supporting the bump, it'll likely even out shortly.
That said, there are some fringe benefits to the crypto space that this change in leadership may reveal.
Musk has already confirmed he'll be targeting the spam bots, which are particularly rampant on crypto Twitter.
One of the biggest problems in crypto are hackers and other bad actors using these spam bots to parade as legitimate sources of information. They disguise their account names to mirror those of well-known individuals or platforms, then post tweets containing malicious links that trick inexperienced users into revealing their wallet keys. Now the hackers have all they need to steal people's assets.
Cracking down on these bots helps make the crypto space a little safer for everyone. And, as Elon Musk's personal Twitter account is constantly targeted by the spam bot copycats, it shouldn't be a surprise that this is one of the first main goals under his new ownership.
It'll also be interesting to see if Musk's commitment to free speech changes the fundamental way information spreads across Crypto Twitter. So far, there haven't been cases of censorship in crypto Twitter, but Musk's emphasis on free speech fits the ethos of Satoshi's vision of the future.
And in a time where we're seeing a large cultural focus on what free speech is … what role tech companies should play in governing speech and conversations of censorship that would raise George Orwell's eyebrows … this acquisition is simply timely.
That's likely the main reason why the crypto world is abuzz with "Musk Mania."
Still, we usually urge you not to act based on headlines. And seeing as we've established that Musk's purchase of Twitter will have fringe affects at best on the broad market, I feel it's appropriate to reiterate that recommendation.
Instead, let's turn to price action and our timing model to see how the market is holding up today and what you should be doing.
Macroeconomic concerns and fears of a hawkish Federal Reserve are still front and center on the minds of most investors right now as crypto pulled back along with the traditional markets.
It seems everyone is gearing up and preparing for troubling times ahead.
It'll be very hard for crypto to rally in the short term. Even with reduced available supply, and an increased focus on long term HODLing, the Bitcoin bulls still face an uphill battle.
For now, at least.
BTC will face weakness as long as it remains under $40,000. And each day it remains under that crucial level increases the odds that BTC will retest its summer 2021 lows, making the next few days could be crucial for Bitcoin's medium-term outlook.
It's safe to say at this point that, given the macro concerns, Bitcoin will likely set the pace for the entire crypto market moving forward in the medium term. If BTC falters, so goes the altcoin market.
Here's BTC in U.S. dollar terms via Coinbase (COIN):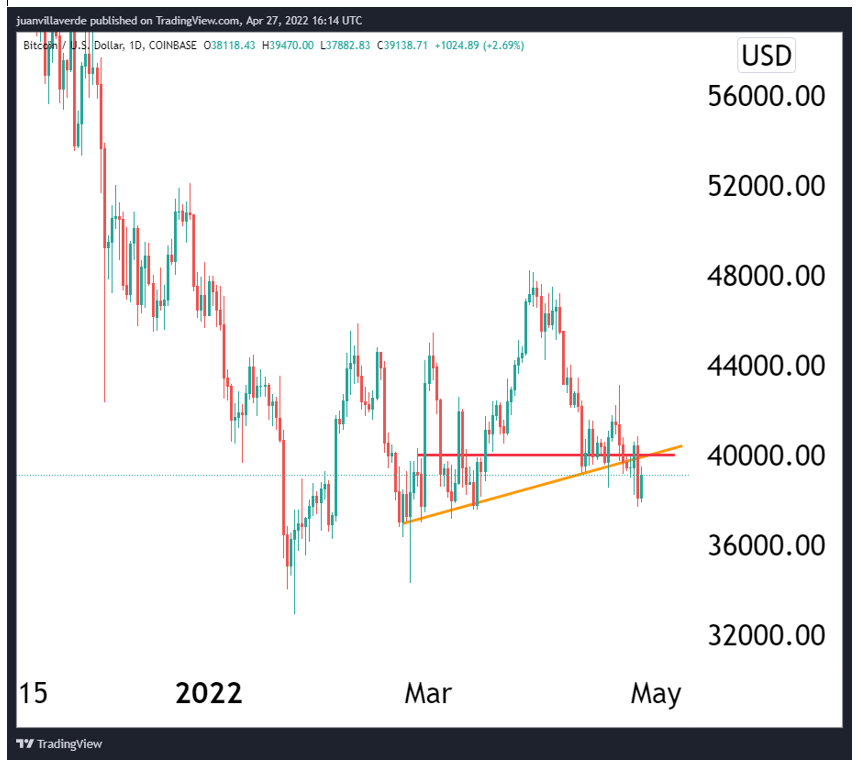 In markets like this, income is king. That's why we've been taking strides to inform you about timely opportunities as we find them to help you get ahead … even in this sideways market.
Chris and Juan have brought you several ideas recently ­— like this one and this one — and we'll be coming to you with more soon.
So, as always, stay tuned to Weiss Crypto Daily to stay informed and keep up to date on all the best cryptocurrency news and market conditions.
Best,
Alex