The Newest Global Hotbed for Minting NFTs: Ukraine!
It may be a long time before we see if the Ukrainians win the war on the ground against their homeland. But they're absolutely running rings around the Russians in the battle for global public opinion.
You can see this in how President Volodymyr Zelenskyy's videos go viral on the internet.
He is also very comfortable looking for innovative ways to garner financial support. Since Russia's initial attack on Feb. 24, Ukraine has brought in some $100 million in crypto donations.
And that was before the Eastern European country launched non-fungible token (NFT) sales!
That makes this …
The World's First Crypto-Funded War
Just a few days ago, the Ukrainian government minted more than 100 new NFTs on Ethereum for its "NFT war museum."
Each token chronicles a key event in the first five days of fighting, initially selling for 0.15 ETH (around $500).

Those same tokens are now available on secondary NFT markets, where the Ukrainian government still gets a cut of each transaction.
Ukraine is the first country to fund a war effort with NFTs.
Perhaps even more significantly …
It's also the first to have its version of events forever cemented in an immutable blockchain for all the world to see.
In other words, history is simultaneously being made AND recorded via NFTs.
Another Crypto War Chest to Watch For
Ukraine isn't alone in recognizing the potential value of these NFTs.
British Finance Minister Rishi Sunak formally asked the Royal Mint to create and issue its own NFT "by the summer."
Also rumored in the works in the U.K. are flexible laws and regulations on stablecoins, the legal status of Bitcoin (BTC, Tech/Adoption Grade "B+") and decentralized autonomous organizations (DAOs), tax treatments of decentralized finance (DeFi) loans and staking.
The government may also be mulling over opportunities to issue debt instruments on blockchain.
Prime Minister Boris Johnson likely sees crypto leadership as a logical extension of the City of London, which has long been a leading provider of banking and financial services to the world.
How to Build Your Own Crypto Defenses
Besides the obvious benefit to the NFT sector, this surge of interest in NFTs could be a huge boost to Ethereum (ETH, Tech/Adoption Grade "A-"). That's because NFTs are a major engine of Ethereum's growth and profitability.
Whenever NFTs are bought, sold or minted, the lion's share of the fees generated are payable in ETH.
Right now, ETH is still holding steady just above support near the $3,000 level.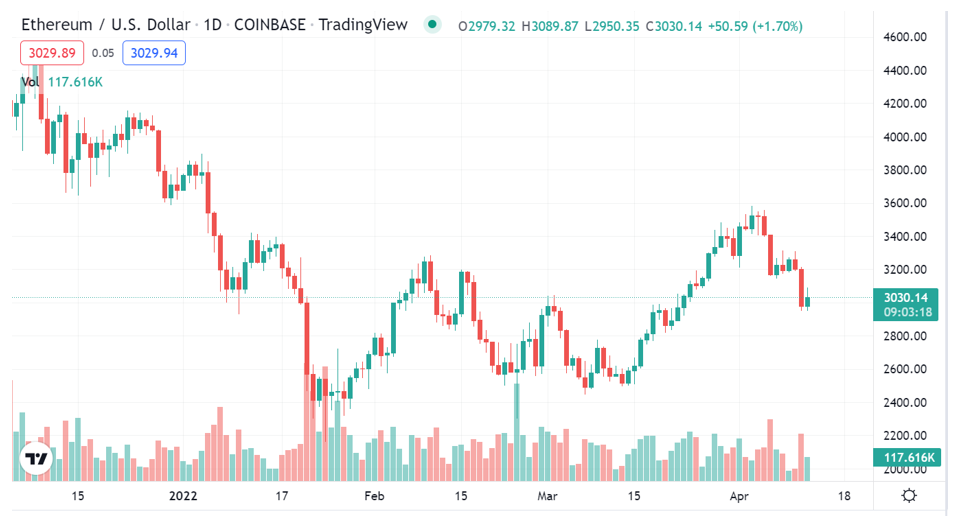 As Marija Matić explained yesterday, ETH's holding support at this level will be important in determining the near-term market moves … as where ETH goes, altcoins are likely to follow.
Headwinds against ETH at the moment include the renewed correlation between crypto and the Nasdaq, especially as investors digest the latest inflation numbers of 8.5%.
Institutional investors still consider crypto to be a risk asset and treat it accordingly in times of volatility, trading it in tandem with tech stocks.
But these are near-term concerns.
Longer term, Ethereum's outlook is more decidedly bullish. Just yesterday, ETH's "shadow fork" went live — a sidechain that will act as a stress test for ETH's continuing switch to a proof-of-stake (PoS) system.
The shadow fork has already processed 4,339,813 transactions with an average block time of 13.8 seconds as of the time of writing, according to a block explorer page shared by developer Marius van der Wijden.
The success of this test will help determine the exact timeline of the next upgrade to further complete the transition to PoS.
Once that does happen, it should reduce the energy needed to validate transactions, speed up validation times and reduce costs — three major complaints about the Ethereum network.
So, hold on tight to your Ethereum during near-term volatility.
And if you're interested in using some of your crypto holdings to buy NFTs on this side of the pond, consider taking our NFT Wealth Builder service for a test-drive. It's currently closed to new members, but you can call our Customer Care team at 855-278-9191 to learn more and to be among the first in line when we reopen the doors.
Best,
Beth Canova
Managing Editor