What BlackRock's ETF Approval Could Mean for Crypto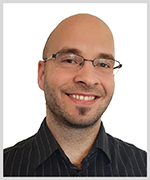 By Jurica Dujmovic
Navigating the intricate labyrinth of today's financial landscape is a complex task that requires insight, knowledge and a clear understanding of the myriad of forces at play.
You see, one name that continues to shape the contours of this landscape is BlackRock (BLK), a titan in the world of finance with assets that dwarf entire economies.
Now, BlackRock's latest venture is a cryptocurrency exchange-traded fund. This initiative promises — or perhaps threatens, depending on your perspective — to change the crypto industry forever.
To gain a better understanding of what this could mean for crypto, I interviewed four industry experts to uncover the details behind this ETF.
And if you've been following along with Weiss Crypto Daily articles, the first expert joining me today might be a familiar face.
A Potential Catalyst for Transformation
Joining me first in this investigation is my colleague Alex Benfield.
Last week, he did a wonderful job of providing an in-depth overview of this ETF.
Now, Alex doesn't hesitate to categorize this endeavor as possibly "the single most bullish price catalyst event in the history of the crypto market."
He emphasizes the symbolic power of BlackRock's commitment, as well as the staggering amount of Bitcoin (BTC, "A-") that would need to be purchased to back this ETF. This, in turn, could send Bitcoin's price soaring.
According to Alex, the market hasn't accounted for the possible approval of this ETF.
He predicts eventual approval for BlackRock's application, reflecting on the firm's impressive 575-1 ETF approval record. Additionally, he firmly disagrees with any notion that the recent price slump has been affected by the delay.
Looking ahead, he believes that the ETF ripple effect won't stop at Bitcoin; other Wall Street firms could scramble for action, possibly extending to spot Ethereum (ETH, "B") ETFs, which could reshape the entire crypto landscape.
Unique Risks
Adding to the extensive analysis provided by Alex, Dan Hoover and Peter Eberle of Castle Funds — an investment firm that manages digital currencies — offer a more nuanced understanding.
Indeed, they highlight the volatility around futures/options expirations, the rise of off-chain borrowing and the importance of regulatory treatment of digital assets in the U.S.
Now, the formal name for the BlackRock ETF is the iShares Bitcoin Trust. And compared to stock- and bond-based ETFs, like the SPDR S&P 500 ETF Trust (SPY) or the iShares MSCI Emerging Markets ETF (EEM), the iShares Bitcoin Trust comes with unique risks, tax implications and expenses.
To be specific, Hoover and Eberle call attention to the differences in tax treatment for digital assets.
Furthermore, they emphasize the complexities introduced by registering the shares under the Securities Act of 1933 (which allows non-diversified portfolios) instead of the Investment Company Act of 1940 (which allows a diversified one).
This, they say, comes at the price of additional tax paperwork for investors. As a result, these investors must wait for Schedule K-1s to be produced and mailed before filing their personal tax returns, even if they only hold the ETF for a few days.
Unlike Alex, they are skeptical that the market has fully priced in the demand for a Bitcoin ETF.
While they recognize the market's higher tolerance for long-lived, event-driven trades, they agree with Alex that the delay in BlackRock's ETF is not related to the recent BTC slump. Instead, they attribute it to crowding in event-driven trades and small negative catalysts.
Possible Market Manipulation
My last contact is Lucas Kiely, CIO of Yield App — a digital wealth platform that helps you earn passive yield on your digital assets.
Now, Kiely begins by acknowledging the critical importance of the U.S. market's liquidity in contrast to Europe and Canada, where spot ETFs for Bitcoin already exist.
Specifically, he points out that U.S. asset managers wield significant influence over global assets, making the prospect of BlackRock's ETF a matter of global consequence.
As such, he agrees with previous experts that the approval of such an ETF would indeed be a "momentous occasion." In fact, it would bring holdings of this ETF into the fold of traditional pension funds, pushing the digital asset industry into uncharted territories.
However, where Kiely's perspective diverges from the rest of the experts is his focus on the Securities and Exchange Commission's concern about market manipulation.
He underscores the substantial power wielded by asset managers, like BlackRock, could potentially influence small and illiquid assets like Bitcoin with just a few trades.
This concern resonates with the SEC's cautious approach, as Kiely believes that more regulatory and market infrastructure would be necessary before approval.
Final Thoughts
As I bring this investigation to a close, I can't help but linger on a primary concern that has consistently emerged during my inquiry: the possibility of price manipulation by BlackRock.
The sheer magnitude of BlackRock's influence — coupled with the groundbreaking nature of this ETF — cannot be overlooked.
Overall, my conversations with these four industry experts have highlighted the potential for BlackRock to wield a transformative influence over the market.
While the allure of a market boom, the democratization of cryptocurrency and a new era of financial innovation are tantalizing prospects, I find myself unable to shake the unease stemming from BlackRock's capacity to move the market at will.
The approval of BlackRock's ETF would mark not just a historic moment for cryptocurrencies … but a power shift that places unprecedented control in the hands of a single entity. This control, when coupled with the intricate and evolving regulatory landscape, raises profound questions about market integrity and transparency.
Although this new era of potential growth is exciting, I'm still wary that crypto could become a playing field for financial giants like BlackRock. So, it's best to approach this ETF with cautious optimism, as there are profound risks and responsibilities that come with such a significant event.
Only time will tell if the promise of innovation and growth will outweigh the concerns of potential manipulation and concentration of power. Until then, all we can do is watch, reflect and hope for a future where the labyrinth of finance leads us to a path of fairness and stability.
Best,
Jurica