Avoid the Retirement Boomerang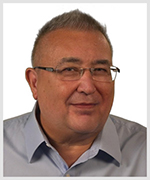 By Tony Sagami
"I retired too early. I don't have enough money," lamented one of my college buddies.
Two divorces wiped out his savings, and unlike professional athletes who get to retire relatively young and fall back on their multi-million-dollar net worths or come out of retirement for fun (ahem, Tom Brady) — he's going back to work because he has to … not because he wants to.
My friend made lots of money working at a Fortune 100 company for over 30 years on his way up to senior management. But those two ex-wives walked away with most of his 401(k), monthly pension checks and his houses.
Unretirement's Upward Trend
Now he's returning to work because he has no other choice, and he isn't happy about it.
And my friend has a lot of company.
The COVID-19 pandemic pushed millions of Americans into retirement earlier than they expected. According to Bloomberg, as of Oct. 22, 2021, that number exceeded three million early retirees.
And many of them did so for unfortunate reasons like layoffs, furloughs, job elimination or being forced into retirement because of health problems.
The issue was so pervasive, it was given a moniker: the "COVID retirement boom."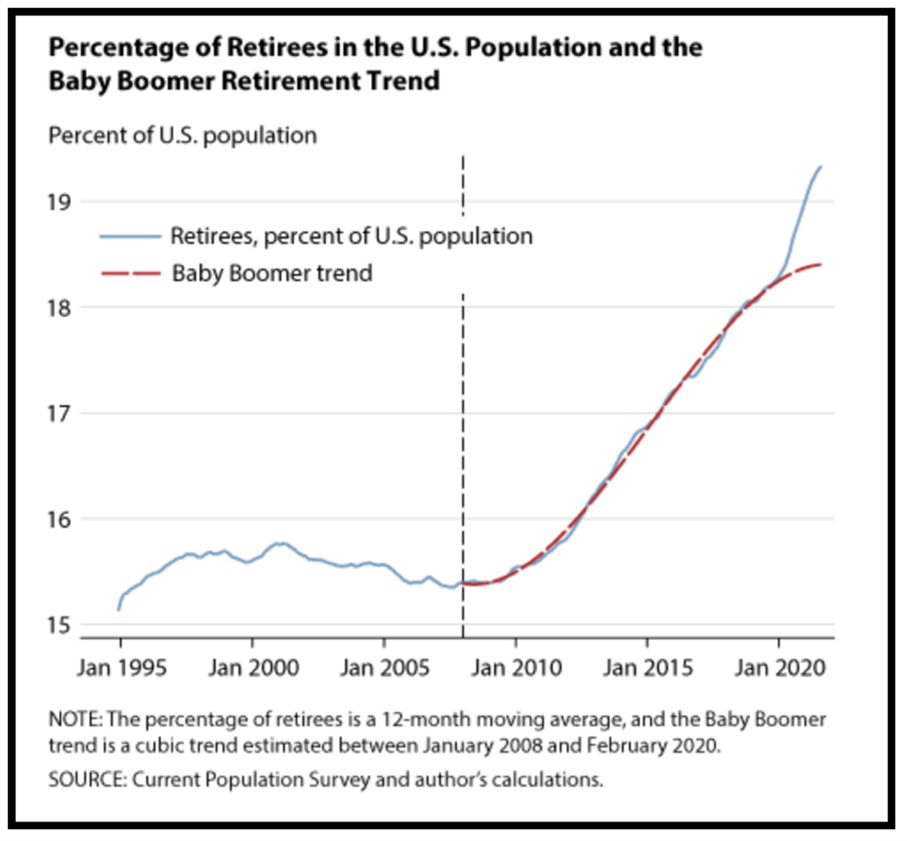 But now we're seeing a reversal … and a rapid increase in unretirement.
A lot of those early retirees are re-entering the workforce, and that number is rapidly growing. The latest numbers from U.S. Bureau of Labor Statistics showed an unretirement rate of 3.0% in February 2022.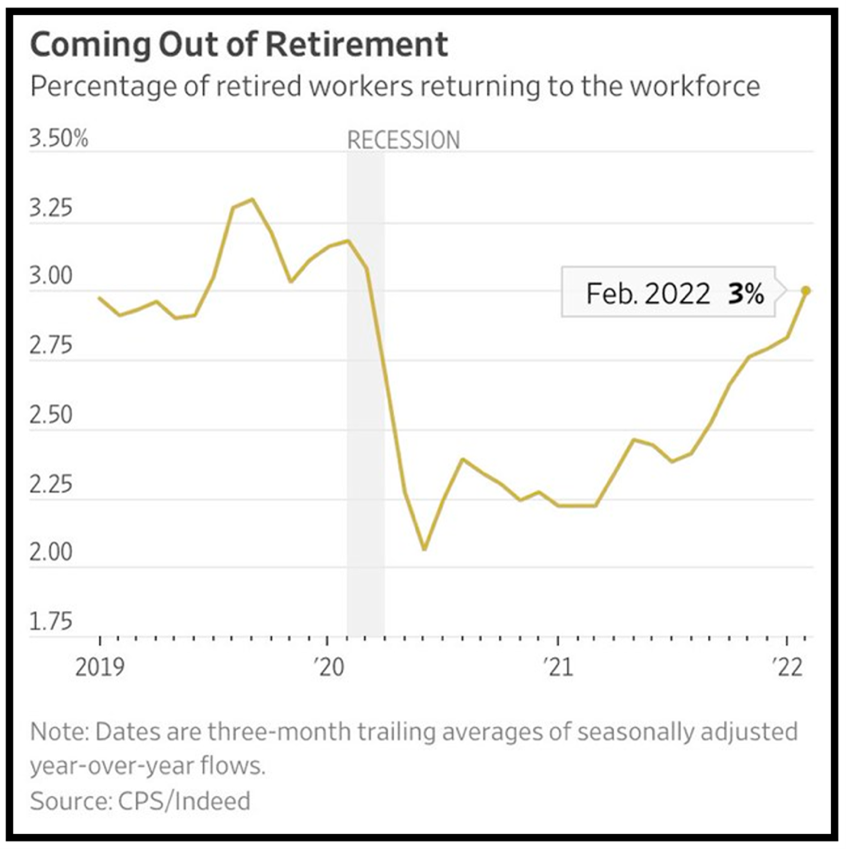 Some are returning to work because they are bored, but most — like my friend — are doing so to make ends meet.
I don't want that to happen to you.
I took a bunch of financial planning classes in the 1980s, and it was drilled into me that a successful retirement was dependent on a three-legged approach to retirement income: a pension, retirement accounts and Social Security.
A comfortable, secure retirement is just a big math problem. You factor in your age, how much you've saved so far, how much you save each year, pension benefits, Social Security payments and what year you (ideally) want to retire.
You can try it out here with NerdWallet's retirement calculator. But before you do, I should warn you that most people have …
Inadequate Retirement Savings
Get this: Only 6.8% of Americans receive income from all three retirement income sources, according to the National Institute on Retirement Security.
For one thing, most Americans aren't eligible for pension plans anymore. They've largely disappeared since 1970 when 45% of private sector workers were enrolled in them.
To make matters worse, after the onus of saving for retirement was shifted from the employer to the employee … a lot of Americans didn't even bother.
Now, one in three baby boomers rely on Social Security as their primary source of retirement income.
That means that the financial quality of your retirement largely depends on how much money YOU save. And sadly, a majority of Americans have woefully inadequate retirement savings.
According to the Transamerica Center for Retirement Studies, the median retirement savings total is only $50,000. And by the age of retirement, there are startling discrepancies:

There are only three options if you haven't saved enough: (1) save more, (2) work longer or (3) earn higher returns on the savings you do have.
But with the Consumer Price Index (CPI) currently at 7.9%, saving more is no easy feat for Americans these days. Inflation has taken the price of everything — from food to gas to car parts — to alarmingly high levels.
Working past the age of retirement doesn't sound like an appealing option either. Especially now that it's being pushed back to 67 years old.
That leaves us with the third option: earning higher returns. And one great place to do that is the stock market.
If you'd like to see the types of stocks I recommend investing in, look at my Disruptors & Dominators service. The model portfolio holds a combination of well-established, hugely profitable, dominant industry leaders and up-and-coming innovators that are disrupting old business models with new technology.
For the record, I'm not discouraging investors from funding retirement accounts. A 401(k) provides between 5% and 8% average annual return. That's not bad.
But at best, that's barely keeping ahead of the current rate of inflation.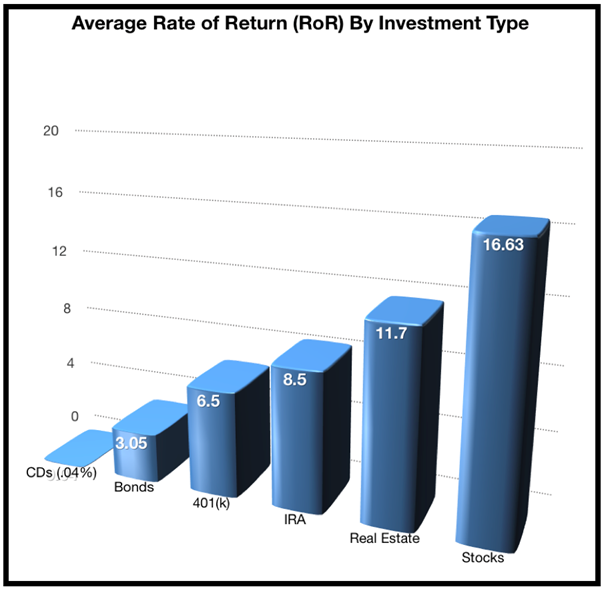 However, if you manage your IRA or are looking to use your trading portfolio for retirement income, you'll be interested in the open gains that subscribers to Disruptors & Dominators are currently enjoying on recommended positions: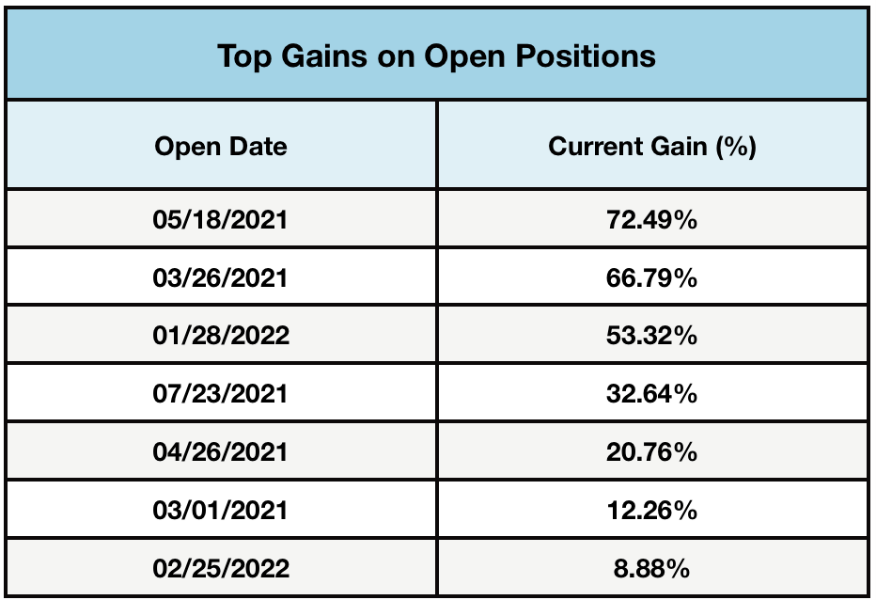 Whatever your retirement dreams are — European vacations, renting an RV and taking a road trip across America, spending more time with your grandchildren, deep-sea fishing for marlin in the Florida Keys or golfing your brains out — they are going to cost money.
So just like you would with that flashy car you've always wanted, take Disruptors & Dominators for a test drive and I think you'll be very impressed with the results.
Best wishes,
Tony