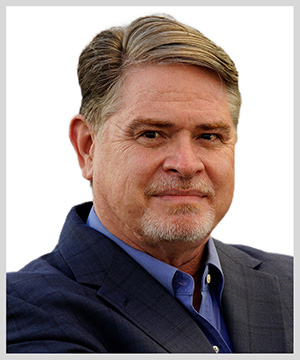 By Sean Brodrick
I started raising the alarm on inflation in April of last year and man, I hate to be right.
Recently, inflation surged to a 40-year high. With many investors bracing for worse to come, let me tell you something that might shock you:
I think the next thing we'll see is inflation cooling off.
Today, I'm going to give you six reasons why, because I've been looking at leading indicators for inflation.
Six Inflation-Cooling Indicators
1. Home sales are peaking. Especially in the West and Midwest, where existing home sales fell more than 5% in both regions. This hasn't dragged down housing prices yet, but with interest rates rising, that's probably next.
2. Fertilizer prices are falling. They're down 24% since March. This could take some of the heat out of rising food prices.
3. Semiconductor chips are getting cheaper. On average, chips are down 14% year over year.
4. Shipping container rentals are getting less expensive. The spot rate's declined 26% since the all-time high.
5. Inventories are surging. Retailers are seeing goods pile up in warehouses. Retail inventories increased 0.7% in April. Funny that people don't want to buy so much stuff after prices go higher.
Everyone from high-end Macy's (M) to big-box Target (TGT) to low-end Big Lots (BIG) is sitting on piles of goods they can't sell. The result: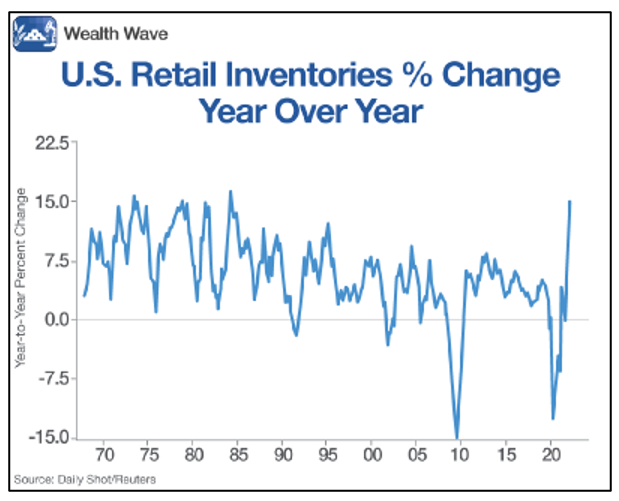 Ouch! And it's not just retailers. The U.S. Department of Commerce reports that business inventories rose 1.2% in April after advancing 2.4% in March. That's the latest data available. I wonder what June will look like.
6. Oil prices entered correction territory. Yesterday saw oil prices tumble sharply for the second time in less than week. In fact, oil dropped more than 13% from its closing high on of $122.11 on June 11. The intraday plunge yesterday was even bigger!
Driving the move is a combination of recession fears and speculators banking gains and running out the door.
I can give you a lot of reasons why this correction probably won't last, but since oil prices are a major component of inflation, any pullback is welcome.
The Path to Lower Inflation
Add these six reasons up and you can see why consumers aren't panicking about inflation. That runs contrary to the narrative the babbling heads in the media are pushing — so that may surprise you.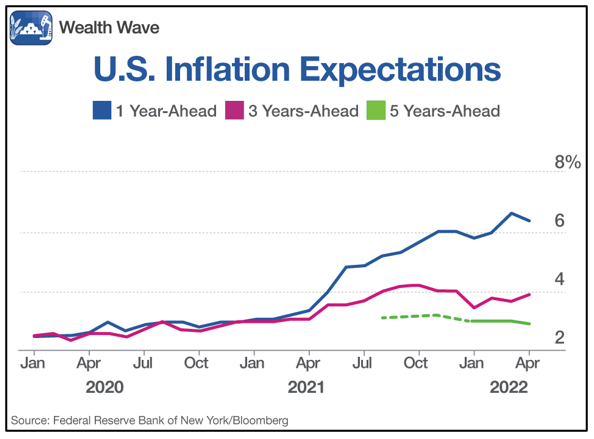 According to a survey by the New York Federal Reserve, U.S. consumers think this inflationary shock is short term, and that prices will go back to a more moderate rise in the months and years ahead.
This is important because, as long as inflation remains hot, the Fed — and other central banks — will be inclined to hike their benchmark interest rates higher and faster. This weighs on economic activity and could tip the U.S. into a recession.
But if inflation cools down, that'll take pressure off the Fed.
Here are a few more things to keep in mind:
Nothing travels in a straight line. So, while I expect inflation to cool down, it could heat up again.


The likely driver of an inflation upswing would be higher energy prices.


Stocks are in a bear market now. That may be a harbinger of recession. A recession would downshift inflation even more.
Investing in this environment is tricky at best. However, I can tell you:
We are in a fairly young commodity bull market. That should put upward pressure on inflation longer term.


The short-term sell-off in oil prices is contrary to fundamental developments in global oil supply and demand.


This is all taking part against a backdrop of Wall Street's big rotation from growth to value, which I've told you about many times.
So, I'd take this short-term inflation cooling as an opportunity to make a shopping list of what to buy. And that should be inflation-resistant stocks that pay fat dividends.
These are the same kind of companies I've directed Members of my Wealth Megatrends to since last year when I knew inflation was going to be surging.
You'll find plenty of those in the SPDR Portfolio S&P 500 High Dividend ETF (SPYD).
SPYD looks to mirror an index containing the top 80 dividend stocks in the S&P 500. The fund's main objective is to offer solid dividend income while targeting capital appreciation. It currently yields 4% at current prices.
So, you'll be paid to wait for the bull market that'll inevitably follow this bear market.
SPYD's top three holdings are Valero Energy (VLO), Marathon Petroleum (MPC) and Exxon Mobil (XOM). They make up about 6% of the fund. Are these energy stocks inflation resistant? Heck, yeah!
And sure enough, SPYD seems to be bouncing off support.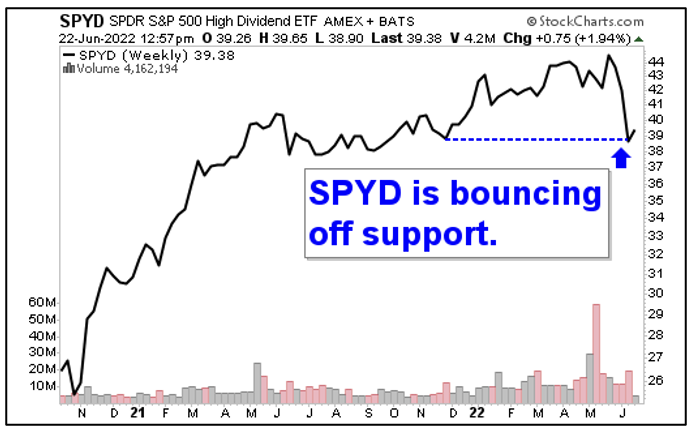 Just something to keep in mind. Cooling inflation will be a pleasant surprise for consumers and will take pressure off the Fed.
But it'll also cause a pullback in inflation-leveraged stocks. If you think the longer-term trend in inflation is higher, make your shopping list now.
The buying opportunity will come soon enough.
As always, conduct your own due diligence before entering any trade.
Best wishes,
Sean