It's not football season, but on Wednesday the Federal Reserve threw a Hail Mary at inflation, which is at a 41-year high.
But according to our team of analysts and editors, the 50-basis point rate hike is going to fall well short of having a significant impact on the Consumer Price Index (CPI).
One impact it did have, though: It spooked the markets earlier this week. For the week ending April 27, investor sentiment was nearly 60% bearish — the highest such reading of that month. And the Fear & Greed Index is reflecting that: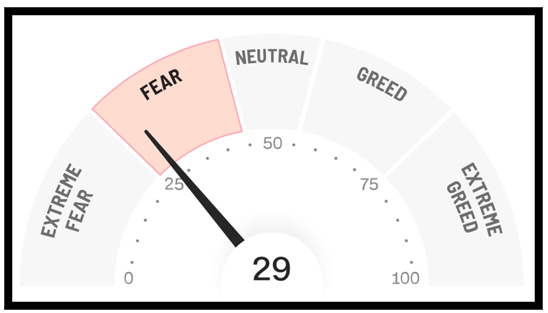 Source: CNN Fear & Greed Index
So, to help investors understand how this and subsequent rate hikes will impact equities in the near and long term, the Weiss Ratings Team is here to help.
On Wednesday the Federal Reserve threw the first 50-basis point rate hike at the markets since 2000. That's unlikely to do much, and the U.S. could be slipping into a recession in the next year. Senior Analyst Mike Larson details a few ways investors can protect — and grow — their portfolios during these tumultuous times.
VIDEO: Go for Hard Assets With High Returns
In this segment, Financial News Anchor Jessica Borg interviews Senior Analyst Tony Sagami, a lifelong globe-trotter who's visiting Sri Lanka. They discuss aspects of that country's current crisis, the correlation he sees between the American and Sri Lankan economies and investments that are tailor-made for the global demands of the day.
Opportunities in Our Electrified Future
The world's ready to combat greenhouse gas emissions, and if the green energy crowd gets its way, we'll all have electric vehicles (EVs) in our driveways soon. Senior Analyst Tony Sagami reports on how investors can ride the trend to our electrified future.
Semiconductors Make the World Go Round
As earnings season continues, Research Analyst Kelly Green's been keeping a close eye on certain industries. This week she dives into the Weiss Ratings to discuss the increasing demand for semiconductors, and whether companies in that industry are poised to profit.
This week's Federal Reserve benchmark interest rate increase is comical if not concerning. Dr. Martin Weiss says it's too little, too late. This week he discusses how loose monetary policy has eroded rates and how, when adjusting for inflation, they're incredibly lower than what's being advertised.
Until next week,
The Weiss Ratings Team