Inflation Punches Markets in the Mouth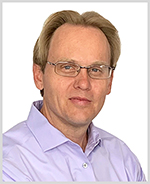 By Mike Larson
The date: Jan. 22, 1973.
The event: "Sunshine Showdown."

The location: Kingston, Jamaica.
On that day, Joe Frazier and George Foreman entered the boxing ring, with the winner set to walk away with the title of heavyweight champion of the world.
But perhaps more famous than the result was Howard Cosell's oft-remembered call of the fight. Right out of the gate, Foreman pummeled Frazier. Before long, the latter went down. And Cosell responded excitedly with the words: "Down goes Frazier. Down goes Frazier. Down goes Frazier."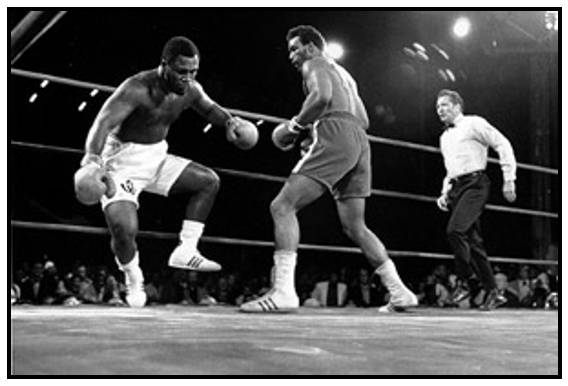 Foreman vs. Frazier, 1973.
Click here
to view full-sized image.
Epic sports television ... though no different from what you could've said about the markets yesterday at 8:30:01 a.m. That's because all of Wall Street's hopes and dreams for a tame inflation reading were dashed in an instant — and virtually every market on the planet got punched in the mouth!
Specifically, the U.S. Department of Labor reported that the Consumer Price Index rose 0.1% in August. Economists expected it to FALL 0.1%. Price increases were broad-based, too, which is why a 10.6% drop in gasoline costs wasn't enough to flip the headline number into negative territory.
It was ugly, just like Frazier's loss to Foreman. Take a look for August:
Non-food commodities were 7.1% more expensive.
Food inflation was 11.4%, with food at home inflating 13.5% and food away from home registering 8%.


Energy sits at 23.8% year-over-year inflation.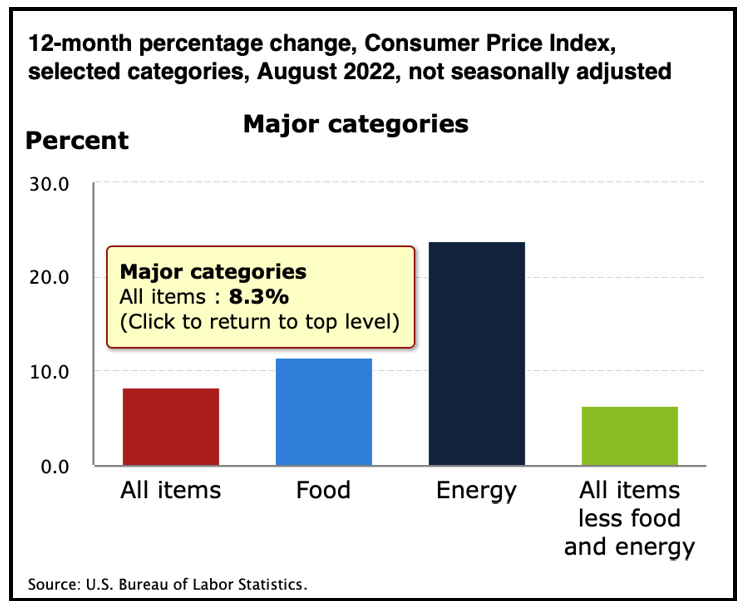 YoY increase in CPI for August 2022.
Click here
to view full-sized image.
More importantly, from a Federal Reserve policy perspective, core CPI, which excludes food and energy, surged 0.6%. Experts thought it would rise only half that much. Prices rose for medical care services, shelter, apparel, new vehicles and more.
The reaction in stocks was ugly enough. The S&P 500 finished the day down 4.33%.
But the carnage in the bond market was even worse. Short-term yields surged as traders radically reassessed their view on Fed policy moves.
Not only are markets now fully pricing in a 75-basis-point hike at the Sept. 21 meeting, but they're also pricing in a modest (but growing) possibility of a 100-point move.
Tighter money is bad for all kinds of assets, except the U.S. dollar, which has been on a rampage. It's just one reason why I'm STILL urging you to stick with a Safe Money approach to this market.
Let someone else call the 127th bottom or whatever in the Nasdaq. Let someone else keep losing money in garbage stocks.
You don't need to! You can protect your wealth and profit by avoiding that silliness and just staying focused on what has worked best and should continue to work best in this late-stage environment.
That's my best advice heading into year-end, which isn't looking like it'll be any less volatile and treacherous after another round of dismal data.
Until next time,
Mike Larson