Markets Up, Sentiment Down
This week, the S&P 500 posted its best two-day gain since 2020 and the Dow rose 1,500 points in two days.
This comes on the back of investor sentiment souring even more, with bearishness now measuring over 60%.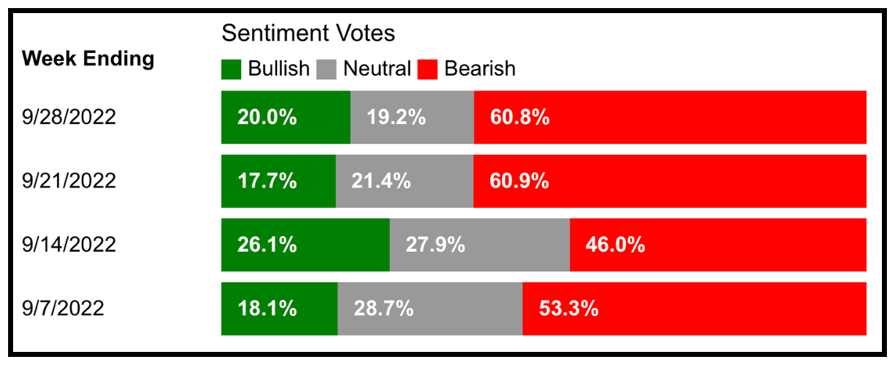 The AAII Investor Sentiment Survey indicating 60.8% bearish reading.
Click here
to see full-sized image.
This is largely due to the ongoing writing on the wall:
• Bonds are on course for their worst returns in history.

• The recently surging U.S. dollar appears to be peaking.

• And the Federal Reserve is planning additional rate hikes in November, December and February.
Whether a recession is here or on the horizon, our analysts and editors know how to prepare accordingly. Here are this week's top stories from your favorite Weiss Ratings experts.
Stormproof Portfolio Insurance
In the wake of Hurricane Ian, early estimates are upward of $50 billion in insured losses. With the top 50 insurance companies producing an average annual profit of $3.2 billion, Managing Editor Jordan Chussler explores how those companies — and two exchange-traded funds — can help investors safeguard their portfolios.
VIDEO: Insights From a Bitcoin Millionaire
Despite the ongoing crypto bear market, Bitcoin is enduring tough macroeconomic conditions. In this segment, Financial News Anchor Jessica Borg interviews Crypto Host & Analyst Max Wright, one of the world's first BTC millionaires, about the coin's strength and the next market that'll soar.
Lithium: The Power Behind Decarbonization
Lithium has a high capacity to store energy, which is why it's used in rechargeable batteries for mobile phones, wireless headphones, laptop computers and most importantly, electric vehicles. After visiting the world's largest lithium mine, Senior Editor Tony Sagami reports on how investors can benefit from the boom in 'white gold.'
VIDEO: Market Minute With Kenny Polcari
OPEC is considering a production cut of a million barrels per day in the hope of supporting the price of oil. Kenny Polcari, host of Wealth & Wisdom, dives into his weekly macroeconomic breakdown to explain what it means for prices at the pump.
Martin Here. I'm Sorry This Happened.
The coming bottom in Bitcoin will be one of the greatest profit opportunities of all time. Our analysts have targeted when that's likely to occur. Founder Dr. Martin Weiss details how those who acted on the last bottom profited enormously, and how a similar opportunity will soon present itself.
Despite this week's market rally, signs are increasingly pointing toward a recession later this year or in early 2023. Analyst Grant Wasylik discusses six of the telltale indicators that should have investors concerned and suggests how they can prepare.
Until next time,
Jordan Chussler
Managing Editor
Weiss Ratings Daily