Strong Income Plays Amid Volatile Markets
In this segment, Financial News Anchor Jessica Borg interviews Senior Analyst Mike Larson about the Fed's recent rate hike, recession indicators and sectors performing well amid market volatility.
You can watch the video here or continue reading for the full transcript.
Jessica Borg (narration): It doesn't take long to see dramatic change in the financial markets.
Mike Larson: The character of the market behind the scenes has really changed a lot of over the last six to nine, to even 12 months.
We're in a trickier environment, a more treacherous environment, more volatile environment — so that's an environment where Safe Money strategies are even more important than they have been of late.
JB: We talked a while back about the rotation out of growth stocks and into value stocks. You see that still playing out right now.
ML: A year ago this time, we were talking about how tech was leading and how more defensive stocks were lagging.
You have broad parts of the technology sector that are really falling apart.
You're seeing sectors like energy, utilities, consumer staples that are doing very well.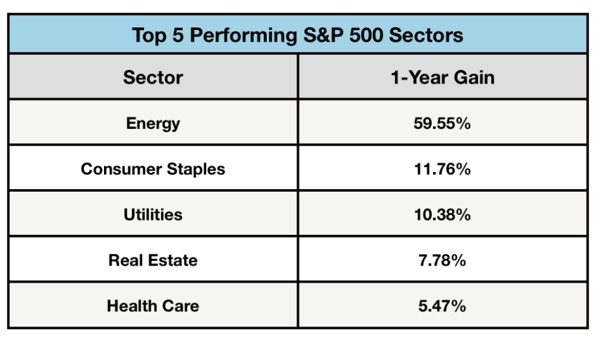 In parts of the technology space, you're seeing dot-com-like losses for some of these stocks.
That's something you need to be avoiding, and you need to be investing in other sectors that give you stability, that give you yield and that give you safety.
That margin of safety is so much more important in an environment like this, than you might've had pre-pandemic, or even in the raging bull market that we had in 2021.
JB (narration): It's an inflationary environment, and the Fed has started a cycle of interest rate hikes to deal with it.
It's an economic climate that Mike Larson, editor of Safe Money Report , specializes in — helping to protect and grow a portfolio amid shifting forces, like pressures from war, supply-chain disruptions, and the Fed raising its benchmark rate.
JB: And we can expect a number of interest rate hikes from here until December.
ML: They started their rate hike cycle in March. They're expected to hike at every meeting between now and the end of the year.
And most likely, depending on how the economy shakes out, probably into early 2023, as well.

Source: FRED
The fear of interest rate hikes is a prime reason why all these infinite multiples — no earnings kinds of tech companies that claim they're going to make money but it's not going to be for five years down the road — they're getting hurt because of the rise in interest rates and the expected continued rise in interest rates.
So, it's a tougher environment.
JB (narration): Mike says to focus on consumer staples and have less exposure to consumer discretionary and tech.
ML: Some of those sectors that are going to get hit if, in fact, we do have a downturn in the economy — or worse — a full-blown recession.
JB: How likely is a recession?
ML: If you look at what the interest rate markets have been signaling, there are things like the yield curve — simply the shape of the different yields on U.S. Treasurys.
Early this year, the yield curve inverted with 2-year Treasurys yielding more than 10-year Treasurys.
That's among other recession indicators that suggest, as we head into next year, that the likelihood goes up quite a bit.
JB (narration): He likes the performance of the company Merck (MRK).
ML: They're the mega-cap pharmaceutical drug company, with the high-dividend yield and solid, if not spectacular earnings — one of those Steady Eddie kind of names.
They just had a great quarter, and the stock was close to breaking out to new multiyear highs.
JB (narration): In the utilities sector, he's a fan of NextEra Energy (NEE).
ML: I've liked that for a while. It's come down a little bit in recent weeks, and it's probably at a good bargain to step in.
JB (narration): And he says to make sure to have a healthy allocation to the precious metals market.
ML: The precious metals market, in my opinion, has been in a bull market since the second half of 2018. It continues to this day, even though we had a pretty long correction last year.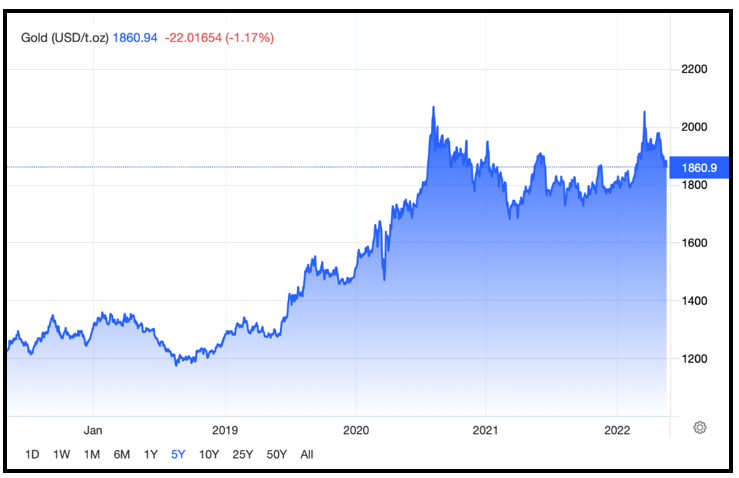 Source: Trading Economics
When people are looking for purchasing power protection and they're looking for something that will help their money retain its value in an inflationary environment, they're going to turn to things like gold, silver and miners.
JB (narration): Historically, these are good hedges in turbulent times.
There are ways to protect your capital and create more of it, even during periods of uncertainty.
JB: Senior Analyst Mike Larson, it's always a pleasure to get your insights. Thank you for your time today.
ML: Great, thank you.
Best wishes,
The Weiss Ratings Team