Your Bank May Be in the 45%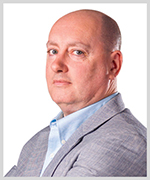 By Gavin Magor
Gallup just reported that 48% of Americans are worried about the safety of their bank deposits.
Our most recent Weiss Safety Ratings confirm that they have every right to be concerned.
That's because, among the 9,457 U.S. banks and credit unions we rate, our latest data shows that 4,253 of them could be vulnerable to failure.
Said another way …
Some 45% of depository institutions could find themselves destined to follow in the failed footsteps of Silicon Valley Bank, Signature, Silvergate, First Republic and their international counterpart, Credit Suisse.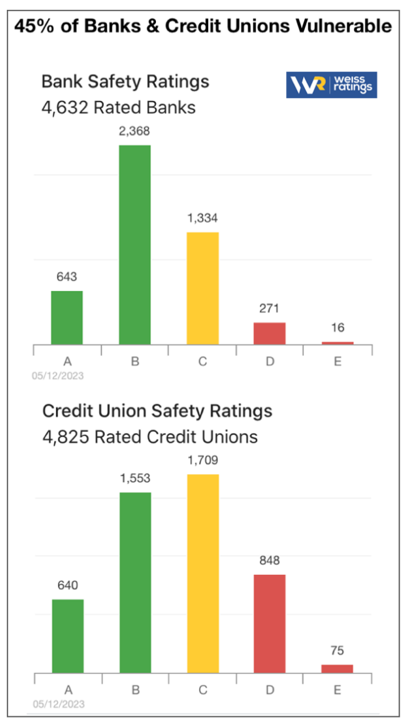 45% of banks and credit unions rated by Weiss Ratings are vulnerable.
Click here
to see full-sized image.
Looking at the Weiss Safety Ratings, we see that:
• 1,210 institutions (or 12.8%) have a red warning flag, signaling risk of imminent failure, while …

• 3,043 (32.2%) have a yellow warning flag, indicating risk of failure in a financial crisis or recession.
There are many takeaways here. Chief among them is that …
It's not just the regionals at risk.
In fact, we downgraded 17 of the 50 largest banks based on their Q4 2022 data.
We fully expect to see further downgrades following our analysis of the first-quarter data. That's because these "too big to fail" institutions may be sitting on risks that are getting too big to ignore.
One of those names was PNC Bank, whose safety rating dropped from a "B" to a "B-" in our latest review.
A bank safety rating in the "B" range is still "Good." But that's just part of the story.
To be clear, many financial institutions have TWO ratings: safety and investment. PNC's "B-" safety rating is higher than its "C" investment rating.
In other words, a potential depositor at PNC could end up faring better than someone who wants to buy its stock, which is just "Fair!"
That's been one of the defining trends of 2023 so far …
Amid this year's regional bank failures, the FDIC has insured well beyond the $250,000 cap for each depositor, at each bank, in each account category.
At the same time, the corresponding banks' stocks have plunged 70%–100% this year.
Plunging bank stocks.
Click here
to see full-sized image.
This means investors have lost more money than depositors in these failed institutions … a LOT more!
The question now is not whether the bank failures are over but, rather, which one is next?
Wall Street is looking west … that is, toward Pacific Western Bank. This Beverly Hills, California, regional lender just saw its share price get sliced in half on concerns about some large depositors cashing out.
Today, PacWest has a "B+" safety rating and a "D+" investment rating, which again could change at any time.
Based on this year's trends, few banks, if any, appear likely to see an upgrade anytime soon.
That's why I want to take our time together today to talk about the Weiss Safety Ratings. Because they work!
Since 2008, among the 539 banks that have failed, Weiss Ratings has provided advance warning on 535, or 99.3%.

Bank fails by Weiss Rating, 2008–2023.
Click here
to see full-sized image.
You can go here to check the current Weiss rating of your bank or credit union.
I recommend you do so now.
All the best,
Gavin Magor
P.S. There's another way you can keep protect your wealth from the flaws of the U.S. banking system. Click here for four steps on how to stay safe.