Deglobalization Creates Opportunity for Lithium Miner
The war in Ukraine is shrinking the world. Deglobalization, an anathema only a decade ago, is a big new opportunity for investors.
More than 850 international businesses announced last week they were cutting ties with Russia in the wake of the Ukraine invasion. Western business is forsaking the Russian economy and the resources it provides.
Lithium is the cornerstone for the new economy. It's what comes next.
The biggest surprise of the Russian invasion — apart from the Ukrainian stiff resistance — is how quickly Western business leaders moved to cut ties with Russia.
From Coca-Cola (KO) and Starbucks (SBUX) to Exxon Mobil (XOM) …
Executives in the West are moving at a breakneck pace to put distance between their brands and the authoritative regime.
It's a complete about-face from the idea that shared interests in the health of the global economy would deliver peace and prosperity to all.
Russia might not seem like an important player ... its corruption-plagued economy is now smaller than South Korea, yet its trove of resources is vital. Within days of the Ukraine invasion, a note form the German Association of the Automotive Industry warned that plants would soon have to idle due to shortages in palladium and nickel —metals that are needed to make catalytic converters and lithium-ion batteries for electric vehicles (EVs), respectively.
Related post: A New War Is Already Here
Lithium-ion batteries are especially important.
According to Benchmark Mineral Intelligence, by 2030 EVs will be responsible for 90% of the demand for lithium.
The entire automotive industry is transitioning to EVs. They're an upgrade from traditional internal combustion engine cars and trucks, fun to drive and don't require gasoline or natural gas. All the major brands have designed new vehicles to compete with Tesla (TSLA), the clear EV leader.
Unfortunately, the industry is also amid a supply chain upheaval. Many components — including semiconductors and batteries — are in terribly short supply.
It doesn't help that most of the world's batteries are made in China, another authoritative regime. American politicians and business leaders want a domestic alternative. The Department of Energy claims it's a matter of natural security.
Australia, Chile and China currently account for 80% of the world's lithium production.
And 50% of all lithium processing occurs in China, according to the International Energy Association.
Lithium Americas (LAC) is sitting on a deposit at Thacker Pass, Nevada, that could account for as much as 15% of all the lithium carbonate mined in Australia. The project sits inside an extinct supervolcano. Thousands of tons of lithium are simply sitting in rich fields of sediment. The plan is to build a massive open-pit mine.
Related post: Put Tesla Wannabes in Rearview Mirror
Glenn Miller, professor of natural resources and environmental science at the University of Nevada, told CNBC in January that the mine is expected to produce 60,000 tons of lithium carbonate annually, about half of the 2025 expected domestic need. Better still, Lithium Americas is planning to build on-site both the mining and processing operations. This will sidestep the need to deal with China.
Given what is happening in the world, that's more important than ever. Bad actors in authoritative regimes can cause substantial disruptions to global supply chains.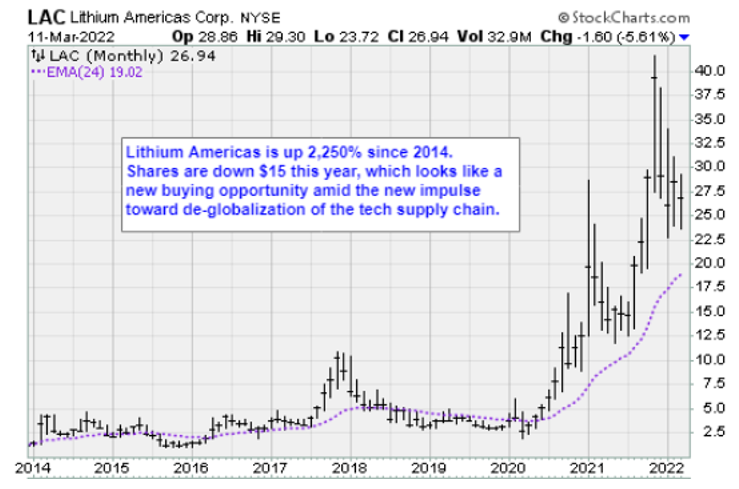 The war in Ukraine caused the price of oil to spike from $85 to $130 in March. Class 1 nickel — a metal used to make EV batteries — shot up to more than $100,000 per metric ton, a 400% increase during the course of only week.
Traders are worried that removing Russian resources from the marketplace will lead to longer-term shortages.
It makes more sense than ever to shore up supply chains with local production. And deglobalization is a new trend that puts both sides of the political spectrum on the same page, a rarity in the current polarization.
Overall lithium demand has shrunk this year as the ramp-up in EVs has been slower than expected, causing the Global X Lithium & Battery Tech ETF (LIT) to fall 28% from its November 2021 high.
Yet Lithium Americas is set to reap the benefits of this moment.
Longer-term investors should consider starting a position into the current pullback.
Best wishes,
Jon D. Markman