The Apple of Big Tech's Eye
Big Tech companies have inherent advantages over their smaller competitors. Despite scrutiny from regulators and politicians, that superiority has never been more dominant.
The annual Worldwide Developers Conference (WWDC) is being held in Cupertino, California, this week — an opportunity for Apple (AAPL) to showcase its new products.
It looks like tech rivals are in trouble. Investors should take note, too. Apple is now pressing every advantage.
Related post: Big Tech Is Already Back
A steady parade of Apple executives took the stage on Monday. Their message was singular: Our products work together so wonderfully that you don't need anything else.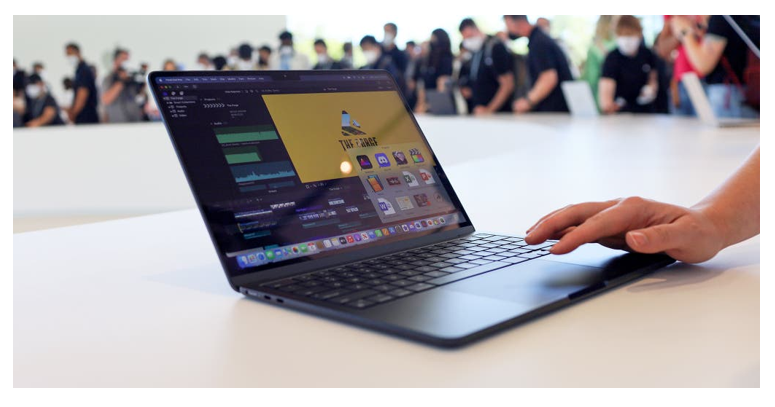 Craig Federighi, senior vice president of software engineering, showed off how well the iPhone integrated with the new Macbook Air. He attached a stand to hang the smartphone from an open Macbook screen.
The devices did a seamless digital handshake — without setup, the powerful iPhone camera instantly became the Macbook's webcam.
Related Post: Digital Transformation Is Our World
That alone was a cool party trick, but the real magic occurred when Federighi put the Macbook into split-screen mode to show his desk. The iPhone's ultrawide-angle camera was able to perfectly proportion an overhead view.
This trickery is possible because Apple products share proprietary software protocols, making integration seamless.
It also lures patrons into the ecosystem with its user-friendly simplicity. Apple's hidden advantage is that this integration keeps users loyal.
It's an asset that Apple executives have been careful to leverage into new businesses.
One example is Apple Pay, which started seven years ago as a simple contactless payment system for iPhones. Tap the smartphone at any one of millions of contactless payment terminals worldwide, and money was digitally whisked to the merchant from your credit or debit card.
Apple announced in February that accepting payments directly on iPhones is now possible, too.
At WWDC this program was expanded with new partners. This is a direct appeal to millions of small business owners currently using Block (SQ) products as contactless payment terminals.
Apple Pay Later offers Apple Pay customers a buy now, pay later (BNPL) option by splitting purchases into four equal payments over six weeks.
The system uses the Mastercard (MA) network to verify transactions, yet the real target is Affirm Holdings (AFRM), a new public company and one time highflier.
Cohesive contactless payments and BNPL launch Apple headlong into the digital wallet business. Apple Pay currently commands 5% of all credit card transactions, and BNPL is projected to be a $125 billion market, according to a report at CNBC.
Related Post: Look for Tech Bargains
And then there is CarPlay, the software that links iPhones to most modern cars. CarPlay is a big deal.
It largely replaces clunky automotive infotainment systems with a touch interface that looks and feels much more like a smartphone.
At WWDC on Monday, Emily Schubert, senior manager at Car Experience Engineering, announced CarPlay on steroids.
Future software will be fully integrated into the automotive stack. It'll control heating and air-conditioning, sync with your calendar, home automation system and play music, podcasts, or the radio.
Schubert claims that 79% of new vehicle buyers will only buy cars that feature CarPlay. That's bad news for BlackBerry (BB), the smartphone company that was reborn as a vehicle infotainment provider.
Regulators and politicos have taken note of Apple's increased power. All over the globe they are trying to head off future dominance.
The European Parliament on Tuesday reached a deal to force all smart- device makers to use USB Type-C as a common charging standard. The regulation is supposed to target e-waste.
In reality, all modern devices except iPhone have moved to the standard. Apple still uses its proprietary lightening port for charging.
And in the U.S., legislation is being pushed that would target Amazon.com (AMZN), Alphabet (GOOGL), and Apple for giving preferential treatment to their own services inside the marketplaces they operate.
Such legislation would make it difficult to push Apple Music or Maps. It might also gum up the seamlessness of the hardware and software ecosystem.
I wouldn't bet on that.

Big Tech won consumer market share by building better products. Apple now controls the foundation on which many competitors have been forced to build out what amount to features.
Square, Affirm, Blackberry and others are likely to face tough competition as Apple enters their spaces.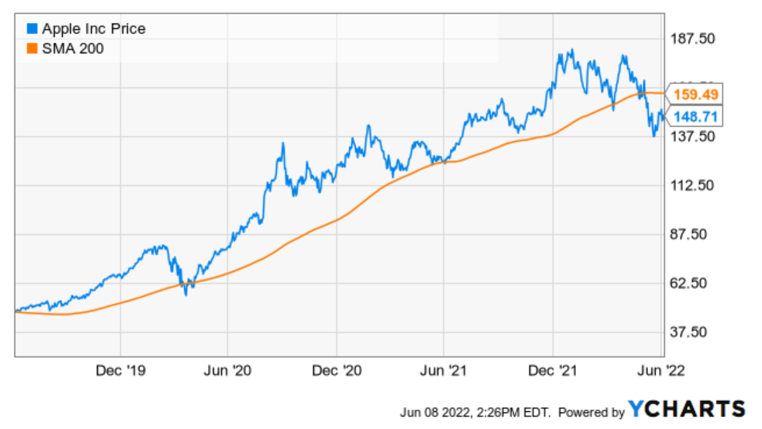 All of tech is currently mired in a bear market. I've not been encouraging investors to buy any shares trading below their respective 200-day moving averages. For Apple, that marker is currently $159.
But tech is not the only sector mired in a bear market. In fact, our entire economy could be facing an economic crisis not seen since the days of the Great Depression. Fortunately, there are seven simple steps investors can take to protect and grow their wealth in these trying times. The details are all inside this free, vital investor broadcast. Click here to watch this short video now.
Best wishes,
Jon D. Markman