3 Big, Profitable New Year Trends
Happy New Year!
With the arrival of 2022, investors are looking for new opportunities to grow their wealth. But many don't know where to look.
Let me preface by saying: I hate prognosticating.
As the great Yogi Berra once opined: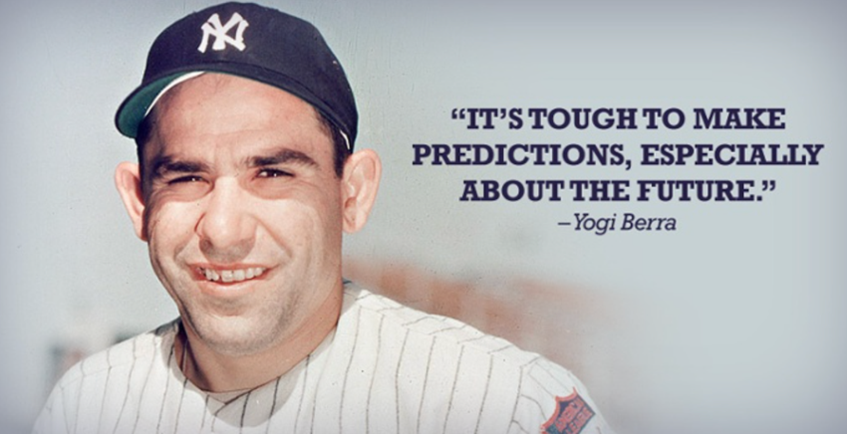 But today, I have three forecasts I feel comfortable sharing with you.
Forecast 1: The Market Zigzags Higher
I expect stocks to make gains in 2022, though not as much as they did in 2021. The January after a strong year can be a mixed bag, so we may see prices pull back in the short term.
But smart investors think beyond the short term. And in the intermediate term, I'm quite bullish. There are drivers lining up to push stocks higher, including:
Cycles: The U.S. seems to be in the midcycle phase of the business cycle. If history is a guide, the midcycle phase is an expansionary period.

Goldman Sachs (NYSE: GS) is expecting gross domestic product (GDP) growth of 3.8% this year. Other estimates vary.


Positive earnings growth: Growth, yes. But again, I expect this to be down from 2021. Balance this against a market that is already highly valued, and you can see how the bull market could slow ... and how leadership could rotate.


The Federal Reserve: The central bank is petrified of tightening too much, too soon. So, the free money policy will continue, though at a slower pace and in lesser amounts.

It looks like three rounds of quarter-point rate hikes are likely in 2022; that is being priced in and will still leave credit very cheap.


Infrastructure: Infrastructure spending will pick up, with $550 billion in new federal spending over the next five years.

According to the White House, the bipartisan Infrastructure and Investment and Jobs Act includes provisions for: eliminating lead service lines; expanding access to high-speed internet; rebuilding roads, bridges, ports and airports with a focus on climate change mitigation; funding clean energy projects, improving public transit … and much, much more.

These measures will provide a whole slew of investment opportunities, some of which I've previously discussed.


Tax credits: We may — or may not — see an extension of child tax credit payments. If it happens, it will be a big economic boost and will likely help determine the strength of the economy in 2022.
So, what about the spread of Omicron … or a possible new COVID-19 variant?
Bah! As I've said before, the world is getting better at handling each new variant.
In fact, since Omicron arrived in America in the beginning of December and the market experienced a fright-induced sell-off … the Dow Jones Industrial Average (DJIA) is up 6.10%: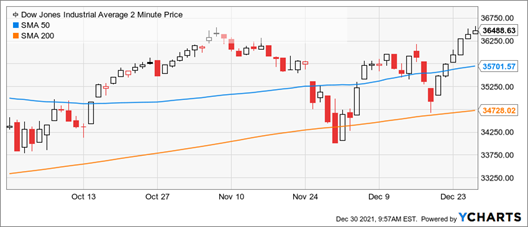 Add it all up … and you have a good — though not great — environment for the broad stock market. Our job will be to find the winners that will outperform the market.
Forecast 2: Lithium Stocks Will Zoom
China is the center of the world's lithium demand. And the price of lithium carbonate just rose 8.7% in the most recent week.
Here's the one-year chart of Chinese lithium carbonate prices:

In fact, lithium carbonate prices in China rose a whopping 426.47% in the past year. The price of the more desirable lithium hydroxide is up 329% at the same time, but it started from a higher base.
I don't expect to see another 426% rise in 2022. But I do expect prices to go up, and that will be very good news for the lithium-leveraged positions I've talked about in the past.
Forecast 3: China Will Surprise Analysts
Right now, we are seeing the price of aluminum, iron and more pullback on expectations that Chinese economic growth is going to slow and financial conditions will tighten.
Horse hockey! Analysts are forecasting what they would do, not what the people running China are going to do.
And in China, some like it hot. Economically hot.
For example, analysts at influential China International Capital (CIC) say that steel demand in China will decline 1.2% in 2022. This is in part due to expectations that China will lock down various cities due to COVID-19 outbreaks.
But CIC forgets the other half of the equation:
When China's economy faces challenges, that country's leadership responds with new infrastructure projects and "free" money.
Indeed, Monday saw reports that China's infrastructure investment will accelerate in the first quarter thanks to the early allocation of fiscal funds. And overall, infrastructure investment is projected to grow faster in 2022 than in 2021.
Add in the fact that China's central bank injected $31 billion into the financial system on Tuesday, which came right after it said it will keep its monetary policy flexible next year. The goal is to "stabilize" growth and lower financial costs "amid growing economic headwinds."
In other words, cheap-to-free money to keep the economy growing.
To me, the combo of more infrastructure spending plus cheap money sounds very bullish for steel … aluminum … copper … lead … and oil!
In Other Words, We're Talking About Commodities
I can think of two potentially great ways to play this.
The first is with the Invesco DB Commodity Index Tracking Fund (NYSE: DBC).
It tracks a basket of crude oil, heating oil, gasoline, natural gas, gold, silver, aluminum, zinc, copper and more. DBC is very liquid and has an expense ratio of 0.85%.
The second is the SPDR S&P Metals and Mining ETF (NYSE: XME). It holds a bunch of leading companies including Alcoa (NYSE: AA), Peabody Energy (NYSE: BTU), Freeport-McMoRan (NYSE: FCX) and so on. It has an expense ratio of 0.35%.
DBC gets a "B-" from Weiss Ratings; XME gets a "C." Those are perfectly fine and give me even more confidence in these potential options.
You'll remember that commodities sold off hard in late November as fears of Omicron swept through the market. But they bottomed quickly as the variant turned out to be less deadly than others.
Let's see how the XME and DBC did since the bottom: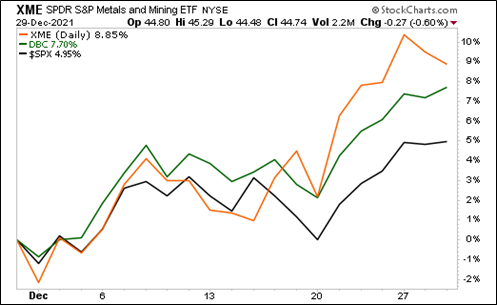 Both XME and DBC are outperforming the S&P 500. Perhaps the big trends I see for 2022 are already starting to take shape.
It could be a heck of a ride … and a profitable one, too.
And if you'd like to learn more about what great investment plays are on the 2022 horizon, I highly encourage you to check out my Wealth Megatrends service.
I can't give out individual picks here, but if you'd like to learn more, click here now.
My best wishes to you and yours for this new year.
Best wishes,
Sean