4 Big Bulls in Defense Spending
Fears of a recession are rising, which scares investors a lot.
Now, I have my own views on how close we are to a recession.
But what if I told you that you can invest in an industry that's guaranteed to see spending rise in the next few years?
I'm talking about the defense industry.
And I have three ideas for you to consider today to ride the wild bull that's already carrying defense stocks higher.
So, what are the bullish facts on defense spending?
Four Bullish Facts Driving Defense Spending
Fact No. 1: Earlier this month, just six weeks after requesting a whopping $773 billion for the military budget in 2023, President Biden indicated he was willing to ask for even more money.
Fact No. 2: U.S. military and aerospace firms are asking Congress for a defense budget for 2023 that exceeds inflation by 3% to 5%. With inflation running about 8%, that's a heck of a jump!
Fact No. 3: At least two more countries (Sweden and Finland) are in the process of joining the North Atlantic Treaty Organization (NATO). Part of joining NATO is agreeing to operate in the U.S. defense ecosystem. That means more money for America's defense contractors.
Fact No. 4: President Biden signed a military aid package for Ukraine worth $40 billion. This is on top of an earlier $13.6 billion package. The latest aid only supports Ukraine through September, so it's the tip of the iceberg of what's to come.
This is all pointing toward a substantial increase in the military budgets of the U.S. and its allies, which together account for 51% of the world's military spending.
And the U.S. already spends more on the military than anyone else on Earth, equating to about 3.5% of the total federal budget: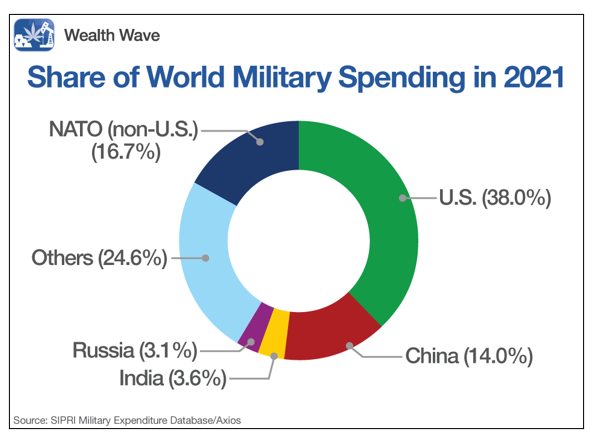 I take the same attitude with defense companies that I do with energy companies and healthcare companies. If you can't beat 'em, join 'em.
So, I have three ideas for you.
Three Defense Ideas To Consider
1. First, if you prefer exchange-traded funds (ETFs), consider the iShares U.S. Aerospace & Defense ETF (ITA). It's the most liquid of the defense ETFs, and has an expense ratio of 0.42%.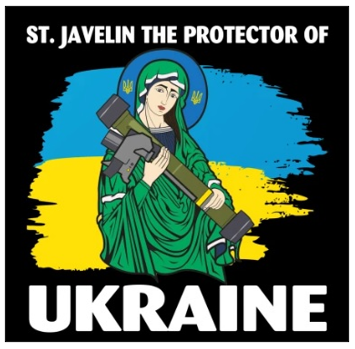 2. Second, Raytheon Technologies (RTX) is already in the Wealth Megatrends model portfolio, my service that currently has big open gains of 107% and 55%.
It jointly produces the Javelin missile system, which Ukraine is using against Russian invaders.
Since the beginning of February, the U.S. committed to giving Ukraine 5,500 Javelin systems. Each are worth about $178,000. The Ukrainians have even turned the javelin into a symbol of national protection.
Other weapons delivered or on their way from various NATO members include tanks, high-mobility multipurpose wheeled vehicles (HMMWVs or Humvees), personnel carriers, artillery, guided anti-tank and antiaircraft missiles, helicopters, drones, small arms, command-detonated Claymore antipersonnel mines and more.
Heck, the U.S. and its allies are even shipping Ukraine our most advanced air-defense systems.
3. Third, Lockheed Martin (LMT). It's the other joint producer of the Javelin, and produces many other weapons systems as well.
Recently, Lockheed Martin CEO James Taiclet told CNBC that demand for the Javelin and other weapon systems would increase broadly over time because of the Russian invasion, and the company was ramping up to meet demand.
Raytheon and Lockheed Martin both pay hefty dividends, and even more important, are dividend raisers. See my recent column on why that matters.
Let's look at how these three picks are doing compared with the S&P 500 so far this year: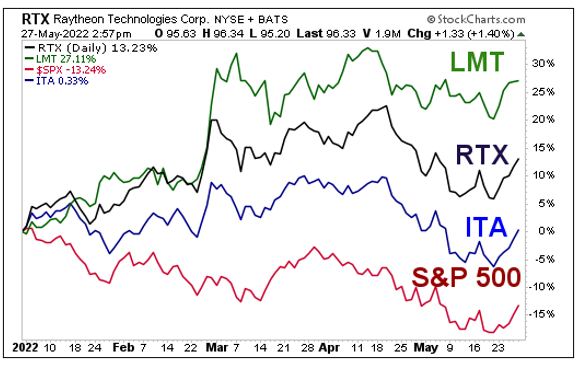 You can see that all three are leaving the S&P 500 in the dust, though the two stocks are outperforming the ETF by quite a bit. That's to be expected — ETFs lower your risk, but also your potential for returns.
Interestingly, all three recently experienced pullbacks and are off their highs. That sure looks like a discount to me.
Always do your own research and due diligence before buying anything. But there's definitely a bull market in blowing things up.
And it probably will continue for quite a while.
All the best,
Sean