First it was oil. Then palladium. Then wheat. Then fertilizer.
The latest commodity to be impacted by Russia's invasion of Ukraine? Steel.
Today, I'll give you the scoop and tell you how to put the pedal to the metal in your own portfolio.
So, what's the deal? A month ago, I told you how sanctioning Russia's exports would cause inflationary havoc in the global economy. And yet, steel wasn't even on the list of commodities I mentioned.
That's partly my fault. I was only thinking about Russian steel. And sure enough, the European Union (EU) slapped sanctions on Russian steel sales.
But Ukraine is a massive steel exporter, too. And the folks in Ukraine are now fighting in the fields.
Even if they weren't, the massive Ukrainian steelworks in Mariupol were destroyed by Russian bombardment. And Ukrainian ports are blockaded by Russian warships.
And that sucks for steel users, because …
Combined, Russia and Ukraine add up to the world's second-largest steel exporter.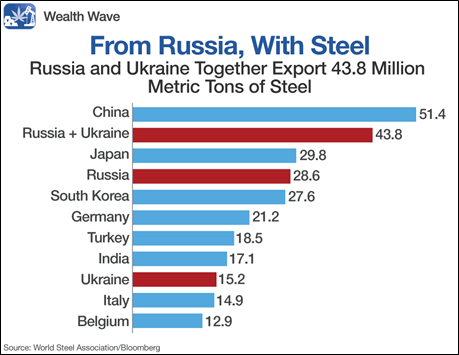 The result?
Steel prices in Europe are soaring. Soaring! Some types of steel are over €1,400 ($1,537) a metric ton. A little over a month ago, that steel cost €925.
So, that's just tough luck for Europe, right?
Wrong.
Steel trades around the world. If prices are rising in Europe, you can bet they will rise in North America, too.
Well, the world can always buy steel from China, right?
It's the world's No. 1 steel exporter. Well, China's steel city, Tangshan, is experiencing a COVID-19 outbreak and has locked down. Production is suspended, at least for now.
And that means steel prices are going even higher ...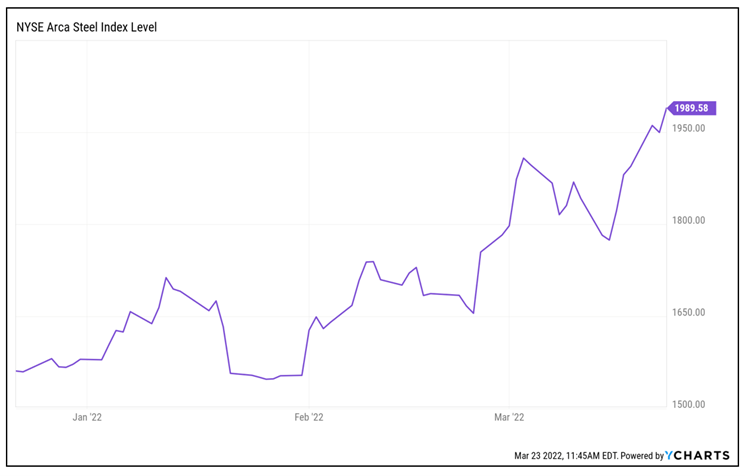 Steel executives are saying prices should continue to rise, perhaps by another 40%, before demand is even dented.
Pullbacks can be bought. But who the heck buys steel as a trade? You're better off buying steel producers.
Subscribers to my Gold & Silver Trader service have United States Steel (X) in their portfolios. It's already up 38% from our entry and making new 52-week highs.
"But wait," you say. "I don't like single stock risk."
Well, the good news is there's a way to lower your risk while still getting exposure to this big steel bull.
I'm talking about the VanEck Steel ETF (SLX). It has a net expense ratio of 0.56%, and it's blasting off like a metal rocket.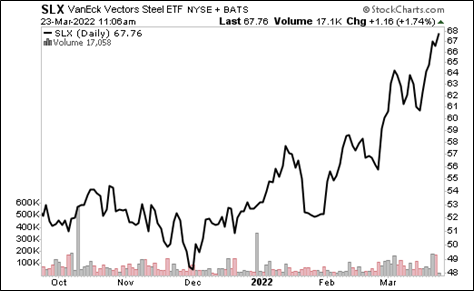 The SLX holds United States Steel, along with Vale (VALE), Rio Tinto (RIO), Nucor (NUE), ArcelorMittal (MT) and other big names.
You won't get the outperformance with SLX that you can get with a single stock, but an exchange-traded fund (ETF) is less risky and will still go along for the ride higher.
This trading idea looks pretty solid — solid as steel, you might say. Do your own research if you like. But don't miss out on the steel wave.
And something else you shouldn't miss out on?
My presentation with Dr. Martin Weiss.
Inflation, war, crushing government debt …
All symptoms of a much larger and more terrible event unfolding now through 2024.
Unstoppable forces of history, markets and human psychology … have converged into a supercycle that will have huge implications.
Few will emerge unscathed, and precious little time remains to prepare and protect YOUR wealth.
To learn more about this time-sensitive opportunity, click here now.
Best wishes,
Sean