What a calamitous start to the year for the markets!
The S&P 500 was recently down 11.5%, while the Nasdaq Composite plunged 18.5%.
Now, many smart Wall Street types say we are coming to a buying point! That's why you're seeing more and more recommendations on what to buy now that it's "cheap"!
I can think of things to buy. But in this column, I'm going to tell you what to avoid instead — even if Wall Street tells you it's a screaming bargain.
And boy, will they tell you that. Because they want to sell you their overpriced junk!
I'm talking about Big Tech giants ... the ones that "everyone should have in their portfolio."
But what worked for years is not working now, and these "too big to succeed" stocks are tickets to hell in a handcart, even if you buy 'em on the cheap.
Not all names in Big Tech will fail, of course. But I have three in mind that investors should strongly consider avoiding because I believe they're all dumpster fires.
Dumpster Fire No. 1
Meta Platforms (FB) is down about 50% from a peak it hit last year, including a single day plunge of 26% after horrendous earnings that were released in early February. So, it's time to buy the biggest social media network, right? It trades at just 12.8 times forward earnings … dirt cheap for a supposedly promising tech stock.
So why does the stock look like this?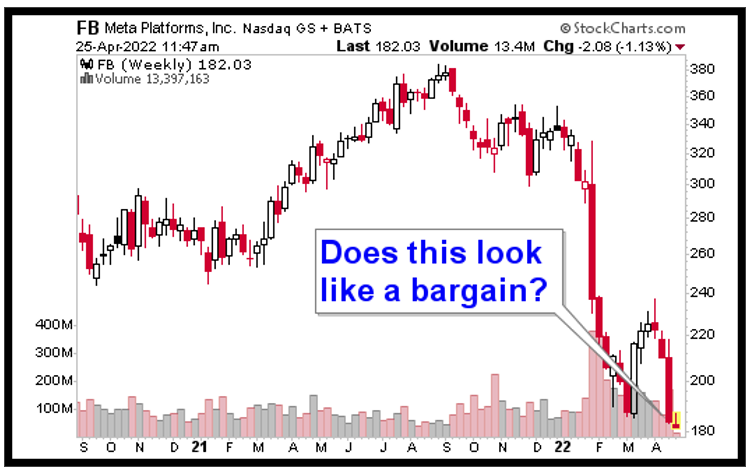 After all, Meta has an uncanny — some might even say frightening — ability to target ads based on online consumer behavior. Nearly one out of every four dollars spent on digital ads is on a Meta site.
I distinctly remember wondering about a birthday gift for my wife — out loud and near my computer — then being shown ads for gifts in exactly that category the next time I clicked on Facebook.
The fact is that Meta has problems that a name change won't let it escape. The company's decade-long ad-growth story has stalled. Its revenue forecast is shrinking. Probably because consumers are wising up to the fact that Meta Platforms (formerly Facebook) is exploiting them.
The company has been grilled in Congress more than once. It promised to stop doing bad things … then it kept doing them. A tiger can call itself a koala, but it can't change its stripes.
I expect the news to remain bad for Meta.
Dumpster Fire No. 2
Netflix (NFLX) soared for years on what looked like an unstoppable shift from broadcast TV to streaming. But things turned sour for the stock around last Thanksgiving, and it has lost nearly 70% of its value since then.
It trades at 17.4 times forward earnings, and earnings are projected to rise 81% this year. What don't I love?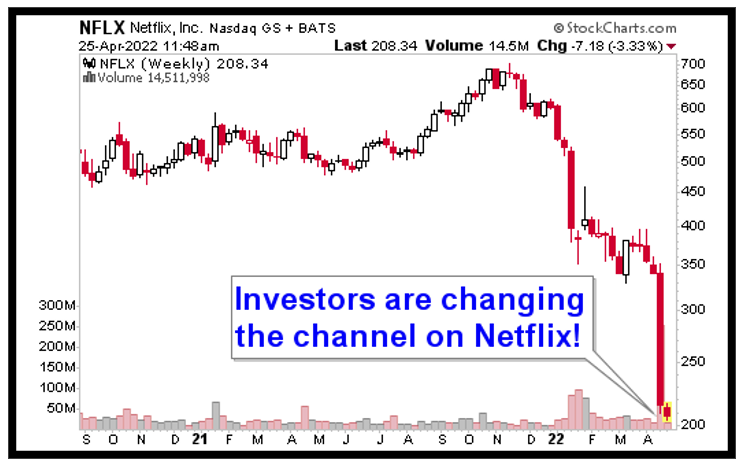 Plenty!
Netflix predicts it will lose 2 million subscribers in the current quarter. Part of this is due to Russia, and Netflix ceasing operations there because of that country's invasion of neighboring Ukraine.
But I would say a bigger problem is that Netflix used to be in a one-horse race, and now it has plenty of competition: Hulu, HBO Max, Disney's (DIS) Disney+, Comcast's (CMCSA) Peacock and more. And these aren't also-rans. HBO Max has movie offerings at least as good as Netflix, if not better.
I'll tell you a big fear that Netflix isn't even dealing with yet …
According to a survey done by Morgan Stanley (MS), the average household subscribes to 2.8 paid streaming services today, up from 1.8 in 2018.
This comes at a time when the U.S. labor market added 431,000 jobs in March, marking 11 months in a row of growth of more than 400,000 jobs. That's unprecedented! And that's why unemployment is at a 50-year low of 3.6%.
Why's that important?
Because in a boom, people will spend money willy-nilly. But now, the Fed is working hard to slow things down. What happens when people lose jobs? When they must tighten their budgets, which inflation is going to make them do anyway?
I think we could see many streaming programs getting cut. Do you think parents with young kids will keep Netflix or Disney+?
There are also tons of ad-supported content for a cheaper alternative.
In other words, things could get much worse for Netflix.
Dumpster Fire No. 3
Twitter (TWTR) is well known as the place for polite online discourse … in an alternative universe.
The social media giant is in the news this week because it looks like Elon Musk is going through with his bid to buy the yapfest social network for $54 billion.
The stock has regained some lost ground, though it's still 36% off highs it hit last March, and the big downtrend is still intact: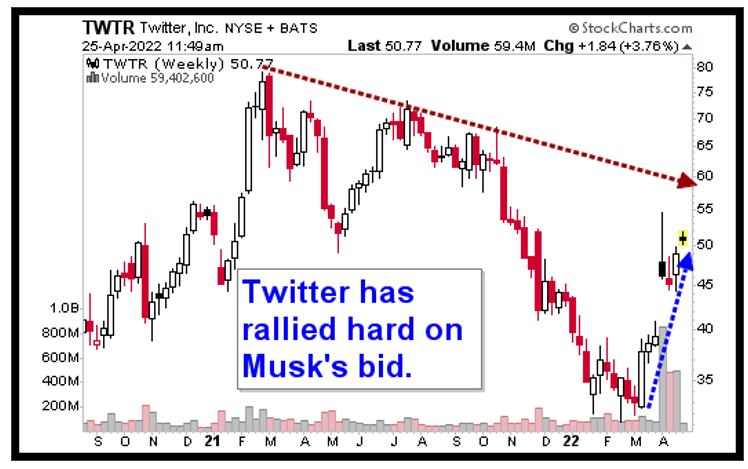 Now we're hearing rumors that a bidding war for Twitter could break out. In that case, you may be tempted to take a position in the stock.
I personally think that's a really bad move.
Here's the thing ... Twitter doesn't really make money. Musk's owning it won't make it make money. And money-losing tech companies are exactly what I've been warning you about for months (like I did here and here), as the market rotates from growth to value.
Heck, Musk's bid doesn't even make financial sense for him. He's paying a premium for the stock, and to do so, he's bidding about one-fifth of his net worth.
Even if he makes the acquisition with other people's money, the interest charges alone are going to be huge … and interest rates are going higher!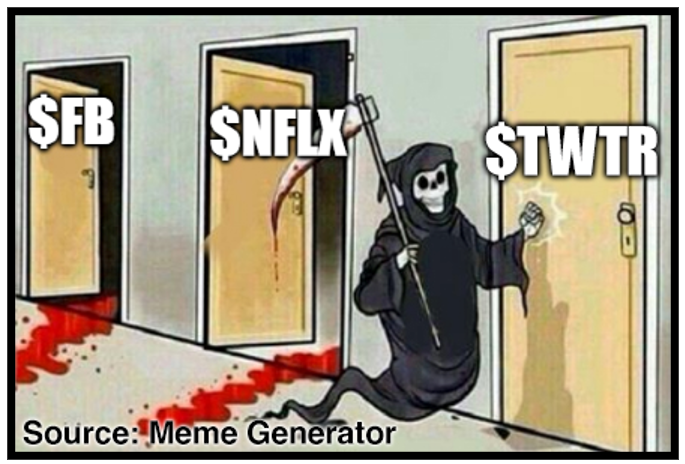 Bottom line: I agree with the smarties on Wall Street that this sell-off is getting long in the tooth — I think there's a strong change we'll see a bounce soon.
I don't know how long it will last, but I will recommend great stocks for the next leg higher. Join my Wealth Megatrend Members to find out exactly what those picks will be and what they have been. They're currently sitting on open gains of 64.57%, 36.03% and 32.09%, just to name a few.
I can tell you this about my picks: Meta Platforms, Netflix and Twitter certainly won't be among them anytime soon.
Some might call these stocks cheap. Sure, they could be considered so … but I think they'll get a lot cheaper.
Best wishes,
Sean