Can Crypto Conquer Inflation?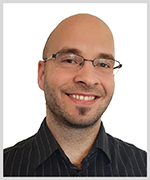 By Jurica Dujmovic
I'm tired of inflation. Not just reading about it, but also paying more for goods as they shrink in size, quality and availability. And I know I'm not the only one.
Unfortunately, it looks like there will be little relief anytime soon. Last week, President Joe Biden was calling for a gas tax holiday. But then, just moments ago, he changed his tune: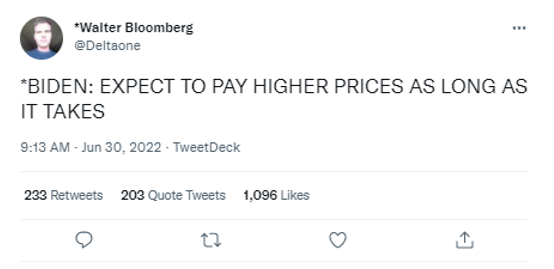 Source: Deltaone on Twitter
He isn't the only one calling for higher prices — not just at the pump, and not just temporarily. Federal Reserve Chair Jerome Powell chimed in to add ...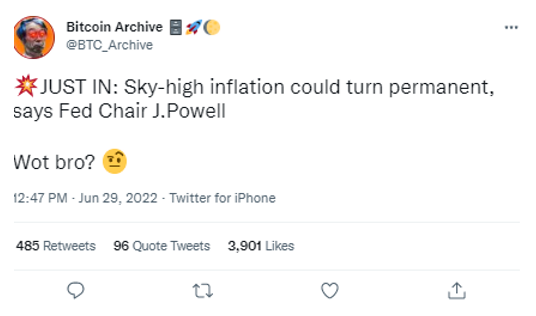 Source: BTC_Archive on Twitter
What, indeed!
While America contends with elevated inflation and the Fed's hawkish response to combat it, another $800 million worth of weapons and armaments will soon be on its way to Ukraine: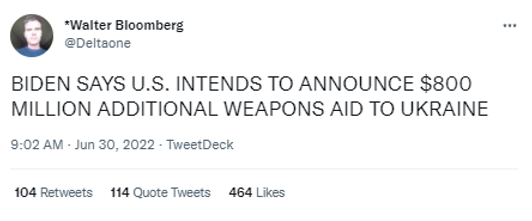 Source: Deltaone
I'll steer clear of the politics here, but these three tweets paint a picture of priorities that can leave a lot to be desired.
Policymakers don't truly understand inflation. So how could they possibly combat it effectively?
On some level, they admit that they know what they don't know. Powell displayed a rare moment of candor yesterday when he said, "I think we understand better how little we understand about inflation."
Meanwhile, it feels like we're just stuck in Tom Petty's song "FreeFallin'" with no end in sight.
So, what does this mean for crypto? I asked our analysts on the Weiss Crypto Team, and they agree …
We can't see crypto bouncing back until the S&P 500 recovers and the Fed starts printing money again.
They also agree that we'll see both eventually. And when that happens, the crypto markets will see a boost as free money flows into riskier assets.
There is a small chance that the printing presses don't turn back on. Or, at least, not soon enough. What then?
Food, funds and energy will become pricier and scarcer. As these crises deepen, they'd disenfranchise millions and potentially lead to more global conflict.
This would weigh even more heavily on the markets and delay the next leg up in crypto — which we believe is coming — even longer.
So, how would crypto respond to this scenario?
As I said in my previous article, I see cryptos going down one of two paths. Either …
Crypto assets will return to their root promise and once again be considered viable alternatives to government money ...
Or they'll sell out to big institutional players who only use this technology to make a quick buck.
I believe we'll see a mix of both. But ultimately, we believe that crypto adoption will continue higher and that more individuals will become true supporters.
Prices, naturally, should follow.
If you're reading this column, you likely agree that crypto isn't just a financial system … it's an ideology. One that upholds and values the privacy and financial autonomy of every individual.
So, take heart. Crypto will still be there for those who want out of the legacy financial system.
But that's just what I think. Now, I want to hear your thoughts. Post your comments on Twitter using the #WCD hashtag, and I'll respond there, as well as in the next issue of Weiss Crypto Daily.
Until then, stay safe and trade well.
Jurica Dujmovic