1 Step Forward, 2 Steps Back
Earnings season has concluded, with 75% of S&P 500 companies beating expectations. And since its mid-June bottom, the index appeared to be rallying its way to a full recovery.
However, after touching the 200-day moving average on Aug. 16, the S&P has sold off, shedding over 3% since.
And after weeks of the AAII Investor Sentiment Survey remaining in neutral territory, investors' attitudes have once again taken a turn for the worse with 42.4% reporting bearish sentiment.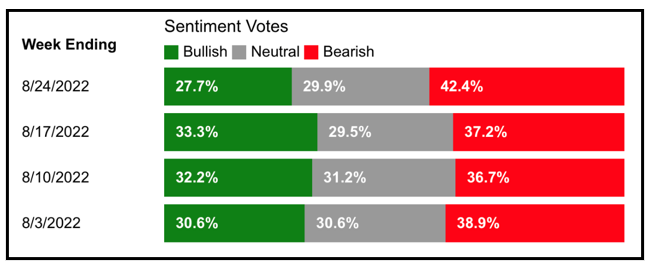 Source: AAII
As we wait for market to determine its direction, here are this week's top stories from your favorite Weiss Ratings experts.
Meme stocks, once the darlings of apes around the globe, are blowing up in investors' faces again. According to Senior Analyst Mike Larson, it's yet another example of why Safe Money investing is the pathway to building long-term wealth.
Is the tide turning for the crypto market? In this segment, Financial News Anchor Jessica Borg interviews Crypto Analyst Alex Benfield about the broad rally since June's lows, a strategy for the current climate and the landmark event set to transform the crypto landscape in a few weeks.
When it comes to inflation hedges, most investors turn to precious metals and commodities. But often overlooked is timber, which delivered positive returns in four of the last five bear markets. Senior Editor Tony Sagami reports on why it's a sound investment, and three companies investors can turn to for potential profits.
The ARK Innovation ETF and its founder, Cathie Wood, elicit a lot of mixed feelings among analysts and investors. But according to Editorial Director Dawn Pennington, the trends in tech that this exchange-traded fund is tapping into are here to stay. And regardless of how anyone feels about the ETF or its holdings, they should pay attention to the big picture.
VIDEO: Market Minute With Kenny Polcari
Stocks backed off from the recent rally last week, and this week was more of the same. This week, we received housing and manufacturing data, as well as gross domestic product. Kenny Polcari, host of Wealth & Wisdom, breaks it down in his weekly Market Minute.
Martin Weiss: 3 Shockers. Hitting Hard.
The so-called good news of recent weeks wasn't what it seemed to be. Instead, what appeared to be the start of a new bull market is looking more like the end of a bear market bounce. Founder Dr. Martin Weiss discusses three telltale factors, and a strategy investors can turn to for success regardless of the markets' conditions.
Until next time,
Jordan Chussler
Managing Editor
Weiss Ratings Daily