This week, data for the Producer Price Index and the Consumer Price Index came in, and it was more of the same: 40-year-high inflation.
The Federal Reserve is all but guaranteed to continue its series of rate hikes after the next Federal Open Market Committee meeting at the beginning of November.
Sentiment is already reflecting that expectation, with nearly 56% of investors expressing a bullish take — up from last week's figure of 54.8%: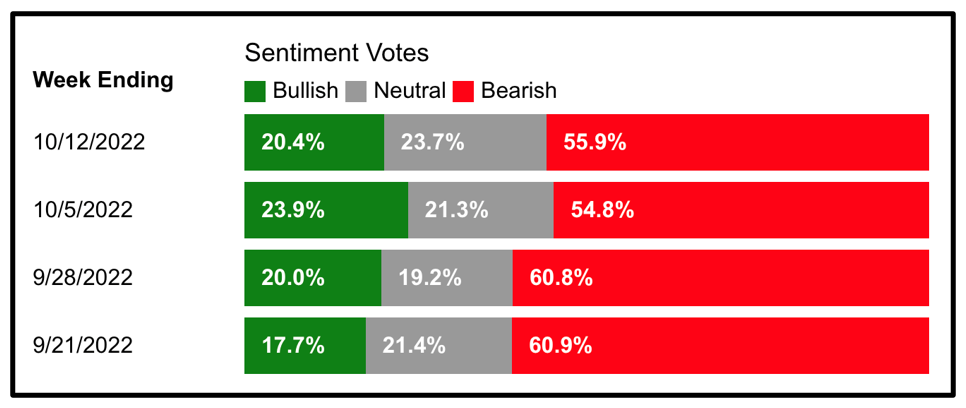 Bullish investor sentiment is again on the rise.
Click here
to see full-sized image.
But as the saying goes, bear markets return shares to their rightful owners. Despite the S&P 500 being down nearly 25% year to date, opportunity abounds if investors know where to look. Here are this week's top stories from the Weiss Ratings Team of analysts and investors.
What These 6 "Buy"-Rated Stocks Have in Common
Of the 13,436 stocks in the Weiss Ratings universe, only six come with ratings of "A-" or better — indicative of the bear market that's been lingering for the better part of a year now. Managing Editor Jordan Chussler explains what those six stocks have in common.
VIDEO: Buying This Week's Lows
If you look at every trading day of the year over the past few decades, patterns emerge. A significant one relates to buying in October. In this segment, Financial News Anchor Jessica Borg interviews Senior Analyst Jon D. Markman about market seasonality and the Fed's plan for 2023.
This Bargain Stock Could Soar 500%
Sometimes, it's the unfamiliar names that present the best opportunities. This week, Editorial Director Dawn Pennington discusses a stock that analysts expect to jump 500% between now and Christmas, potentially making it one of 2022's top gainers.
VIDEO: Market Minute With Kenny Polcari
This week, we saw updated data from the Producer Price Index and the Consumer Price Index. Unsurprisingly, it was more of the same: ongoing, decades-high inflation. Kenny Polcari, host of Wealth & Wisdom, explains.
The High Life Is in High Demand
Luxury car demand is surging, especially for luxury electric vehicles. Senior Analyst Tony Sagami reports on the upwelling, its effect on global lithium supplies and how investors can take advantage.
Until next time,
Jordan Chussler
Managing Editor
Weiss Ratings Daily