Don't Let the "September Effect" Keep You From Potential Profits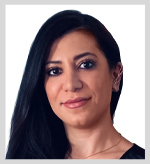 By Mahdis Marzooghian
August was a turbulent month for markets, but we've thankfully made it to the other side — only to find ourselves in a month that's earned the name, "The September Effect" from investors.
What does that mean exactly?
Well, historically, September is known as the worst month for stocks, and there's strong statistical evidence to prove it. From 1928 to 2021, the S&P 500 index has averaged a 1% decline during the month of September.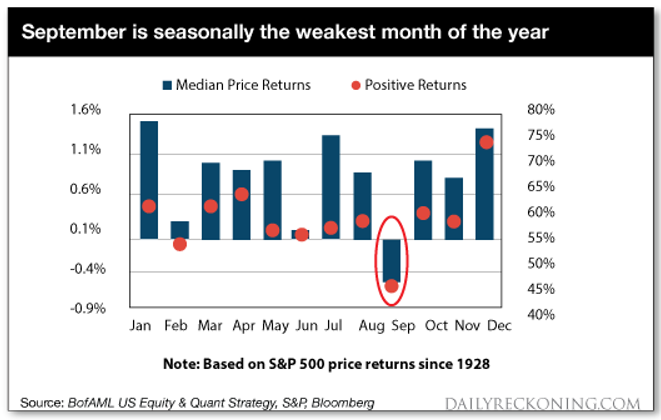 What causes this phenomenon?
Anything from seasonal behavioral bias — as investors make changes to cash in on their stocks at the end of summer — to harvesting tax losses. Plus, there's usually lighter trading volume during the summer months since most investors go on vacation and avoid actively trading during this time.
Then, once fall rolls around and investors return from vacation, they exit the positions they planned on selling. In turn, the market experiences increased selling pressure and an overall decline.
But whatever the reason, it certainly doesn't mean investors should move to the sidelines and try to wait out the market until conditions turn bullish again.
Quite the opposite, in fact. And if you're following along with the research and guidance of our Weiss Ratings experts, then you're already well-positioned to stay in the market and profit no matter if it's a historically down month or what have you. Check out their latest research below …
Find Out the Real Danger of FedNow
FedNow is a new system for instantaneous banking transactions. There's a danger that most people might not be aware of. However, it might not be what you may initially think. Analyst Nilus Mattive presents Ted Baumann's guest essay, where he breaks down everything you need to know about the FedNow program.
What to Do When Buffett's Indicator Flashes Red
A recent truck-shopping experience brings to mind an all-important indicator from Warren Buffett and his mentor, Benjamin Graham. This is a lesson from the Oracle of Omaha you don't want to miss. Our Income, Dividend & Alternative Asset Analyst Nilus Mattive has all the details.
2 Junior Miners to Put on Your Watch List
Our Natural Resources Analyst Sean Brodrick recently sat down and interviewed two small junior mining executives in fascinating fields. He's not only sharing both interviews with you, but he also suggests you keep these two mining companies on your radar. Find out why!
Profit from Tesla's VPP Business
Virtual power plants are part of a larger Tesla power business that never gets talked about. Indeed, the next part of the EV giant's growth story is beginning … and it starts with power storage. Pulitzer Prize winner Jon D. Markman explains why you should understand it — and take advantage of this opportunity now.
Put This New "A"-Rated, Profit-Making Stock on Your Radar
Our Director of Research & Ratings Gavin Magor brings you the latest "A"-rated Weiss stock, which was just upgraded. And while everyone understandably has different investing risk tolerances, Gavin views this name as relatively safe and worthy of your attention. In fact, this goes for all our "A"-rated names you shouldn't hesitate to explore.
Until next time,
Mahdis Marzooghian
Managing Editor
Weiss Ratings Daily