Has the New Bull Arrived?
The market has been on a roll, with the S&P 500 rising four weeks in a row. This week began no differently.
The index tested its 200-day moving average as overhead resistance. Bull markets thrive above the S&P's 200-day MA. And while we can't declare the end of the bear market just yet, using history as a context is promising.
According to CRFA Research:
"The S&P 500 never set a lower low in any post WWII bear market after recovering 50% of that peak-to-trough decline … history says the low is already in."
Through its bottom on June 16 when the S&P 500 shed 23.55%, it's since recovered 17.48% … or more than 74%.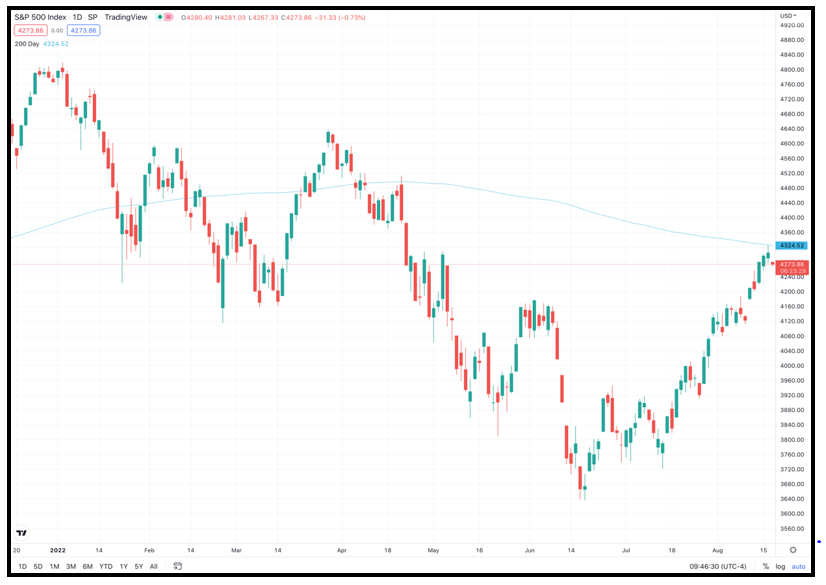 Year-to-date chart of the S&P 500 illustrating its 74% recovery and its 200-day moving average (blue line). Source: TradingView
With last week's positive news on the Consumer Price Index, we may have seen peak inflation. If so, a pivot by the Federal Reserve's rate-hiking policy might not be a distant reality. That would imply there's less earnings risk, which would translate into higher valuations … which translates into higher share prices.
However, whether this is the start of a new bull market or just a bear market bounce is yet to be seen. Until the S&P is able to break above its 200-day MA, it'll remain an uncertainty. As we wait to find out, here are this week's top stories from your favorite Weiss Ratings experts.
For the first time ever, the average price of a new vehicle is $48k. A new EV averages $66k and a used car is over $33k. With inflation for vehicles measuring 9.46% in 2022, Managing Editor Jordan Chussler discusses the potential of investing in the industry.
VIDEO: Is Sentiment Changing From Bleak to Bullish?
Worried about a recession? According to Senior Analyst Jon Markman, you shouldn't be. In this segment, Financial News Anchor Jessica Borg interviews Jon about bullish factors in the economy and markets, a rapid shift in investor sentiment and two breakthrough companies he expects to thrive long term.
Avoid a Regretful Aftertaste with 'Safe Money' Stocks
When you buy junk stocks, they often leave a bad taste in your mouth. Instead, Senior Analyst Mike Larson encourages readers to stick with 'Safe Money' equities, including two exchange-traded funds that will help investors avoid the taste of regret.
Amid ongoing political unrest and subsequently tightening supply, natural gas exports to Europe are surging. According to Senior Analyst Sean Brodrick, despite its recent pullback, the fossil fuel is primed for profit potential.
VIDEO: Market Minute with Kenny Polcari
Housing and consumer spending seems to be peaking, and earnings data is approaching for a slew of companies. In his weekly breakdown, Kenny Polcari, host of Wealth & Wisdom, discusses how the worst of the bear market could already be behind us.
United Airlines recently put down a $10-million deposit for 100 electric air taxis. But the smart move isn't in the airline or the maker of the electric vertical take-off and landing (eVTOL) aircraft. Senior Editor Tony Sagami reports on where investors can look to profit from this emerging trend in passenger transit.
Until next time,
Jordan Chussler
Managing Editor
Weiss Ratings Daily