Markets Are Feeling the Heat
On Monday, a heat dome settled over the American Southwest, shattering temperature records from Denver to Waco.
But outdoor plants and house pets aren't the only things experiencing exhaustion lately. Just like this week's weather, investors are feeling the heat, too.
That same day, the S&P 500 shed another 1.29%. For the year, the index is down around 21%. In fact, with the exception of energy (which is down nearly 22% over the past month — the worst among all S&P 500 sectors over that span), each of the other 10 sectors is in the red year to date.
Add to that Wall Street's increasing recession fears, the nearly 53% bearish investor sentiment and a plummeting Consumer Confidence Index … and it all makes for uncertain terrain for investors.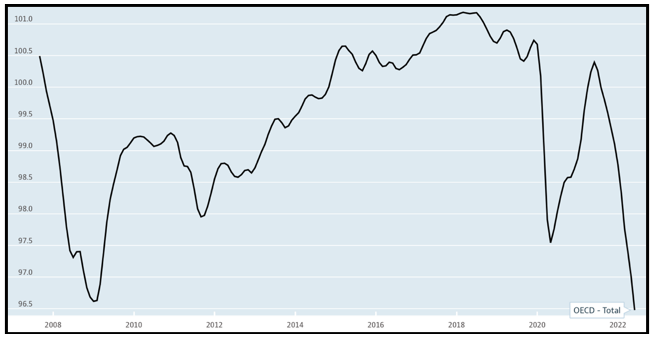 The Consumer Confidence Index reading is lower than it was in the wake of the 2008 financial crisis. Source:
OECD
However, there are some positive indicators, albeit only few of them. Gas prices are receding (at least for now), jobless claims remain near 50-year lows and many economists believe that inflation, which sits at a 40-year high, may have peaked.
To make sense of it, here are this week's top stories from your favorite Weiss Ratings experts.
'Sinvesting' in Consumer Staples
Companies know how to capitalize on our vices. Alcohol, snack foods and tobacco are considered essentials, and of the S&P 500's 11 sectors, consumer staples have performed best over the past three months. This week, Managing Editor Jordan Chussler reports on the non-cyclical sector's success and some of the most popular names benefitting from it.
VIDEO: Discount Opportunities in Big Tech
The Nasdaq is off to its worst start in history, and investor sentiment has reflected that across the broader market. But as the adage goes, bear markets return shares to their rightful owners. In this segment, Financial News Anchor Jessica Borg interviews Senior Analyst Jon D. Markman about top tech firms using this period of pullbacks to scale and innovate.
Investment Lessons From Dubai: Part 2
The Dubai gold souk opened in the early 1900s but was a sleepy marketplace until the oil boom of the 1970s. Suddenly, the Middle East was awash in cash, and the Dubai gold souk transformed into the largest gold marketplace in the world.
In the second of a two-part series, Tony Sagami reports from the United Arab Emirates on how the oil-rich country is also a bellwether for gold demand.
Invest in Private Equity on the Public Markets
Business development companies, or BDCs, offer an easy way to buy private companies on public stock exchanges. Editorial Director Dawn Pennington dives into the ratings to find those with "Buy" ratings and offers a bonus idea for investing in startups.
1 Investment That LOVES Fed Rate Hikes
It's been a difficult year for most assets. But one is rocketing higher due to the Federal Reserve's rate hikes: the U.S. dollar! This week, Senior Analyst Mike Larson explains why the greenback has reached a 20-year high and has now gained parity with the euro.
From Martin: #1 Best Play in Tough Times
This year, it's clear that it's increasingly difficult to find investments that are mostly isolated from the day-to-day volatility of the stock market. Weiss Ratings founder Dr. Martin Weiss discusses Alpha Round investing, and how it presents investors with the chance to act on companies before their initial public offerings.
Until next week,
Jordan Chussler
Managing Editor
Weiss Ratings Daily