Optimism Up on Back of Strong Q4 GDP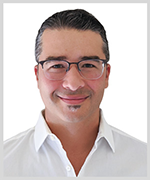 By Jordan Chussler
After the first two quarters of 2022 saw gross domestic product contract by 1.6% and 0.6%, respectively, the year was able to end on a high note.
Thursday morning, the GDP reading for Q4 came in at 2.9%, beating expectations, marking the second consecutive quarter of growth (3.2% in Q3) and capping a strong comeback to end the year.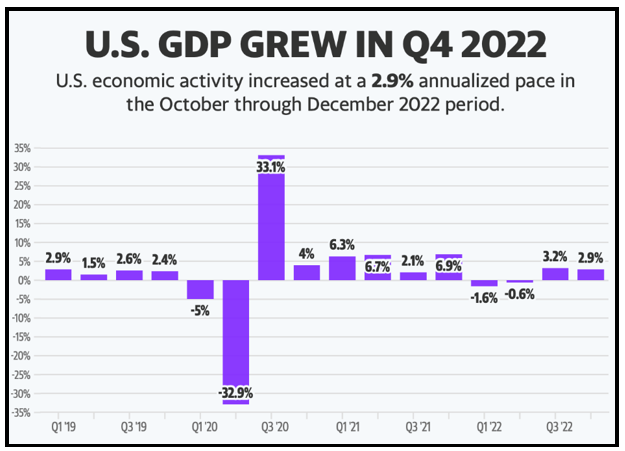 U.S. GDP from 2019–22.
Click here
to view full-sized image.
However, despite signs of a healthy economy — including six consecutive months of deflation, three straight weeks of increased mortgage applications and weekly jobless claims of just 186,000, the lowest since April 2022 — concerns about recession persist.
Much of that has to do with the presumption that the Federal Reserve will continue hiking interest rates until inflation comes down to its 2% target. The Consumer Price Index currently stands at 6.5%.
Regardless, the market is enjoying the near-term optimism, as evidenced by the year-to-date performances of the major indices: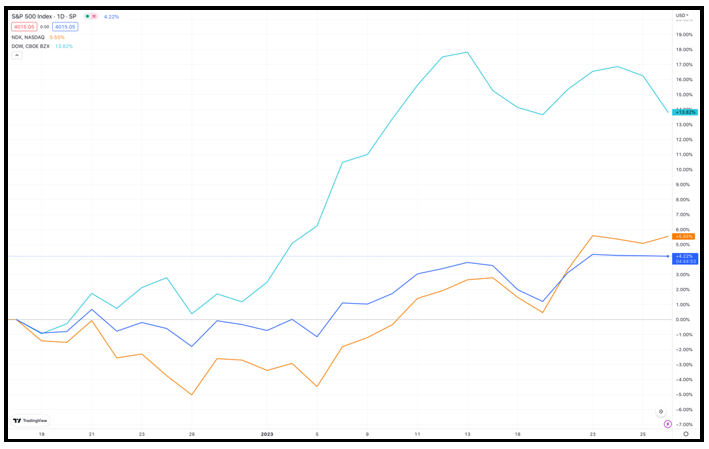 Year-to-date performance of the Dow Jones Industrial Average (light blue), the S&P 500 (dark blue) and the Nasdaq Composite (orange).
Click here
to view full-sized image.
To gain clarity on how this will evolve as the year continues, here are this week's top stories from your favorite Weiss Ratings experts.
2 Ways to Play the Looming Lithium Boom
Many countries are planning to phase out internal combustion engine vehicles. Carmakers are joining them. From General Motors, Lexus, Jaguar and Cadillac to Ford Motor, Alfa Romeo, Lotus, Bentley and Rolls-Royce, companies are shifting to fully electric fleets. Senior Editor Tony Sagami reports on how this will impact lithium demand.
Seek Safety & Sanity in Today's Volatile Market
Director of Research & Ratings Gavin Magor oversees a team of analysts and data scientists responsible for combing through data on 10,000 listed stocks, 2,000 ETFs, 25,000 mutual funds and 1,000 digital assets. This week, he explains how to identify the safest investments.
VIDEO: Market Minute with Kenny Polcari
In this week's video, Financial News Anchor Kenny Polcari reports on this week's macroeconomic reports, including the U.S. Manufacturing PMI, to take a look at how wholesale inflation is shaping up in the new year.
It's Not Déjà Vu — The GameStop Saga Is Back
Small tech stocks are suddenly surging again despite bearish analyst commentary. Pulitzer Prize winner Jon D. Markman issues a warning to investors as meme stock mania returns.
Members of This Service Reaped 10.8% Gains in 2022
Last year, the major indices all posted losses, the worst of which was the Nasdaq Composite's -33.51% drop. However, Senior Analyst Sean Brodrick discusses how he managed his Wealth Megatrends Portfolio to a yearly gain of almost 11%.
Stick to Your Permanent Profit Plan
Despite recurring warnings of a recession, investor greed and optimism are unusually high. That's according to the American Association of Individual Investors' Sentiment Survey, which is showing a resurgence of bullishness. Analyst Kenny Polcari discusses why investors should stick to their plans.
Until next time,
Jordan Chussler
Managing Editor
Weiss Ratings Daily