Position for More Fed Fallout
I'm not going to spend any time talking about the Federal Reserve's latest 75-basis-point hike this week.
It's been well-publicized, and economists have spoken about it until they're blue in the face.

Effective federal funds rate.
Click here
to see full-sized image.
However, I do want to touch upon the fallout the central bank's historic rate hikes have caused … because as interest rates increase, there's a direct correlation to decreased consumer demand for purchases that require financing.
• New mortgages are down 55% — hitting a 25-year low — as the housing market reels due to 30-year rates surpassing 7%.

• Demand for new and used car sales is plummeting. CarMax (KMX) reported that it sold 15,000 fewer vehicles year over year in Q3. It's no coincidence that this coincided with the stock experiencing a Weiss Ratings downgrade in late September.

• According to Bankrate, 86% of holiday travelers with a household income less than $50,000 have had to change their plans. And 32% of those surveyed said that travel plans will strain their budgets.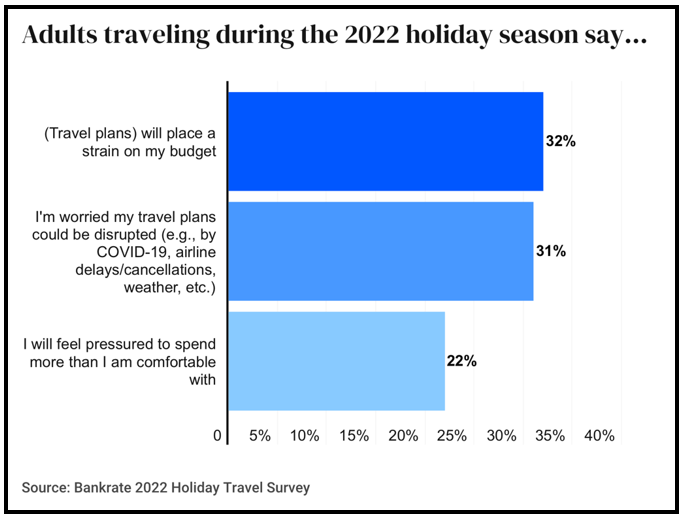 Bankrate 2022 Holiday Travel Survey.
Click here
to see full-sized image.
Regardless of whether the Fed takes its foot off the rate-hike accelerator, the impact of these 75-basis point increases is already reverberating through the economy.
The U.S. Bureau of Economic Analysis' Personal Consumption Expenditures Price Index shows a worrisome downward trend. October's data is not yet available, but since 2022's halfway mark:
• June 2022: 7%

• July 2022: 6.4%

• August 2022: 6.2%

• September 2022: 6.2%
That's precisely why our team of editors and analysts is looking to resilient and emerging markets, sectors and industries that are often unaffected by monetary policy. Here are this week's top stories from your favorite Weiss Ratings experts.
Biggest Market Shift in Centuries
When the stock market crashed in 1929, there weren't any other options for investing. Today, that's not the case. Founder Martin Weiss discusses how the average investor now has access to opportunities in companies that aren't yet publicly traded and which carry enormous upside potential.
VIDEO: Sectors With Inelastic Demand
Given the current environment, investors should be targeting equities that aren't at the mercy of the broad market. In this segment, Financial News Anchor Jessica Borg interviews Research Analyst Sam Blumenfeld about sectors with inelastic demand, two outperforming exchange-traded funds and how stocks will react to the midterm elections.
Despite Higher Prices, Consumers Still Lovin' McDonald's
The world's No. 1 fast-food restaurant chain increased prices by 10% over the past year, outpacing food inflation. But its roughly 80 million daily customers don't seem to mind, and neither do investors. Senior Editor Tony Sagami reports on McDonald's Q3 earnings beat and why companies like it are a safe play in the near- and medium-term.
VIDEO: Market Minute With Kenny Polcari
Earnings season. The Fed's FOMC meeting. Rate hikes. Kenny Polcari, host of Wealth & Wisdom, has the beat. In this week's video, Kenny breaks down the enormous disappointment in Big Tech earnings as well as the latest macroeconomic data and offers what he thinks it all means for the direction of the economy and the market.
A Silver Lining for Your Portfolio
Silver is beginning to heat up along with the broad market. But while some believe the current rally we're seeing in the S&P 500 and Dow is fleeting, the long-term prospects for the precious metal are not. Senior Analyst Sean Brodrick explains and has one idea for how investors can position themselves accordingly.
Out of the 8 billion people on Earth, around 3.5 billion play video games. Last year, not factoring in the consoles used to play them, video games generated over $200 billion in worldwide sales. Startup Investing Specialist Chris Graebe discusses how, amid a volatile market, investors can turn to private equity to take advantage of companies that are not traded publicly.
Until next time,
Jordan Chussler
Managing Editor
Weiss Ratings Daily