Recession or Not, the Markets Don't Care
We've now had two consecutive quarters of gross domestic product contraction, which, by definition, places us in a recession.
But don't tell the markets that.
Over the past month, the Nasdaq is up over 13%, which is good for the 18th best month in the index's history. Over the same period, the Dow is up 5.35% and the S&P 500 is up 7.61%.
Unemployment, at 3.6%, remains near historic lows, and consumer confidence — despite trending lower — is the highest it's been since 2016.
Investors are taking note, too.
According to the American Association of Individual Investors, bearish sentiment has fallen again, making it four straight weeks the measure has done so.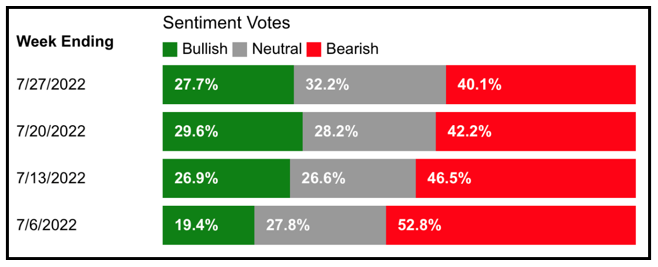 So whether we find ourselves in the midst of a mild recession or not, investment opportunities are growing, and our editors and analysts are here to show you where to look.
We recently polled our readers about what worries them the most in 2022. The prevailing answer: Over 30% listed out-of-control inflation. With the Consumer Price Index at a 41-year high, Managing Editor Jordan Chussler looks at the best-performing sectors to uncover top-rated stocks leveraged to inflation.
VIDEO: How to Benefit From Seed Capital Investing
Investing in early stage startups is no longer reserved for the elite. Now, average retail investors can participate in seed funding rounds and potentially see much larger returns compared to later-stage investing in private companies. In this segment, Financial News Anchor Jessica Borg speaks with Private Equity Specialist Chris Graebe about identifying disruptive startups, getting in early and how his humble beginnings motivated him to succeed.
Here's Your Best Chance of Winning This Investment Season
It's August and football season is just around the corner. Senior Analyst Mike Larson explains the similarities between preparing fantasy rosters and investment portfolios, going into detail about how investors can find highly rated, dividend-paying stocks as a go-to tactic.
VIDEO: Market Minute With Kenny Polcari
Whether we're in a recession or not, the idea is that one is coming one way or another. But with Federal Reserve Chair Jerome Powell hinting that the next round of interest rate hikes could be the last, the market's been taking off. Find out more in Kenny Polcari's weekly Market Minute.
Why Microsoft Shot Higher on Bad Earnings
While investors haven't been impressed with the latest corporate earnings reports, tech share have been rebounding. Two-time Pulitzer Prize winner Jon D. Markman discusses how generational investment in digital transformation strategies is a long-term picture for tech companies and why investors should take note.
Time to Get Defensive With Your Portfolio
With political tensions continuing to rise between world powers, this may be a great time to invest in defense stocks. This week, Senior Editor Tony Sagami reports on the easiest way to invest in them.
Until next time,
Jordan Chussler
Managing Editor
Weiss Ratings Daily