The Writing's on the Wall
On Tuesday, Ford (F) stock experienced its worst single day since 2011, shedding $7 billion in market value as shares dropped over 10%.
In housing news, for the first time since 2008, mortgage rates are above 6%, good for a 14-year high.
Also at a 14-year high? Interest rates.
Following the Federal Open Market Committee meeting, Fed Chair Jerome Powell and his cohorts enacted yet another 75-basis-point hike to the effective federal funds rate — the third such increase this year — which continues the most aggressive monetary policy seen by the central bank since Paul Volcker in the 1980s.
So it's hardly a surprise that investor sentiment remains soundly in bearish territory, with the American Association of Individual Investors showing a reading of 46% — a figure that's likely to increase on the back of this week's market and economic news.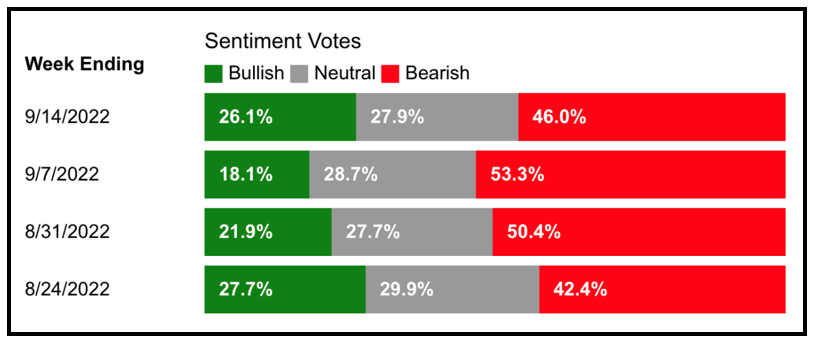 Despite inflation, Americans spend 5% of their income on leisure and entertainment. In this segment, Financial News Anchor Jessica Borg interviews Senior Analyst Tony Sagami about stocks across growing industries, and the next phase of one booming market.
How to Legally Avoid Estate & Inheritance Taxes
Death and taxes — you can't avoid the former, but there are legal means of avoiding, or mitigating, the latter. Analyst Nilus Mattive discusses how King Charles' tax dodge is a teachable moment.
VIDEO: Market Minute With Kenny Polcari
Last week, the Consumer Price Index caused more market havoc as the S&P shed over 5%. This week, equities continued to slide. Kenny Polcari, host of Wealth & Wisdom, details the macroeconomic environment in this week's Market Minute.
The S&P 500's 20th Bear Market
In the past 140 years, the S&P 500 has experienced 20 bear markets. Of those, the average decline is 37.3%, and the average duration is 289 days. Analyst Grant Wasylik provides the numbers and talks about what they could mean.
Gen Z's Saving More Than You Think
When Senior Editor Tony Sagami was in college, he considered money something to be spent, not saved. But data shows that today's college-aged and youngest working generation is saving more than expected. This week, Tony reports on the most important savings of all: preparing for retirement.
Adopt a Startup Investing Mindset
Startup Investing Specialist Chris Graebe reflects on the mindset it takes to be an early stage investor. Dive into the three factors he thinks play a critical role in succeeding in this space.
Until next time,
Jordan Chussler
Managing Editor
Weiss Ratings Daily