The Worst Trading Day Since 2020
Tuesday's Consumer Price Index reading came in higher than expected, and the market reacted accordingly. By the close, the S&P 500 had shed 4.32%, marking the worst single day of trading since 2020.
Tech and communication stocks led the way down, losing 5.35% and 5.63%, respectively. But by the end of the day, each of the S&P's 11 sectors were in the red.
So it's no wonder why investor outlook has worsened each of the past four weeks, with the American Association of Individual Investors recently reporting 53.3% bearish sentiment.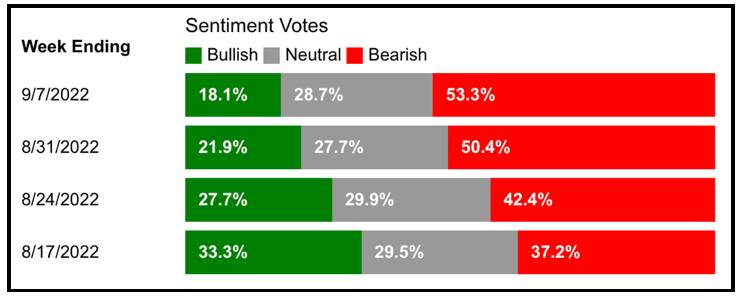 That's reaffirmed a trend that's lasted all year — one in which just two of the 11 S&P sectors have posted gains: energy and its affiliated sector, utilities.
However, for forward-thinking investors, those aren't the only two places to turn when looking for profit potential in a highly volatile and dominantly bearish market. Our team of editors and analysts explains …
Hindsight's 20/20. We now know this summer's S&P 500 recovery — which saw the index recoup 74% of its year-to-date losses — was just a bear market bounce. However, according to Managing Editor Jordan Chussler, this technical indicator demonstrated that long before most investors realized it.
VIDEO: All-Weather Protection & Profits
In this unpredictable climate, investments that thrive in both bull and bear markets are the ones to target. In this segment, Financial News Anchor Jessica Borg interviews Gavin Magor, editor of the new All-Weather Portfolio, about how to get maximum profits with minimal risk.
The Government's Funding It … Buy It
As inflation continues to run hot, energy inflation is outpacing all other categories with a year-over-year increase of 23.8%.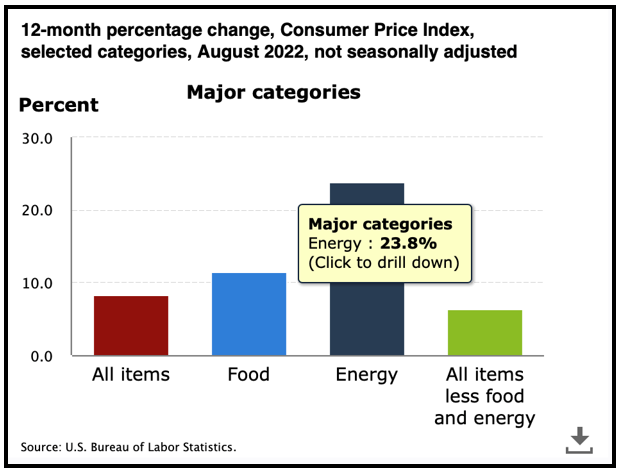 YoY inflation reading for August 2022.
Click here to view full-sized image.
Senior Analyst Sean Brodrick says this industry will provide a cushion against the 'force-Fed' recession as the Inflation Reduction Act focuses on curbing America's greenhouse gas emissions.
VIDEO: Market Minute With Kenny Polcari
With the CPI reading higher than expected, the Federal Reserve is all but sure to increase the federal funds rate by another 75 basis points, again, on Sept. 20. Kenny Polcari, host of Wealth & Wisdom, provides his weekly macroeconomic breakdown.
Between virtual real estate, the future of gaming and decentralizing the workplace, the metaverse will have boundless applications. According to Citigroup, its market will reach $8–$13 trillion by 2030. Senior Editor Tony Sagami reports on how investors can best situate themselves for the meta-boom.
Inflation Punches Markets in the Mouth
The U.S. Department of Labor reported the CPI rose 0.1% in August, and it knocked the markets down. Senior Analyst Mike Larson, a Safe Money strategist, suggests a way for investors to protect their wealth and profit in this late-stage environment.
Until next time,
Jordan Chussler
Managing Editor
Weiss Ratings Daily