Bitcoin's Bullishness Outweighs Ronin Hack FUD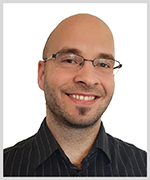 By Jurica Dujmovic
Bullish sentiment is reigning in the crypto markets this week. Market leaders like Bitcoin (BTC, Tech/Adoption Grade "A-") and Ethereum (ETH, Tech/Adoption Grade "A") have held above the top of their previous trading ranges and are eyeing higher resistance levels. Select altcoins have also begun showing strength.
It's important to note, as Alex Benfield did in yesterday's Weiss Crypto Daily issue, that the broad market trend is still NEUTRAL. But that doesn't mean we can't enjoy — and find opportunities in — this near-term uptrend.
That same bullishness was also felt in the realm of stablecoins, as Terra (LUNA, Tech/Adoption Grade "D") chose to support its stablecoin reserves with BTC: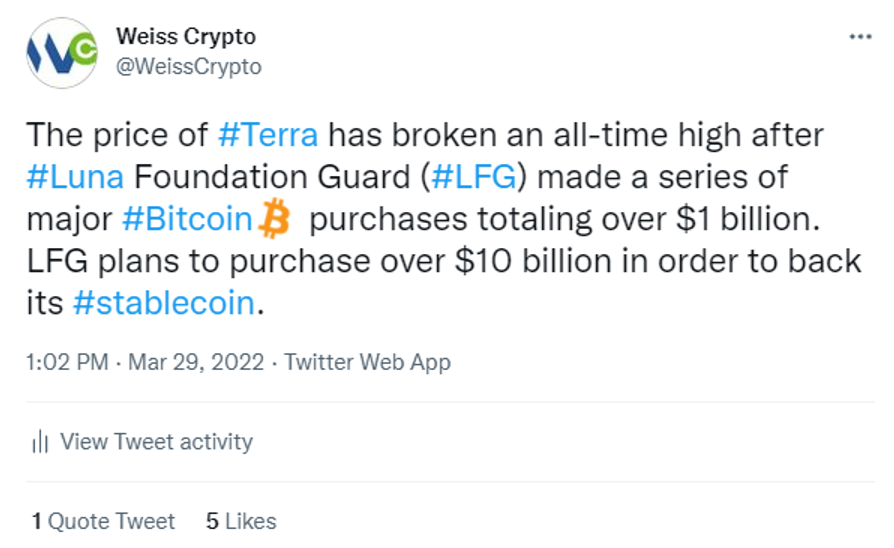 It seems that owning Bitcoin is seen favorably by the crypto community. And it's no wonder: When war broke out in Ukraine, there was widespread skepticism whether BTC could do as it did in the past and flourish in the face of uncertainty.
Those fears should now be just a memory: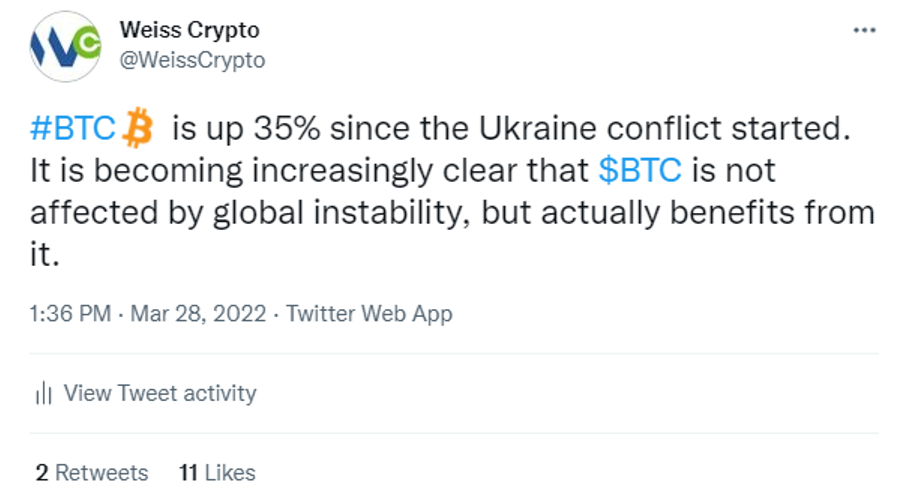 Indeed, in the past week, BTC exhibited volatility as it went up, erasing its 2022 losses on the way.
However, this bullish trend doesn't mean that Bitcoin is out of the woods and on its way to the moon. For a closer look at the upcoming challenges for the cryptocurrency, I recommend you read an excellent piece of analysis by Marija Matić.
But for MicroStrategy (MSTR) CEO Michael Saylor, Bitcoin's ability to act as a safe-haven asset despite this uncertainty seems to have solidified his bullishness. Saylor has continued his shopping spree, adding even more BTC to the MicroStrategy portfolio.
The only peculiar thing about it is why he didn't rely on decentralized finance (DeFi) to facilitate the transaction.

While Bitcoin has proven itself, the DeFi space is still growing and improving. In that growth are opportunities for bad actors to strike. Last week we were blindsided by what's now known as one of the largest hacks in DeFi history, as Ronin (RON, Unrated) and Axie Infinity (AXS, Unrated) validators were compromised:
It seems centralization was the Achilles' heel of the project, enabling the attacker to hack just a handful of nodes — five in this case — in order to gain control over a majority of the network, then simply move the funds.
Although the price of Ronin's native token RON fell by 26% following the news of the attack, the rest of the metaverse cryptos, including The Sandbox (SAND, Tech/Adoption Grade "B") and Enjin Coin (ENJ, Tech/Adoption Grade "B-"), actually rose over the week.
The hack highlights the issues and the inherent security risks of utilizing cross-chain bridges — protocols that decentralized applications (dApps) rely on to utilize their native tokens on different DeFi applications. That's why interoperability — the ability to use native tokens on non-native chains — will be the future of DeFi.
And DeFi is the future of finance. Even the hack couldn't tamper this week's big win for crypto over traditional finance (TradFi):
This is evidence of just how far crypto assets have come in less than a decade — from niche, misunderstood digital currencies to some being viable replacements for fiat money.
This progress isn't without risks: Going mainstream can be accomplished despite the regulators and TradFi gatekeepers ... or by fully abiding by all their rules. It goes without saying, however, that full obedience means assimilation and loss of crypto's true ideals: decentralization and trustlessness.
It's a topic we discussed previously, so I recommend you read that piece for more details. In short, projects that steer away from true crypto ideals and sell out become decentralized in name only (DINOs). MetaMask, a popular Ethereum-based wallet, is sadly one of those DINOs. This week it made a deal with Apple (AAPL), which honestly means very little for the crypto movement and true adoption we're longing for:
But as I said before, true crypto projects will still roll out to replace those that have sacrificed decentralization for adoption. We'll just need to be more aware of which applications we're using, and whether they're truly decentralized or just DINOs.
So overall, the past seven days have been pretty good for price action, as well as a few other developments. However, the Ronin hack shows that the crypto space is far from a risk-free environment.
It will be interesting to see how the crypto community responds to this and whether any changes are made to improve the security going forward … or if a greater push toward centralization is looming.
Until next time, stay safe and trade well.
Jurica Dujmovic