2023 Loser Stocks Are Waking Up
By
Jim Nelson
On
November 18, 2023

08:00 AM Eastern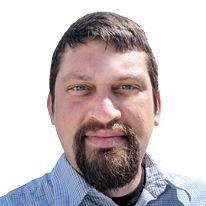 By Jim Nelson
Stocks have been blazing as if the late summer rampage never happened.
As of yesterday's open, the S&P 500 jumped 2.1% on the week … and 9.5% from its late-October low. In fact, it's not all that far off from testing its 52-week highs now.
This recent spurt of buying seems to come from the Fed's somewhat silence since keeping rates neutral early this month coupled with a strong GDP and rally in Treasurys.
That's all true. But I think the latest news coming from retail giants like Walmart (WMT) and Target (TGT) has something to do with it, too.
Despite analyst-estimate-beating quarters, these companies' top executives have painted a somewhat bleak Q4 in terms of lower consumer spending.
Apparently, shoppers are waiting longer to buy for the holidays than in years past. Maybe credit cards are finally nearing their limits. Or maybe the cost of inflation has finally kicked in after nearly two years.
In any case, the lower expected spending has investors speculating on a more dovish Fed in 2024. We'll see.
There's also been a separate development with this rally that we haven't seen yet in 2023. The "loser sectors" are finally waking up.
Utilities are finally clawing their way out of the market bottom they've been stuck in year to date. So are consumer staples. But the real winners — that are leading at least some of this three-week rally — are real estate stocks …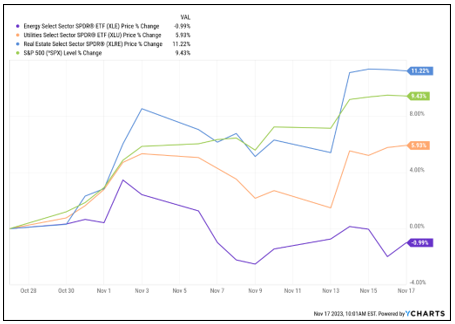 S&P 500 (green) vs. Energy (purple) vs. Utilities (orange) vs. Real Estate (blue)
Click here
to see full-sized image.
As you can see, real estate stocks — represented here by the Real Estate Select Sector SPDR Fund (XLRE) in blue — are up double digits just since this latest rally began at the end of October.
Also note energy stocks — represented by the Energy Select Sector SPDR Fund (XLE) in purple.
Despite the brutal conflicts that have driven energy prices up throughout the summer and even into this month, oil and gas stocks are falling of late. With so much else going on, this is something to keep an eye on.
These sector-specific themes can offer insight. But even experts can disagree. We kicked off this week with two very different perspectives on that surging blue line above. See what our experts had to say …
Find Out Why 'Buys' in Real Estate Do Not Equate
Real estate is a tough business at the moment. Not only do potential buyers face prohibitive mortgage rates … they are still seeing record high housing prices. Director of Research & Ratings Gavin Magor offers a glimpse at what Weiss Ratings has to say about the industry.
This Investment Is Up $2 Million in 7 Years
There are two sides to every coin. Safe Money expert Nilus Mattive rebuts the no-good-real-estate argument with why buying the right individual property can bring you the best gain of your life. It did for him.
3 Small Companies with Huge Potential in Uranium, Gold & Silver
Our Natural Resources Analyst Sean Brodrick takes us inside the process of finding cheap, exciting junior miners with triple-digit profit potential. He even shares three recent interviews with heads of promising resource stocks you need to keep an eye on.
It's a close call between who can move markets more — Jerome Powell or Elon Musk. Our tech expert Jon Markman would probably argue for the latter. This week, he navigates Musk's doublespeak on AI to identify why Tesla is going to crush the competition.
Overbought? Oversold? Here's a Tool to Help
Senior Investment Writer Karen Riccio follows up on why every smart investor needs a full tool kit to edge out the market. This time, she tackles how to decipher momentum with a favorite indicator … and its accurate "divergences."
Until next time,
Jim Nelson
Managing Editor
Weiss Ratings Daily