Here's Why Commodities Went Kaput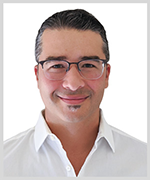 By Jordan Chussler
Remember 2020, after the arrival of the pandemic, when manufacturers were running out of, well, everything? I'm sure plenty of us would like to forget.
But it's worth revisiting for a lesson on investing in cycles, because as the old adage goes, what goes up must come down … even if just briefly before going up once again.
Then: As people around the world sheltered in place and stockpiled alcohol, companies couldn't source enough aluminum for their beer and hard seltzer cans. Pittsburgh-based Alcoa (AA), the eighth-largest aluminum producer in the world, saw its stock surge 1,554% from March 2020 to March 2022.
Now: It's been a different story over the past year. The price of aluminum is down 22%, and Alcoa's stock has dropped 61% since March 2022.
Then: New vehicles were stuck on assembly lines because demand for semiconductors — while we were all at home using every electronic device known to man — skyrocketed. Taiwan Semiconductor Manufacturing (TSM), the world's most valuable semiconductor company, saw its stock rise 194% from March 2020 to February 2021.
Now: One of the main components in semiconductors is gallium. Prices of that metal have fallen 43% over the past year. And since February 2021, shares of TSM are down 26%.
Then: Steel shortages were brought about by the rapidly expanding housing bubble that was kick-started with the arrival of the pandemic. Shares of United States Steel (X) took off, gaining 627% between March 2020 and March 2022.
Now: New residential construction has slowed dramatically, office building demand has one foot in the grave and United States Steel has seen its stock shed 43% since March 2022.
It's not just metals, either. A broad swath of commodities, from sunflower oil (-59%) and lumber (-56%) to eggs (-68%) and hogs (-24%), have suffered.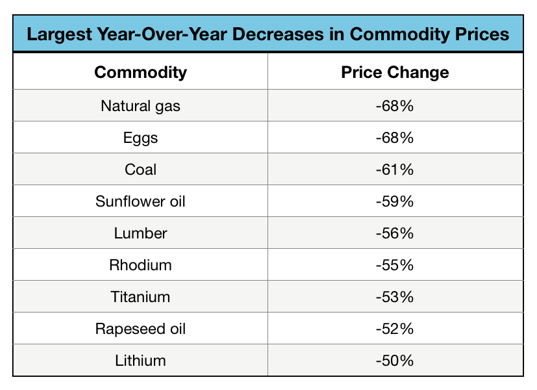 Largest year-over-year losses for commodities.
Click here
to see full-sized image.
One the biggest reasons commodity prices have taken a nosedive is a familiar one: interest rates. As central banks around the world have embraced aggressive monetary policies to combat inflation, the resulting interest rates disincentivize companies from holding too much inventory, which drives demand — and prices — down.
But when one market cycle ends, another begins. This week, our team of analysts and editors have more on the strategies you need to protect and build your portfolio, from AI and private equity to bear market insurance and this week's Weiss Ratings winners.
Over the past two weeks, five new stocks have jumped into "Buy"-rated territory. Director of Research and Ratings Gavin Magor details the newest companies to be upgraded as "Buys" in the Weiss Ratings, and the methodology behind the rankings.
Here Are the Companies Leading the AI Revolution
The AI revolution is upon us, and according to Pulitzer Prize winner Jon Markman, four companies in particular are poised to claim the lion's share of profits.
Learn Our Strategies from the Sources Themselves
In a year that's proven unpredictable for the markets, the one constant has been how Weiss analysts and editors deploy safety-oriented strategies. This year, you can meet them in person to learn more about their methodology and tailored picks.
Retail Investors Are Dominating Startup Investments
Venture capital winter is here, but the good news is retail investors are heating up the sector. Startup Investing Specialist Chris Graebe explains how equity crowdfunding is clearing the way for non-accredited investors to join the parade.
Democrats and Republicans are negotiating over raising the federal debt ceiling, trying to avoid default. But that disaster is just eight days away. Senior Analyst Sean Brodrick explains what the fallout could look like, and one way investors can prepare their portfolios.
Bear Market Math Can Come Back to Bite You
If you're the kind of investor who skids through stop losses and other technical signals, Senior Investment Writer Karen Riccio would like to introduce you to bear market math and why a portfolio insurance plan is absolutely necessary.
Until next time,
Jordan Chussler
Managing Editor
Weiss Ratings Daily