Gross domestic product increased by 2.6% in Q3, marking the economy's first positive growth in 2022.
Much of that was attributed to a narrowing trade deficit and lower-than-expected cost of living measures.
The Dow opened Thursday 300 points higher on the news, and bearish investor sentiment stands at 45.7% — more than 10 points lower than last week and under 50% for the first time this month.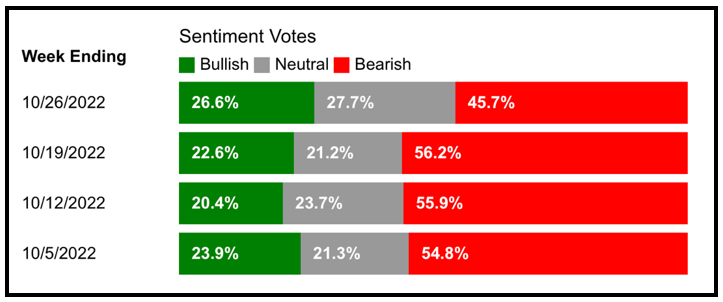 AAII Investor Sentiment Survey.
Click here
to see full-sized image.
This comes on the back of a recent rally that's seen the S&P 500 rise by 7.76% since mid-October's low.
It's not just traditional equities that are recently performing well, either. For the first time in months, crypto markets have shown life after trading sideways for the better part of the last quarter.
Bitcoin (BTC) is up 9.5% over the past seven days, and Ethereum (ETH) has risen an enormous 22.5% over the same period.
Whether this trend is sustainable is yet to be seen, but our team of analysts and editors is finding profitable — and safe — investments regardless of broad market or economic conditions.
VIDEO: All-Weather Protection & Profits
In a bear market, investments that aren't at the mercy of the broad market are ideal targets. In this segment, Financial News Anchor Jessica Borg interviews Research Analyst Sam Blumenfeld about sectors with inelastic demand, two outperforming exchange-traded funds and how stocks will react to next month's midterm elections.
Reap the Rewards of High Interest Rates
High interest rates are bad for consumers, but they're great for banks. Senior Analyst Sean Brodrick explains why that it is and how investors can take advantage of the upside on increasingly higher rates.
VIDEO: Market Minute With Kenny Polcari
Monday was the anniversary of Black Thursday, the day the Great Stock Market Crash of 1929 officially began. To commemorate that historic day, Kenny Polcari recorded this episode at the New York Stock Exchange, a place where he spent 40 years of his career developing the knowledge he shares with members.
A Lesson From Dad's Big Social Security Pay Raise
Investment Analyst Nilus Mattive helped his father plan for retirement, and he wants to share that same advice with you. From delaying Social Security to maximizing cost-of-living adjustments, his long-term strategies help future retirees secure financial wellbeing.
Teslais producing more electric vehicles than any other company on the planet, and the company's sales continue to surge. However, shares continue to go down. This week, Senior Editor Jon D. Markman discusses why he still likes the EV maker and is positive on its outlook.
Dr. Martin Weiss uses two charts to explain how this bear market is unlike others, and why traditional safe haven assets aren't working for investors anymore. Instead, he says this alternative asset class can protect wealth and present enormous growth potential.
Buy Your Straw Hats in January
With the recent increase in 401(k) contribution limits, now is the time to take advantage and stash more money away to benefit from the eventual end of this bear market. Senior Editor Tony Sagami reports on where investors can allocate those funds to shore up their portfolios.
Until next time,
Jordan Chussler
Managing Editor
Weiss Rating Daily