Recession Is Here — Protect Your Portfolio
The Federal Reserve is showing no signs of pivoting when it comes to interest rates. We can expect an additional 50-basis-point rate hike in December and then another 25 bps in early 2023 to get us to 4.5%–4.75%.
Happy New Year, indeed …
Also, for the first time since 2008, 30-year mortgage rates are above 6%.
But it's not all doom and gloom for savvy investors. Certain areas like crypto, metals and a few other sectors are offering shelter from the storm.
According to our expert analysts, crypto is nearing a big bottom. And the spot price of copper has rallied ~10% higher than its recent lows. It's now trading around $3.34 cents per pound.
So, don't worry. In a bear market, there are opportunities not only to protect your wealth, but to also position yourself for big profits when the storm clouds clear.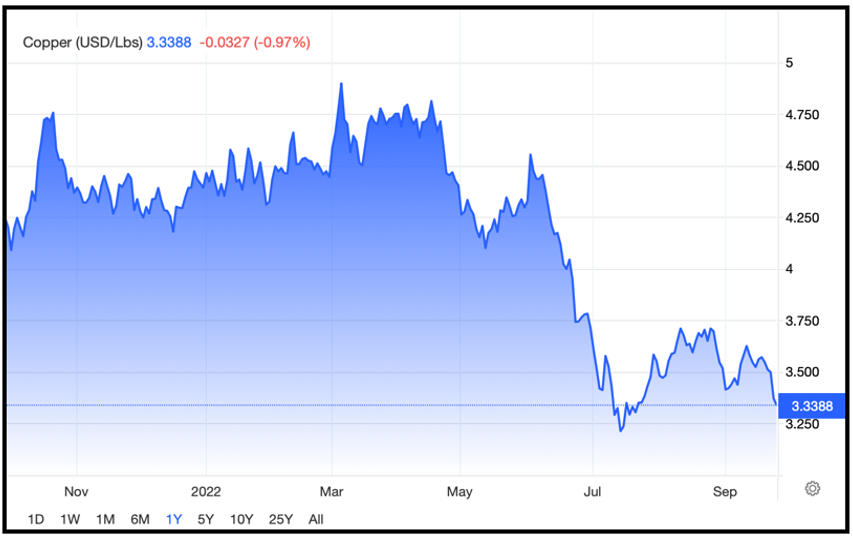 One-year chart of copper prices.
Click here
to view full-sized image.
VIDEO: Capitalize on Dr. Copper
Financial News Anchor Jessica Borg interviews Senior Analyst Sean Brodrick about the surging price of copper, long-term global demand and investments across two soaring industries. He says rising interest in copper is "one of the more bullish things that I've seen for the global economy, as of late."
Shift Hits the Fan. But NOT in Bitcoin!
A fundamental shift is underway on Wall Street … and the shift is hitting the fan. But with Bitcoin (BTC), it's an entirely different story. The last time Bitcoin hit a big bottom was on Dec. 15, 2018, and we called it exactly three days earlier, on Dec. 12, 2018. Then, look at what happened next. Bitcoin surged 20.1 times over, enough to turn a $10,000 investment into $200,832.
2 Energy Stocks to Eye this Hurricane Season
Hurricane Ian is ushering in an opportunity to buy energy stocks on sale before prices heat up this winter. Editorial Director Dawn Pennington has all the details, plus two energy stocks to buy right now.
"Higher for Longer" Is the New Norm
With everything that happened after the Federal Open Market Committee meeting and the data that's emerged, it's clear we're already in a recession. What we need to understand is how bad it'll be. In order to do that, we need a quick history lesson.
VIDEO: Market Minute With Kenny Polcari
We've got a parade of Fed officials and central bankers speaking this week, plus tons of economic data. Kenny Polcari, host of Wealth & Wisdom, details this week's home sales data and the second revision of the gross domestic product in the latest Market Minute.
What 6% Mortgage Rates Mean for Investors
When I last wrote about the housing market in April, I largely focused on affordability, or lack thereof. That remains an ongoing issue, but some relief is in sight. While markets like California, Colorado and Illinois are seeing sizable slowdowns, they're being offset by the staying power of desirable markets in Arizona and sunbelt states like Florida, Georgia and the Carolinas.
Until next time,
Jordan Chussler
Managing Editor
Weiss Ratings Daily