Home Depot Sounds the Siren After Historic Earnings Miss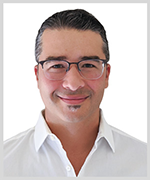 By Jordan Chussler
We're 12 days away from the end of Q1 earnings season, and the news this past week isn't inspiring renewed confidence in the market or the economy.
Focusing on the sore thumb, The Home Depot (HD) posted its worst revenue miss in over 20 years.
Sales were 2.7% below Wall Street's expectations — $37.26 billion versus the $38.28 estimated — marking its worst miss since November 2002.
Home Depot's earnings are also used as an indicator for the broad economy since its business is significantly shaped by two macroeconomic factors: home sales and interest rates.
With the former falling and the latter at the highest level since 2007, HD's revenue has been suffering since the start of the year, which by extension suggests the American economy has also been suffering.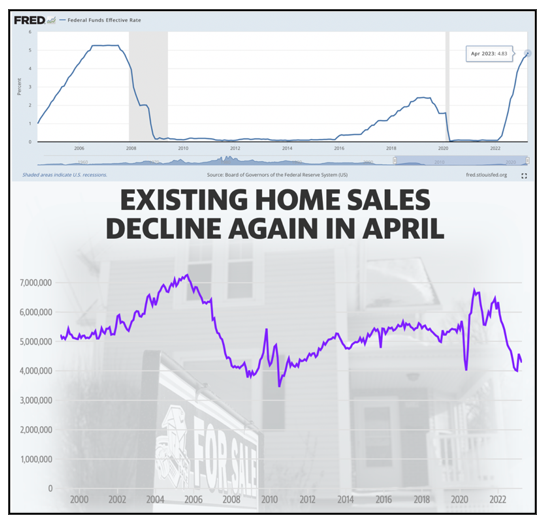 Effective federal funds rate (top) and existing home sales (bottom).
Click here
to see full-sized image.
In April, existing home sales fell 23.2% year over year, which has an outsized impact on Home Depot's business.
After announcing the $1 billion miss, which executives largely pinned on lumber deflation, the company cut its outlook stating that 2023 sales and comparable store sales are expected to drop between 2% and 5%.
Shares fell 5% in premarket trading and are down over 13% since its year-to-date high on Feb. 2.
There are, however, glimmers of hope in the market as Senior Analyst Sean Brodrick explained in his column this week.
How to Play the Latest Lithium Rally
After a tumble of 72% from record highs last November, lithium prices are finding their footing. Sean discusses one ETF investors can use to take advantage.
How AI Is Shaping Companies from McDonald's to Microsoft
An AI chatbot may be coming to your local fast-food drive-thru. It will understand accents, slang and use data analytics to maximize sales. Pulitzer Prize winner Jon Markman explains how AI is shaping companies, and which ones are poised to profit.
Learn Our Strategies from the Sources Themselves
In a year that's proven unpredictable for the markets, the one constant has been how Weiss analysts and editors deploy safety-oriented strategies. This year, you can meet them in person to learn more about their methodology and tailored picks.
Getting More of Your Money 'Off Wall Street'
From trophy assets to collectibles, Income Analyst Nilus Mattive reports on how and why investors need to be considering so-called off-Wall Street investments.
Martin: How to Escape Default Disaster
Founder Martin D. Weiss details the looming debt ceiling crisis, and what investors can do right now to protect their wealth from the fallout of inaction in Congress.
5 Steps to Avoid Retirement Hell
Senior Investment Writer Karen Riccio provides five steps you can take to ensure you avoid the retirement blunders that are plaguing nearly half of all Americans.
Among the 9,457 U.S. banks and credit unions we rate, our latest data shows that 4,253 of them could be vulnerable to failure. Director of Research and Ratings Gavin Magor explains how the Weiss Safety Ratings can help you find the right institution.
Until next time,
Jordan Chussler
Managing Editor
Weiss Ratings Daily