Profit Despite Apple's $200 Billion
By
Jim Nelson
On
September 9, 2023

08:00 AM Eastern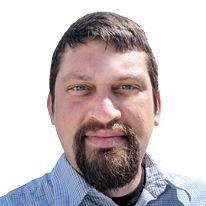 By Jim Nelson
Tech stocks had a bad week. The tech-heavy Nasdaq Composite slid 283 points by Thursday's close. It did rebound a bit yesterday … but not enough to climb out of its hole.
The biggest reason for tech's bad week is because of Apple (AAPL). China reported that it was banning government officials from using iPhones for work.
This comes around the same time that Huawei Technologies announced its new phone, which presumably is fine for government work in China.
Investors didn't like all this news very much …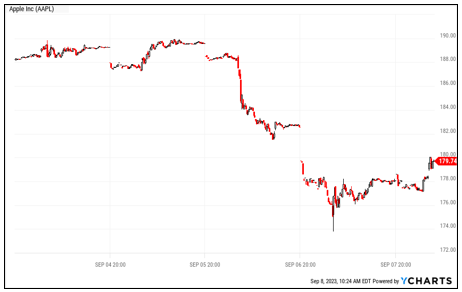 5-day AAPL price chart.
Click here
to see full-sized image.
This down week might not seem like much. But it does represent about $200 billion in market capitalization.
On the flip side, energy stocks remain in the driver's seat. Another week done and another rally in oil. In fact, the black stuff is now only about $2 from its 52-week high.
That's why it's important to remember that there's always profits to be made somewhere.
To see where to find your next profits, we turn to our experts. They have plenty of great ideas. Here's what they had to say this week …
Weiss founder Dr. Martin Weiss kicked off the week by pointing out the hypocrisy of bankers warning us off Bitcoin. He concludes that it's the banking industry that's actually ripping us off … and creating the climate for another banking disaster.
How to Play the Private Pickleball Investing Game
If you haven't heard of pickleball yet, you will. It's a game sweeping the country, expected to be worth $2.36 billion by 2028. Senior investment writer Karen Riccio outlines the business side of pickleball and how you can play it.
The biggest IPO in years is coming soon, and our private-equity expert, Chris Graebe, has done the work to find out what to expect. He shares why this is such a huge story — for both the company and the IPO market — as well as how you should play it.
Profit from the Next Sneaky Move of the Oil Sheiks
Resource expert Sean Brodrick is making a bold call: Oil is headed to $99 this year. This is backed up by all the oil news coming out of one of the world's largest producers: Saudi Arabia. Sean shares his insights on why the energy boom isn't over yet … and how to profit from it.
Put This Siege-Breaking Legacy Business on Your Radar
Legacy businesses have struggled to keep up with the digital transformation we've seen in the last few years. From auto makers to cable companies, keeping up with the changing times proves to be difficult. Yet, tech expert Jon D. Markman points to one legacy dominator that found a path through this transformation.
"A"-Rated Weiss Prescription Packed with Profits
Navigating the market right now can feel like trying to weather a storm. Director of Research & Ratings Gavin Magor shows you how to do just that. By diversifying into the safety and stability of strong healthcare stocks, you can not only survive … but actually thrive in this market.
Until next time,
Jim Nelson
Managing Editor
Weiss Ratings Daily