Why I'm the Calmest Guy in the Room Right Now
If you crave massive market volatility and wild day-to-day swings, boy — has this been your month!
Since the start of the new year, some stocks and sectors have plunged.
Others have soared.
Early, multi-hundred-point Dow rallies have turned into late, multi-hundred-point Dow plunges.
Heck, on Monday alone, the Dow tanked more than 1,100 points at one point ... only to turn around and close 99 points HIGHER!
Many analysts are running around like their hair is on fire.
But me? I'm the calmest guy in the room ... and today, I'll tell you why.
First, though, let's talk about what's driving this action. The biggest contributor — bar none — is the Federal Reserve.
Just a few hours after you get this column via email, the Fed will announce the results of its latest two-day policy meeting.
Investors have known for a while that inflation stinks, that it was never "transitory" … and that real interest rates somehow remain deeply mired in negative territory.
The Fed tried to pretend otherwise for a while. But faced with overwhelming evidence, it has finally given up.
Now, policymakers have started dialing back quantitative easing (QE).
They've signaled they're soon going to cease buying Treasurys and mortgage bonds altogether. And they've also suggested they want to start raising interest rates before long.
That policy shift has rocked the interest rate markets. It has also prompted a powerful rotation in the stock market from growth stocks to value stocks. And there's no sign either trend will let up.
So, how the heck can I be so calm?
Because my Safe Money subscribers ... and readers like you ... were READY for this!
First, I've been favoring more defensive, higher-yielding, high-quality stocks for months on end.
I've also been talking about strategies that help investors like you generate consistent income … which helps you beat lousy inflation and record-low rates for ages.
If you've followed that guidance, you've been feasting on dividend and options premium income ... while also benefiting from the shift toward quality, value-oriented stocks.
Second, I've been warning everyone who would listen to avoid all the two-bit garbage stocks, special purpose acquisition companies (SPACs) and money-losing initial public offering (IPO) turkeys that Wall Street has been peddling.
Sure enough, those names are getting eviscerated.
A few examples?
The Defiance Next Gen Spac Derived ETF (NYSE: SPAK, Rated "D") is down 24% in the last two months.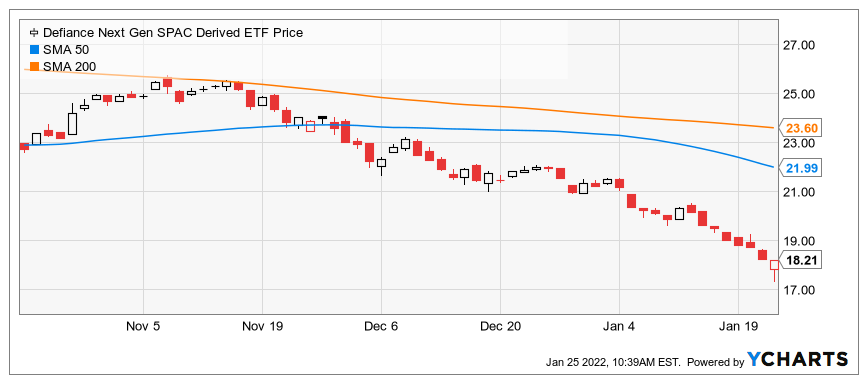 The Renaissance IPO ETF (NYSE: IPO, Rated "C") ... down 33% in three months. The ARK ETF Trust - Ark Innovation ETF (NYSE: ARKK, Rated "C-") ... down a whopping 49% in the last year.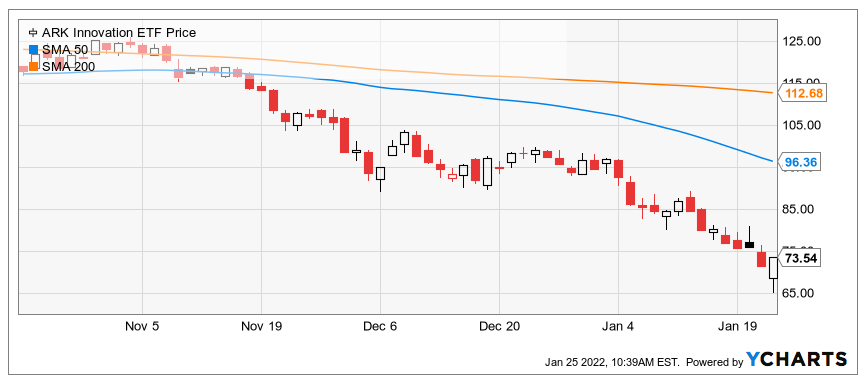 Those aren't even the worst offenders, either. Some individual, flavor of the month names talked about nonstop in the financial media have plunged even more.
Virgin Galactic Holdings (Nasdaq: SPCE, Rated "D")? The money-losing company struggling to make a business out of the nascent space tourism industry?
It's down an abysmal 45% in the last MONTH alone.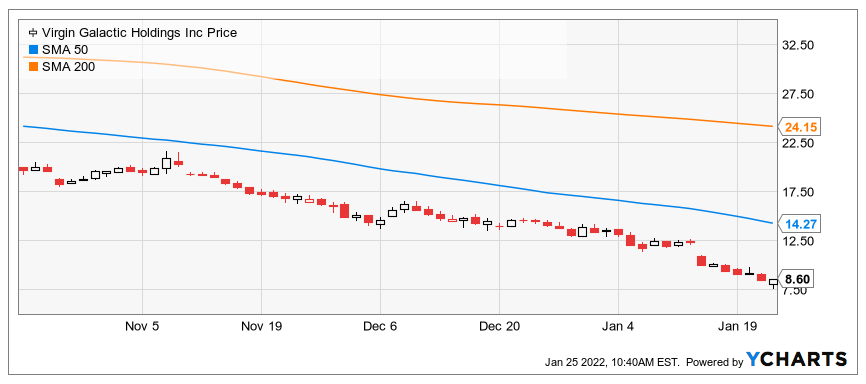 Robinhood Markets (Nasdaq: HOOD, Rated "D")? The operator of the trading app with the same name?
It's down more than 68% in the last THREE MONTHS.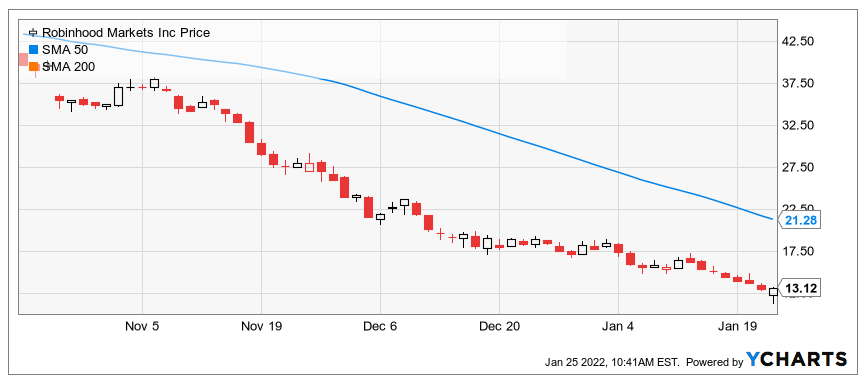 What a travesty!
This is just like what happened to a bunch of dot-com junk stocks in the early 2000s.
Third, I urged you not to give up on precious metals or related stocks even though they had a rough year relative to the market in 2021.
How are they doing now? They're both strongly outperforming so far in 2022.
I'm not suggesting "Safe Money" stocks and exchange-traded funds (ETFs) will remain completely unscathed in a sharp downturn. If volatility gets bad enough, even high-quality names will get nicked.
But will they crush onethird of your capital in just a few weeks? Destroy two-thirds of it in a single quarter?
That's not at all likely.
Bottom line? Safe Money strategies have made the most sense for quite some time. And …
They make even more sense in light of the recent volatility.
You can read much more about them — and get actionable picks that adhere to them — in my Safe Money Report. Click here to read up on them right away.
Until next time,
Mike Larson