Not All That Glitters Is Gold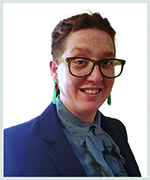 By Kelly Green
I know, I know, you're tired of hearing about inflation.
And frankly, I'm getting tired of writing about it. But its economic impact is too great to ignore.
I've been spending my time reading all the analysts' theories. Of course, there's no agreement. Some think that this is the peak … and some say that we could still see inflation climb to 1980 levels.
I personally don't care what inflation is going to do tomorrow. We are seeing high inflation right now, and I know I'm going to make sure that my personal portfolio has investments that will thrive in that environment.
We've already talked about consumer staples and gold. But gold isn't the only metal that you can choose from.
Getting to Know Your Commodities
Commodities generally do well in times of high inflation.
Why? Because commodities make the world go round. They're often required inputs for the rest of the economy.
The sector is further broken down into hard commodities and soft commodities:
These are a great hedge against inflation. There is a finite amount of these resources and prices for them typically rise when inflation is accelerating.
Just look at the chart of the S&P GSCI Total Return Index: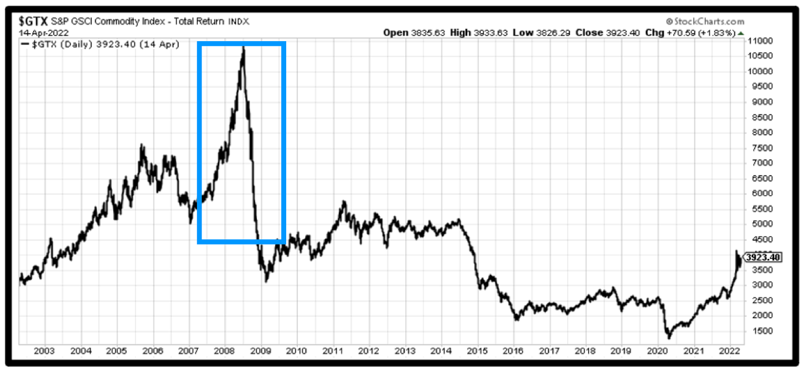 The index is considered the benchmark for the broad commodities class. And it's blatantly clear when the last time commodities soared — the economic turmoil of 2008.
Other Shimmering Metals
So where can you look besides gold? One strong alternative is copper.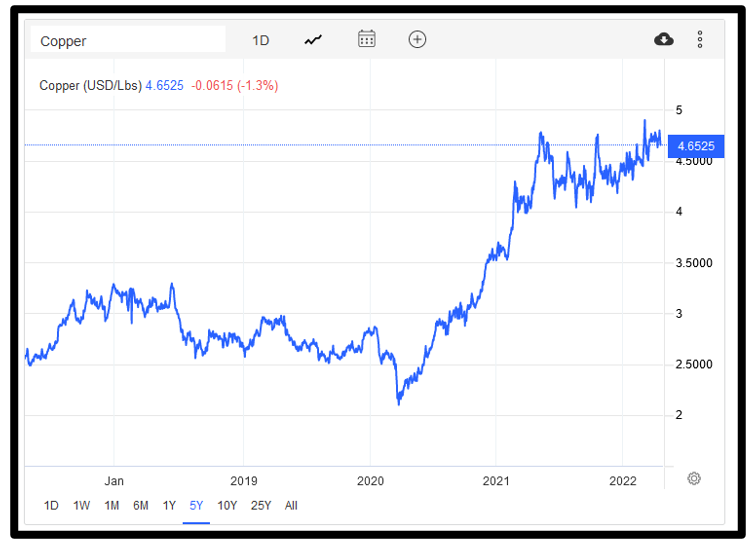 Copper is at all-time highs and it's only going to go higher. It's essential for the transition into a lower carbon future.
In fact, one hybrid electric vehicle (EV) contains around 85 pounds of copper. That's compared to 20-48 pounds used in the average internal combustion engine (ICE).
And that's just the beginning!
Plug-in hybrid EVs use 132 pounds. Battery EVs contain 183 pounds.
Plus, copper will be needed for wind farms, solar, battery storage and charging stations.
How about aluminum?
Or iron ore?
Sure, neither of these two metals have climbed back up to their highs in last year's hot market. But they are both nearly double their 2019 prices.
Miners of these metals were making profits in 2019. (Of course, they were … companies want to make a profit). Now they are selling them for double the price!
Global aluminum consumption is projected to be steady going forward through 2030. Aluminum is the preferred metal of choice for EVs to keep them lightweight.
Ninety-eight percent of iron ore is used to make steel. Steel used in cargo ships, trains and cars.
Plus, there's the fact that Russia is the second largest steel exporter in the world. So, we can expect a disruption in supply that will benefit other companies in the space.
All these metals are integral to society — EVERY DAY. The companies who mine, process and transport these metals will be cashing in.
Plus, it's easy to find the companies you might want to add to your portfolio.
Head over to the Weiss Ratings stock screener and you can see which companies are involved in these inflation-busting metals.
You can simply type the keyword in the search box and add any other filters that you might want:
Always remember that it's easy to add more columns for comparing your results:
Then it's simple to click on the company name and see all the details.
Everything from company data and fundamentals to historical pricing and our historical ratings data is available. Or, add it to your watch list to receive an email alert when the price changes.
But if you want more specific recommendations, my colleague Sean Brodrick, an expert in natural resources and commodities, is the person to turn to.
His Wealth Megatrends subscribers are currently sitting on inflation-leveraged gains of 87.66%, 76.43% and 45.73%, just to name a few.
If you'd like to learn more, click here now.
You don't have to fear inflation. Just make some adjustments and go along for the ride.
Best,
Kelly Green