Kenny Polcari
|
Financial News Anchor & Analyst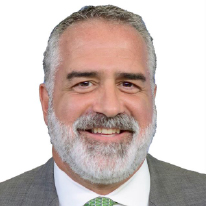 With more than four decades serving institutional and retail investors at home and abroad, Kenny Polcari is a seasoned and well-known voice on the markets.
Earlier in his career, Kenny built the U.S. equities business at the largest inter-dealer broker, ICAP. He was among the first traders to go directly to institutional money managers, execute on the opportunities market evolution created, and bring greater transparency and accessibility to customers.
Before that, Kenny ran the Salomon Brothers New York Stock Exchange (NYSE) division during the '90s bull market. He was a part of the team that launched the first electronic order delivery system in the industry.
Kenny began his career as a NYSE floor trader in 1985. He traded through many significant and life changing/industry changing events and has a special perspective having seen it all through the lens of the NYSE.
He served as a member of the exchange for nearly forty years and as a NYSE Governor for more than a decade, representing the interests of institutional asset managers in the global equities markets.
Just before the pandemic, Kenny moved to South Florida. Here, he continues to keep up the same fast financial pace as a managing partner at Kace Capital Advisors, a financial services consultancy serving wealth managers.
Kenny also serves as the chief market strategist at Slatestone Wealth, a boutique wealth advisory firm with roughly $1 billion of investor assets under management. And he advises a handful of fintechs on strategic marketing and positioning.
He is an active member of the financial community and is a board member of the National Organization of Investment Professionals.
He is also a big supporter of our veterans — as a direct result of his own 9/11 experience — and served on the board of the Headstrong Project for five years. Kenny recently stepped down to lead the advisory board as this organization continues to grow — serving more than 1500 veterans across 11 states and 26 cities that suffer from the hidden effects of PTSD.
You may recognize Kenny from his many years as a market analyst on CNBC, Fox Business and other financial media outlets, along with his daily YouTube broadcast where he serves up an informative, engaging and entertaining look at global markets.
On top of everything else, Kenny he shares his four-plus decades of financial acumen with Weiss members via his Wealth & Wisdom service. There, he interviews the top experts on our research and ratings team through lively weekly interviews and highlights the best trading and investing ideas throughout the Weiss universe.
Kenny met his wife on the NYSE — herself a former member — and they have two daughters.
Kenny Polcari's Articles
Today, I'm talking to Juan Villaverde and Alex Benfield, editors of Weiss Crypto Portfolio.
Weiss crypto experts Juan and Alex join me to discuss what investors really need to know right now about the crypto markets.
About 70% of reported earnings beat this quarter, slightly below historical average.
In this week's episode, I welcome back Chris Graebe, who specializes in private equity crowdfunding.
Not only are members of Tony Sagami's Disruptors & Dominators sitting on some nice gains, but on his latest trip to Chile, he discovered some exciting stuff about lithium & its prospects.
Earnings are in full swing. Tech got wrecked but the broader market did OK with energy leading the way. Here's what to expect from this week's FOMC meeting and incoming economic data.
Today, I'm talking to Tony Sagami, editor of Disruptors & Dominators.
Not only are members of Tony Sagami's Disruptors & Dominators sitting on some nice gains, but on his latest trip to Chile, he discovered some exciting stuff about lithium & its prospects.
Today, I'm talking to Chris Graebe, editor of Deal Hunters Alliance
Markets closed much higher Friday thanks to leaked news about a crack in the Fed. This week, we're expecting lots of macro data to come in.